Welcome to the Photo Collection presented by Steley family.
William Lang was born 14 May 1893, at Auckland, New Zealand. He went to school at Palmerston North High School, New Zealand. At the age of 15 he came to Australia with his family who settled in the property known as 'Marmora', located on Corner Street, Burwood, New South Wales. At the age of 18 he was amongst the first intake in 1911 for the new Royal Military College Duntroon although due to war demands was specially graduated and commissioned November 1914 when Lang enlisted in the AIF on 3 November 1914 as a Lieutenant with the 6th LHR (Light Horse Regiment), Machine Gun Section. The 6th LHR was part of the 2nd Light Horse Brigade. This unit embarked from Sydney, New South Wales, on board HMAT A29 Suevic on 21 December 1914. After service at Gallipoli and in anticipation of the August offensive, he was given the rank of Temporary Captain on 4 August 1915. Lang was wounded in action on the evening of 6 August 1915 during the attack on Lone Pine. Days later Lang died of wounds on 13 August 1915 while aboard HS Guildford Castle and was buried at sea. His service is recorded on the Lone Pine Memorial (Panel 4), Gallipoli, Turkey.
Note: These images remain copyright to the Steley family but you are free to use them at private study purposes and cannot be used for resale or profit.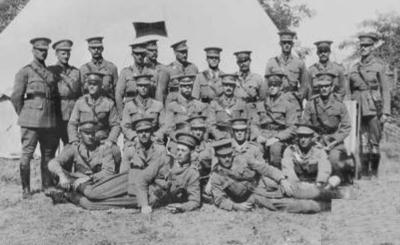 6th LHR Officers at Maadi Camp
Group portrait of officers in the tent lines of the 6th Australian Light Horse Regiment. Back row, left to right: Identified left to right: back row: Captain (Capt), later Lieutenant Colonel, Michael Frederick Bruxner, (later DSO and Chevalier of the Légion d'Honneur) C Squadron; Second Lieutenant (2nd Lt) Harold Stewart Ryrie (later DSO), B Squadron, (died on 10 December 1919 of wounds received at Amman); Lt Dugald (Dougald) Drummond; (received severe gunshot wounds at Gallipoli and returned to Australia on 17 March 1916; Capt (later Major (Maj)) Harold Albert Duckett White, B Squadron; 2nd Lt. Henry Robson, C Squadron, (killed in action on Gallipoli, 24 July 1915); Maj Frederick Dudley Weedon Oatley, B Squadron (later died of disease 27 March 1919); Capt Arthur Verge, Medical Officer (later died of dysentery on 8 September 1915); Lt William Lang, Machine Gun Section, newly graduated from RMC Duntroon (later died on 13 August 1915 of wounds received at Lone Pine, Gallipoli); Capt (QM) Frank Richard, Quartermaster, Headquarters (HQ) (never saw active service on Gallipoli; returned to Australia 31 October 1915 as unfit for service following appendicitis and ulcerated stomach); Maj George Arthur Ferguson. Second row: Maj William Thomas Charley, A Squadron; Maj (later Lt Col ) Colin Dunmore Fuller, HQ (later DSO); Lt Col (later Brigadier General) Charles Frederick Cox, HQ; Capt (Adjutant) (later Lt Col) George Cattell Somervillle, HQ; Maj James Frederick White, C Squadron (returned to Australia 3 January 1916 suffering from enteric fever); 2nd Lt. Norman Matthew Pearce. B Squadron (later killed in action on 29 July 1916). Front row: 2nd Lt. Alfred Roy Hordern, A Squadron (invalided to Australia on 4 December 1915); 2nd Lt (later Capt) John Mackellar Chisholm, A Squadron, returned to Australia on 11 July 1917; Lt Warren Melville Anderson. B Squadron; Lt (later Capt) Cyril William Huxtable, C Squadron (a Duntroon graduate, wounded on Gallipoli and returned to Australia on 8 March 1917; 2nd Lt (later Maj) Harold Ormond O'Brien, A Squadron. Reclining in front: 2nd Lt. Donald Gordon Cross, A Squadron; Richardson (most likely Lt Rupert Noel Richardson, C Squadron (later died of wounds 17 September 1915.
(Public Domain Photograph)