Welcome to the
Bert Schramm Diary
.

Bert Schramm
2823 Private Herbert Leslie SCHRAMM, a 22 year old Farmer from Whites River, South Australia. He enlisted on 17 February 1916; and at the conclusion of the war Returned to Australia, 10 July 1919.
During part of the course of his military service with the AIF, Bert Schramm kept a diary of his life. Bert was not a man of letters so this diary was produced with great effort on his behalf. Bert made a promise to his sweetheart, Lucy Solley, that he would do so after he received the blank pocket notebook wherein these entries are found. As a Brigade Scout since September 1918, he took a lead part in the September Offensive by the Allied forces in Palestine. Bert's diary entries are placed alongside those of the 9th Light Horse Regiment to which he belonged and to the 3rd Light Horse Brigade to which the 9th LHR was attached. On this basis we can follow Bert in the context of his formation.
For a comprehensive listing of photographs in the album, see:
Should any further details be sought, see Australian Light Horse Studies Centre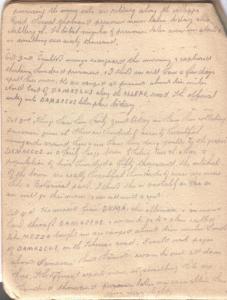 2 October to 4 October 1918
Wednesday, October 2, 1918
Bert Schramm's Location - Khan Kusseir
Bert Schramm's Diary - Encountered enemy's rear guard this morning and captured thirteen hundred prisoners. I think we will have a few days spell here now. We are camped at present about ten miles north east of Damascus along the Aleppo road. The official entry into Damascus takes place today.
Diaries of AIF Servicemen, Bert Schramm, 2 October 1918
Thursday, October 3, 1918
Bert Schramm's Location - Khan Kusseir
Bert Schramm's Diary - Things have been fairly quiet today. We have been collecting prisoners' guns etc. There are hundreds of acres of beautiful vineyards around here and we have been doing justice by the grapes. Damascus is a fairly large town, electric cars etc has a population of 250,000. The outskirts of the town are really beautiful; hundreds of acres are more like a botanical park. I think this is probably as far as we will go for now. We all need a rest.
Diaries of AIF Servicemen, Bert Schramm, 3 October 1918
Friday, October 4, 1918
Bert Schramm's Location - Duma
Bert Schramm's Diary - We moved from Duma this afternoon and we moved back through Damascus. We are to go to a place called El Mezze tonight. We camped about five miles south of Damascus on the Tiberias road. I could write pages about Damascus but haven't the room to put all down here. The official report now is something like one hundred thousand prisoners taken. Our casualties have been very light.
Diaries of AIF Servicemen, Bert Schramm, 4 October 1918