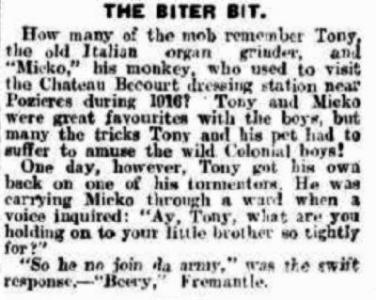 THE BITER BIT
Western Mail, Thursday 24 August 1933, page 2
THE BITER BIT.
How many of the mob remember Tony, the old Italian organ grinder, and "Micko," his monkey, who used to visit the Chateau Becourt dressing station near Pozieres during 1916? Tony and Micko were great favourites with the boys, but many the tricks Tony and his pet had to Buffer to amuse the wild. Colonial boys!
One day, however, Tony got his own back on one of his tormentors. He was carrying Micko through a ward when a voice inquired: "Ay, Tony, what are you holding on to your little brother so tightly for?"
"So he no join da army," was the swift response.
"Beery," Fremantle.