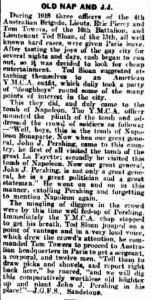 OLD NAP AND J.J.
Western Mail, Thursday 23 March 1933, page 2
OLD NAP AND J.J.
During 1918 three officers of the 4th Australian Brigade, Lieuts. Eric Piercy and Tom Towers, of the 16th Battalion, and Lieutenant Tod Sloan, of the 15th, all well known hard cases, were given Paris leave. After tasting the joys of the gay city for several nights and days, cash began to run out, so it was decided to look for cheap entertainment. Tod Sloan suggested attaching themselves to an American Y.M.C.A. outfit, which daily took a party of "doughboys" round some of the many points of interest in the city.
This they did, and duly came to the tomb of Napoleon. The Y.M.C.A. officer mounted the plinth of the tomb and addressed the crowd of soldiers as follows:
"Well, boys, this is the tomb of Napoleon Bonaparte. Now when our great general, John J. Pershing, came to this country, he first of all visited the tomb of the great La Fayette; secondly he visited this tomb of Napoleon. Now our great general, John J. Pershing, is not only a great general, he is a great politician and a great statesman." He went on and on in this manner, extolling Pershing and forgetting to mention Napoleon again.
The mingling of diggers in the crowd were by this time well fed-up of Pershing. Immediately the Y.M.C.A. chap stopped to get his breath, Tod Sloan jumped on a point of vantage and in a very loud voice, which drew the crowd's attention, he commanded Tom Towers to proceed to Australian headquarters in Paris to get a sergeant, a corporal, and twelve men. "Tell them to draw picks and shovels, and report right back here," he roared, "and we will dig this comparatively worthless old blighter up and plant John J. Pershing in his place!"
J.G.F.S., Sandstone.