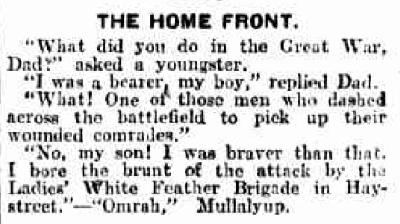 THE HOME FRONT
Western Mail, Thursday 23 March 1933, page 2
THE HOME FRONT.
"What did you do in the Great War, Dad?" asked a youngster.
"I was a bearer, my boy," replied Dad.
"What! One or those men who dashed across the battlefield to pick up their wounded comrades."
"No, my son! I was braver than that. I bore the brunt of the attack by the Ladies' White Feather Brigade in Hay street."
"Omrah," Mullalyup