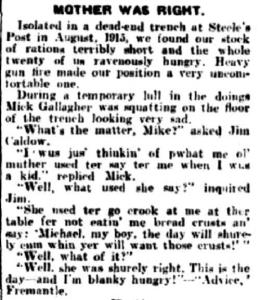 MOTHER WAS RIGHT.
Western Mail, Thursday 16 March 1933, page 2
MOTHER WAS RIGHT.
Isolated in a dead-end trench at Steele's Post in August, 1915, wes found our stock of rations terribly short and the whole twenty of us ravenously hungry. Heavy gun fire made our position a very uncomfortable one.
During a temporary lull in the doings Mick Gallagher was squatting on the floor of the trench looking very sad.
"What's the matter, Mike?" asked Jim Caldow.
"I'wus jus' thinking of what me ol' muther used ter say ter me when I wus a kid." replied Mick.
"Well, what used she say?" inquired Jim.
"She used ter go crook at me at ther table fer not eatin' me bread crusts an' say: 'Michael, my boy, the day will shurely cum whin yer will want those crusts!' "
"Well, what of it?"
"Well, she was shurely right. This is the day-and I'm blanky hungry!"
"Advice," Fremantle.