Desert Mounted Corps (DMC), General Allenby's Despatches, Part 3
Topic: AIF - DMC
DMC
Desert Mounted Corps
General Allenby's Despatches, Part 3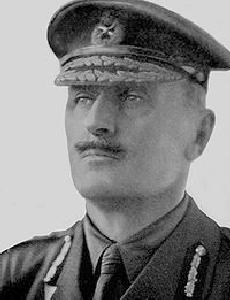 Field Marshal Edmund Henry Hynman Allenby, 1st Viscount Allenby GCB, GCMG, GCVO.
Field Marshal Edmund Henry Hynman Allenby, 1st Viscount Allenby GCB, GCMG, GCVO (23 April 1861–14 May 1936) was a British soldier and administrator most famous for his role during the First World War, in which he led the Egyptian Expeditionary Force in the conquest of Palestine and Syria in 1917 and 1918.
Full text of "
A brief record of the advance of the Egyptian expeditionary force under the command of General Sir Edmund H. H. Allenby ... July 1917 to October 1918
" General Sir Edmund Henry Hynman Allenby, g.c.b., g.c.m.g., Commander in Chief of the Egyptian Expeditionary Force FROM June 1917.
A BRIEF RECORD OF THE ADVANCE OF THE EGYPTIAN EXPEDITIONARY FORCE UNDER THE COMMAND OF GENERAL SIR EDMUND H. H. ALLENBY. G.G.B.. G.G.M.G.
JULY 1917 TO OCTOBER 1918.
Compiled from Official Sources.
THE ADVANCE OF THE 21st Infantry Brigade.
Commander.— Ueut.-Col (temp. Brig.-Gen.) A. G. Kemball, 31st Punjabis.
2nd Battalion Black Watch, 1st Guides Infantry, 20th Punjabis, l/8th Gurkha Rifles.
21st Light Trench Mortar Battery. 28th Infantry Brigade (F.F.). Commmder.—Bt. Col. (temp. Brig.-Gen.) C. H. Davies, C.M.G., D.S.O., I.A.
2nd BattaUon Leicester Regiment, 51st Sikhs (E.F.), 53rd Sikhs (F.F)., 56th Punjabi Rifles (F.F.). 28th Light Trench Mortar Battery. Divisional Troops.
9th Brigade, E.F.A. (19th, -iOth, 28th and D/69th Batteries).
5Gth Brigade, E.F.A. ("A," "B," "C" and 527th Batteries). Transferred to 52nd (Lowland) Division in March, 1918. 261st Brigade, R.F.A. ("A," " B " and " C " Batteries). Transferred from the 52nd (Lowland) Division in March, 1918. 2C2nd Brigade, R.F.A. (" A," " B " and 438th Batteries). Transferred from the 52nd (Lowland) Division in' March, 1918. 2G4th Brigade, R.F.A. (422nd, 423rd and " C " Batteries). Transferred from the 52nd (Lowland) Division in March, 1918. 7th Divisional Ammunition Column. Transferred from the 52nd (Lowland) Division in March. 1918. 3rd and 4th Companies, 1st (King George's Own) Sappers and Miners. 522nd (London) Field Company, R.E. 7th Divisional Signal Company, R,E. 121st Pioneers.
7th Divisional Machine Gun Battalion (Nos. 134, 135, 136 Companies). 272nd Machine Gun Company (ceased to belong to E.E.F., 6/6/18). 7th Divisional Train (S. & T.). No. 2 Mobile Veterinary Section.
, Brief Record of Service.
The 7th (Indian) Division served in France (1914-15), in Mesopotamia (1916-17), landed in Egypt !n January, 1918, joined XXIst Corps and reheved 54th Division in the Coastal Sector of the front line. (from near Tel el Mukhmar to Arsuf), in March, taking over the Divisional Artillery of the 52nd Division in exchange for its own (see above), which went to France with the 52nd Division.
1918. May 28-29, Advanced the line one and a half mJep on a seven mile front. 2nd Leicesters and 53rd Sikhs (28th Brigcode) were prominent in this fighting, and took over 100 prisoners.
June 8-10. — 21st Brigade took the " Si-sters " after heavy fighting, in which 2nd Black VVatch and Ist Guides Infantry bore the brunt. As the re- sult of this engagement 250 prisoners were taken, and the enemy lost a valuable obser- vation post.
July 13. — A post in the enemy's front system was raided in daylight by Qurihas of the 1st Guides, who captured fifteen prisoners and three machine guns. it 27. — A company of 53rd Sikhs raided a portion of tho enemy tronchos and captured thirty-three prisoners and several machine guns.
(Much of the work in preparation for active operations had to be undertaken by the division, during August and the early part of September, for the divisions that could only be brought into the area immediately before the attack.) M 19. — Attack on the Tabsor system carried out by two columns. On the right, 92nd and 28th Punjabis were supported by 1st Seaforths and 125th Rifles (19th Brigade) ; on the left, 2nd Black Watch, supported by l/8th Gurkhas (21st Brigade). Front line objectives were quickly taken by the attacking troops, and tlie supporting battalions passed through and seized the support and reserve lines. During the further advance to the Felamieh-Taiyibeh line, the 20th Punjabis captured the village of K'elamieh, supported on the left by 2nd Black 1918. Sept.
19 Watch ; while the 92nd Punjabis captured El Mejdel and took a number of prisoners and two machine guns. Further north 56th Rifles and 53rd Sikhs (28th Brigade) stormed the village of Taibiyeh in face of considerable re- sistance.
20. — 19th Brigade met with most determined re- sistance during the advance on Beit Lid (Isl Seaforths and 125th Rifles). The village was finally rushed by tho Seaforths. 28th Brigade pushed on from El Burj, and seized 21. — Messudieh railway station at 0300. 53rd Sikhs were sent round to attack Samaria Hill from the west and occupy the town, while 5Ist Sikhs attacked the hill from south. Both hill and town were captured by 0500 after a sharp fight, in which 200 prisoners and four machine guns were taken.
21. — The division had fought and marched for forty-eight hours, and had covered thirty- four miles over diflSoult and rocky country, but all objectives had been reached, with the capture of over 2,000 prisoners and twenty guns.
23. — 19th Brigade marched to Anebta, 21st Brigade to Shuweikeh.
24. — 21st Brigade moved to Hudeira, 28th Brigade to north of Kakon. 2nd Leicesters left for Haifa in motor lorries, and arrived there on the following morning.
26. — Division marched in three brigade groups vid Zimmarin and Athlit, and on 29. — concentrated at Haifa.
Orders were received to continue the march to Beirut along the coast road. A section of EGYPTIAN EXPEDITIONARY FORCE 69 1918. Sept. 29 this road, upwards of half a mile in length, known as the " Ladder of Tyre," consisted of a narrow reeky track on the side of the cliW with a deep drop to the sea, and at ono point became a tiight of steps roughly hewn out of the rock. The Sappers and Miners and 121st Pioneers, assisted by infantry, by working continuously for 2 J days, made the road fit for armoured cars, motors, and 00-pounder guns. The division marched in three columns, as follows : — Col. "A." — XXIst Corps Cavalry and an Infantry Detachment. "B."— 28th Brigade, 8th Mountain Artillery Brigade, one and a half companies Sappers and Miners, 12l8t Pioneers, one Machine Gun Company, one Field Ambulance. " C." — Divisional Headquarters, 19th and 21 at Brigades, Com- posite Brigade, R.F.A., 15th Heavy Battery, R.G.A., No. 622 field Company, R.E., two sections Sappers and Miners, Machine Gun Battalion (less 1 Company), Divisional Ammunition Col- umn, and two Field Ambu- lances.
1918.
Sept.
Oct.
29 The first day's march was around the Bay of Acre, and, from the high ground near Haifa, the head of the column could be seen moving