British South African Police, Roll of Honour, Harold William George Marshall
Topic: BW Gen - Soldiers
British South African Police
Roll of Honour
Harold William George Marshall
Harold William George Marshall
Service number:
Rank: Trooper [Tpr]
Unit: British South African Police
Service: Rhodesian Police Forces
Conflict: South Africa, 1899-1902
Date of death: 29 September 1900
Place of death: Manzimyama
Cause of death: accidentally shot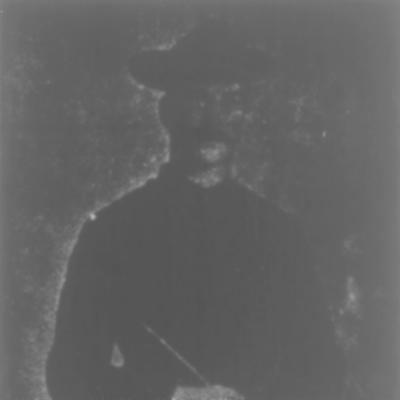 Harold William George Marshall
A brief military biography of Harold William George Marshall:
Regimental number


Date of birth
1875
Place of birth
Gundagai, New South Wales
Religion
Church of England
Occupation
Policeman
Address
Gundagai, NSW
Marital status
Single
Previous Service


Age at embarkation
25
Next of kin
Father: Mr Henry Marshall, Gundagai, NSW
Enlistment date
1897

Date of enlistment from Nominal Roll


Rank on enlistment
Trooper
Unit name
British South African Police
Embarkation details
Enlisted in South Africa
Rank from Nominal Roll
Trooper
Unit from Nominal Roll
British South African Police
Fate
Accidentally shot at Manzimyama, 28 September 1900
Place of burial
Ermelo Garden of Remembrance
Panel number, Roll of Honour,
Australian War Memorial
Not Remembered on the Roll of Honour

Lest we forget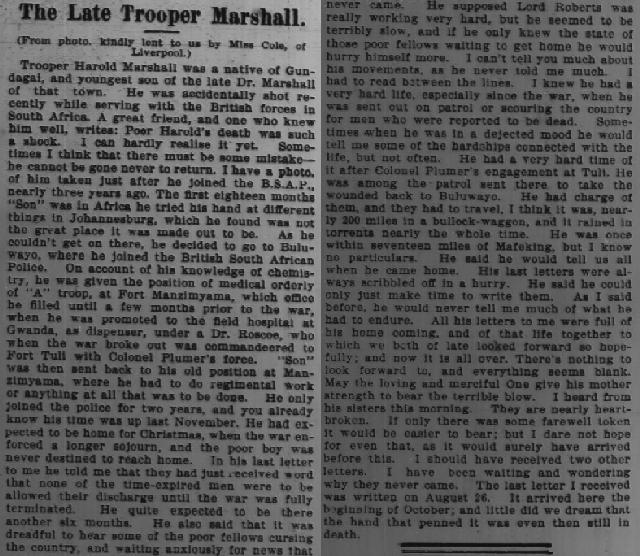 Town and Country Journal, 1 December 1900, p. 22.

The transcription follows below:
Trooper Harold Marshall
Trooper Harold Marshall was a native of Gundagai, and youngest son of the late Dr. Marshall of that town. He was accidentally shot recently while serving with the British forces in South Africa. A great friend, and one who knew him well, writes: Poor Harold's death was such a shock. I can hardly realise it yet. Some times I think that there must be some mistake he cannot be gone never to return. I have a photo of him taken just after he joined the B.S.A.P., nearly three years ago. The first eighteen months "Son" was in Africa he tried his hand at different things in Johannesburg, which he found was not the great place it was made out to be. As he couldn't get on there, he decided to go to Buluwayo, where he joined the British South African Police. On account of his knowledge of chemistry, he was given the position of medical orderly of "A" troop, at Fort Manzimyama, which office he filled until a few months prior to the war, when he was promoted to the field hospital at Gwanda, as dispenser, under a Dr. Roscoe, who when the war broke out was commandeered to Fort Tuli with Colonel Plumer's force. "Son" was then sent back to his old position at Manzimyama, where he had to do regimental work or anything at all that was to be done. He only joined the police for two years, and you already know his time was up last November. He had expected to be home for Christmas, when the war enforced a longer sojourn, and the poor boy was never destined to reach home. In his last letter to me he told me that they had just received word that none of the time-expired men were to be allowed their discharge until the war was fully terminated. He quite expected to be there another six months. He also said that it was dreadful to hear some of the poor fellows cursing the country, and waiting anxiously for news that never came. He supposed Lord Roberts was really working very hard, but he seemed to be terribly slow, and if he only knew the state of those poor fellows waiting to get home he would hurry himself more. I can't tell you much about his movements, as he never told me much. I had to read between the lines. I knew he had a very hard life, especially since the war, when he was sent out on patrol or scouring the country for men who were reported to be dead. Sometimes when he was in a dejected mood he would tell me some of the hardships connected with the life, but not often. He had a very hard time of it after Colonel Plumer's engagement at Tuli. He was among the patrol sent there to take the wounded back to Buluwayo. He had charge of them, and they had to travel, I think it was, nearly 200 miles in a bullock-waggon, and it rained in torrents nearly the whole time. He was once within seventeen miles of Mafeking, but I know no particulars. He said he would tell us all when he came home. His last letters were always scribbled off in a hurry. He said he could only just make time to write them. As I said before, he would never tell me much of what he had to endure. All his letters to me were full of his home coming, and of that life together to which we both of late looked forward so hopefully; and now it is all over. There's nothing to look forward to, and everything seems blank. May the loving and merciful One give his mother strength to bear the terrible blow. I heard from his sisters this morning. They are nearly heart broken. If only there was some farewell token it would be easier to bear; but I dare not hope for even that, as it would surely have arrived before this. I should have received two other letters. I have been waiting and wondering why they never came. The last letter I received was written on August 26. It arrived here the beginning of October; and little did we dream that the hand that penned it was even then still in death.
Further Reading:
Boer War General Soldiers' Biographies
---
Citation:
British South African Police, Roll of Honour, Harold William George Marshall
Posted by Project Leader at 12:01 AM EADT
Updated: Sunday, 9 May 2010 9:29 PM EADT