Kut el Amara, Mesopotamia, December 3, 1915, to April 29, 1916
Topic: BatzM - Kut el Amara
Kut el Amara
Mesopotamia, 3 December 1915 to 29 April 1916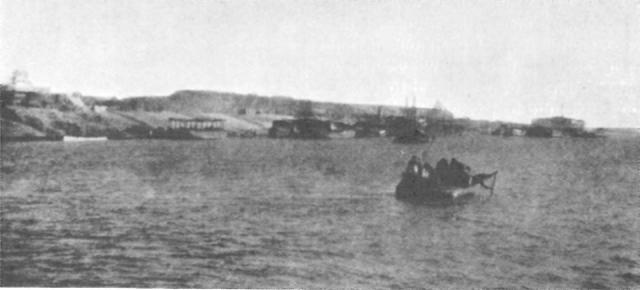 A view of Kut el Amara prior to the battles.

Kut el Amara, scene in Mesopotamia (modern Iraq) of the capitulation of 13,000 British and Indian soldiers under Major-General Charles townshend to Turkish forces on 29 April 1916, after a five-month siege. Townshend's successful campaign up the Tigris turned sour in late November 1915, when his troops were less than 30 kilometres from Baghdad (see Ctesiphon), and by 3 December he was back in Kut which he had captured in September. Withdrawal further down the river was out of the question, both because of the exhausted state of his 6th Indian Division and the pursuit of his men by a greatly superior enemy force. The latter made a few attempts to carry the town by assault, before settling down to starve out the defenders.

The fate of Townshend's command was sealed when attempts to break the siege from the south in January and February 1916 both failed. The number of Turks investing the place only became progressively stronger, as forces released after the ending of the Dardanelles campaign began arriving. The garrison had already experienced deaths from starvation when Townshend was forced to open the negotiations which resulted in unconditional surrender. Among the troops who passed into Turkish captivity were more than 40 members of No.30 Squadron, Royal Flying Corps-mostly ground staff and mechanics left behind after all flyable aircraft were sent out on 7 December 1915. Included in this group were nine Australian Flying Corps personnel who were serving with the unit; only two of these men were among the 2,000 members of the Kut garrison who survived their captivity.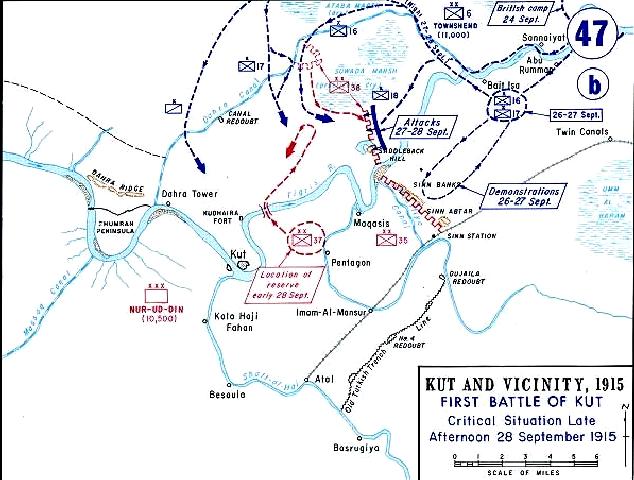 Official History Map of the first Battle of Kut

Part of No. 30 Squadron was not locked up in Kut, including eight other mechanics and one pilot of the AFC. These played a notable part in attempts to meet part of the beleaguered garrison's food requirements by aerial delivery. The pilot, Captain Henry Petre, flew several missions to air-drop grain and other essentials within the perimeter, while a corporal manufactured parachutes for the safe delivery of breakables - including a millstone for grinding corn. The appearance of German Fokker fighters, however, put a stop to this effort, after some five tonnes of supplies had been thus delivered. With the outcome at Kut now inevitable, Petre and the AFC men were returned to Basra (350 kilometres away to the south-east) and all were transferred to Egypt in early 1916. Their departure ended the involvement of Australian airmen in this theatre.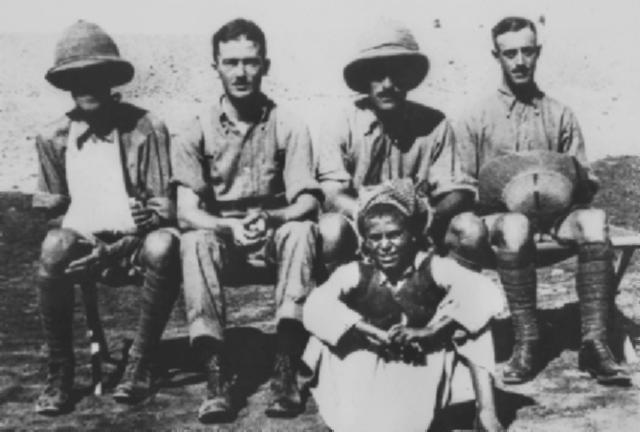 From left: Capt H A Petre, Capt T W White, Lt H Christian (Indian 119th) and Lt GP Merz of No. 30 Squadron.

Extracted from the book produced by Chris Coulthard-Clark, Where Australians Fought - The Encyclopaedia of Australia's Battles, Allen and Unwin, Sydney, 1998, p. 112.


Additional References cited by Chris Coulthard-Clark:

F.M. Cutlack, (1923), The Australian Flying Corps in the Western and Eastern Theatres of War 1914 - 1918, Sydney: Angus & Robertson.
George Odgers, ( 1984), The Royal Australian Air Force: An Illustrated History, Brookvale, NSW Child & Henry.
Further Reading:
Battles where Australians fought, 1899-1920
---
Citation:
Kut el Amara, Mesopotamia, December 3, 1915, to April 29, 1916
Posted by Project Leader at 9:45 PM EAST
Updated: Tuesday, 14 April 2009 1:25 PM EADT