Kadina Day, 24 July 1915
Topic: Gen - St - SA
On Saturday, 24 July 1915, the leading town of South Australia's "Copper Triangle", Kadina, celebrated its annual day. This day, however, was different in one major aspect. The crowd that turned up to demonstrate their patriotism was the largest gathered outside of Adelaide.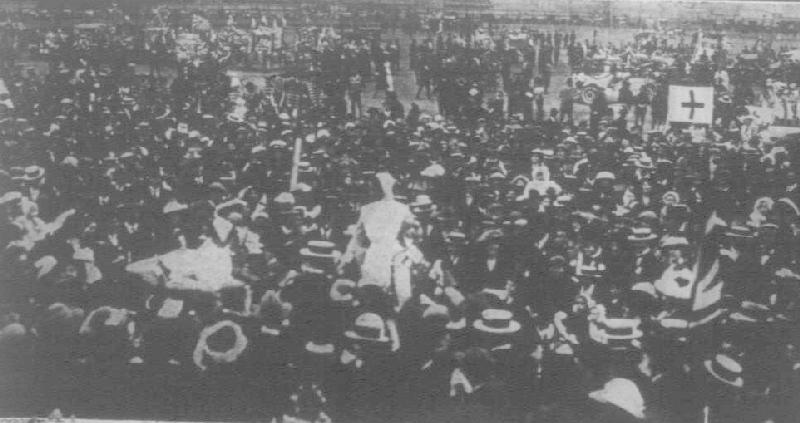 Miss L. Kempster singing "Only a scrap of paper"
Adelaide Observer, 31 July 1915, p. 29.
One of the hightlights was the performance of Miss L. Kempster as she sang "Only a scrap of paper" to the enthusiastic crowds. Even though she looks like a mere whisp of a young lady, she must have had a powerful voice for there were no microphones or amplifiers in view. The crowd were entertained by Miss Kempster leading them into singing various patriotic songs. Afterwards there was a motorcade called the "Bulldog and his allies." The cars may be seen lined up at the rear of the picture. Another item of entertainment was the Wallaroo Gymnastics club performing their various activities while the Kadina Rifle Club gave a shooting demonstration. It was a most enjoyable day.
As time went on, Kadina Day lost its lustre. New people came up with exciting ideas. Instead of Kadina Day, the Cornish heritage is now celebrated with the Kernewek Lowender, or Cornish Festival. One of the popular pieces of real estate are the quaint Cornish miner's houses which now sell for fabulous amounts of money. Kadina remains a beautiful town in South Australia.
---
Citation:
Kadina Day, 24 July 1915
Posted by Project Leader at 11:13 PM EADT
Updated: Thursday, 31 July 2008 11:20 PM EADT