The Oxford Companion to Australian Military History, Mounted Rifles v Mounted Infantry
Topic: AIF - Lighthorse
Australian Light Horse

Mounted Rifles v Mounted Infantry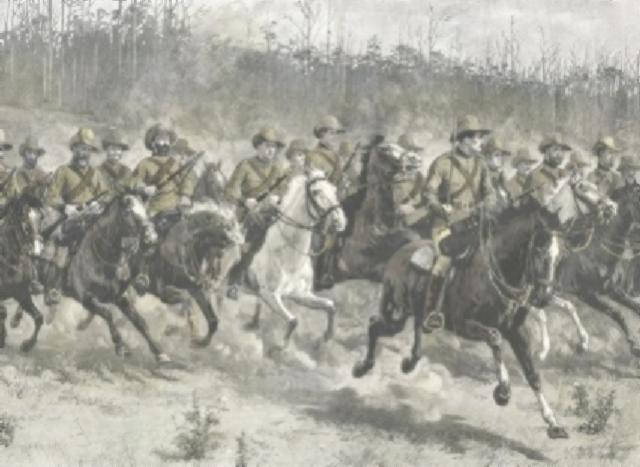 Hand-coloured wood engraving of the Victorian Mounted Rifles by Frank Dadd, 1890.

The following is an extract is an excellent summary detailing the history of the Australian light horse movement. It comes from Dennis, P., et al, The Oxford Companion to Australian Military History, 2nd Ed, OUP 2008, p. 375.
Though these terms are frequently used interchangeably they did in fact denote different types of mounted troops, particularly after Federation. Mounted rifles was a title applied to mounted troops organised along the lines of cavalry (usually as squadrons and regiments) that were intended to be used for the traditional roles of cavalry, such as skirmishing, reconnaissance, screening and raids, but do so making use of firepower alone. It was a model that reflected contemporary ideas about firepower and mounted troops, as well as the belief that creating `full sword' or lance-carrying cavalry from part-time citizen soldiers was too difficult. By using firepower, however, they were also able to take up the traditional infantry role of seizing and holding ground to a limited degree. Until 1918 the light horse was organised along these lines and are best thought of as an abbreviated form of cavalry. Conversely, mounted infantry were defined after Federation as traditional infantry more or less temporarily provided with a form of animal locomotion. The only Australian troops after Federation to fall into this category were the largely notional mounted infantry of the post-Federation Field Force, and the units of the Imperial Camel Corps. Confusion of the terms and their relative practical roles was as common among non-mounted troops hen as it generally is now. This confusion is not helped by the fact that on colonial campaigns, most notably during the Boer War, the exigencies of war meant the distinctions tended to break down.

Further Reading:
Australian Light Horse Militia
---
Citation:
The Oxford Companion to Australian Military History, Mounted Rifles v Mounted Infantry
Posted by Project Leader at 12:01 AM EADT
Updated: Monday, 19 October 2009 10:53 PM EADT