New South Wales Imperial Bushmen, War Diary, 30 June 1900
Topic: BW - NSW - NSWIB
NSWIB
New South Wales Imperial Bushmen
War Diary, 30 June 1900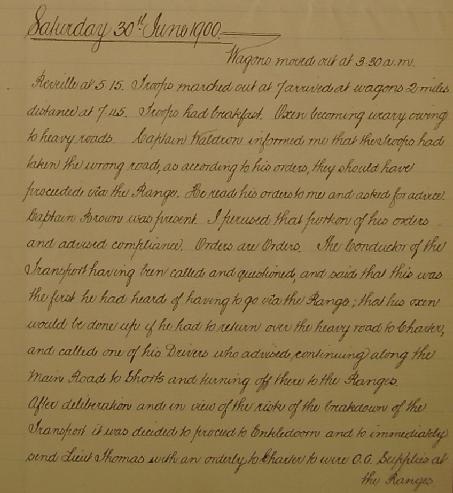 New South Wales Imperial Bushmen, War Diary, 30 June 1900, page 1.

This is an extract from the War Diary written by Major David Miller, Adjutant of the New South Wales Imperial Bushmen who arrived in the Mozambique port of Biera and then moved to Rhodesia as part of the journey for deployment in South Africa to see action in the Boer War.
Saturday 30th June 1900

Wagons moved out at 3.30 a.m.. Reveille at 5.15. Troops marched out at 7 arrived at wagons 2 miles distance at 7.45. Troops had breakfast. Oxen becoming weary owing to heavy loads. Captain Waldron informed me that the troops had taken the wrong road, as according to his orders, they should have proceeded via the Range. He read his orders to me and asked for advice. Captain Brown was present. I perused that portion of his orders and advised compliance. Orders are Orders. The Conductor of the Transport having been called and questioned, and said that this was the first he had heard of having to go via the Range; that his oxen would be done up if he had to return over the heavy road to Charter, and called one of his Drivers who advised continuing along the Main Road to Shorts and turning off there to the Ranges.

After deliberation and in view of the risk of the breakdown of the transport it was decided to proceed to Enkledoorn and to immediately sent Lieutenant Thomas with an orderly to Charter to wire O.C. Supplies at the Ranges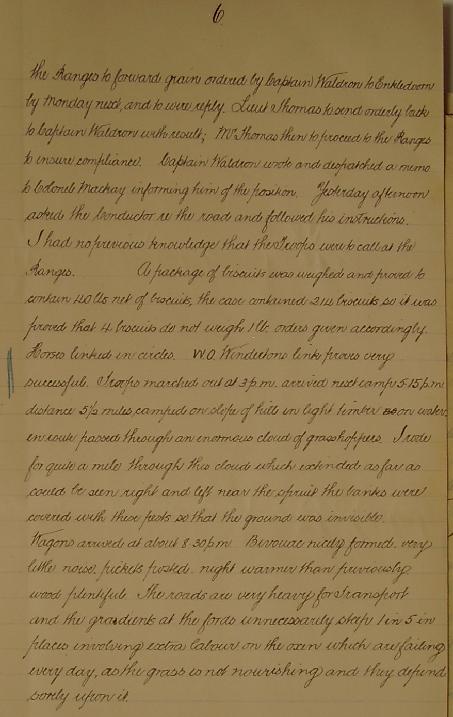 New South Wales Imperial Bushmen, War Diary, 30 June 1900, page 2.

The War Diary of 30 june 1900 continues:
the Ranges to forward grain ordered by Captain Waldron to Enkledoorn by Monday next, and to wire reply. Lieutenant Thomas then proceeded to the Ranges to ensure compliance. Captain Waldon wrote and despatched a memo to Colonel Mackay informing him of the position.

Yesterday afternoon asked the Conductor re the roads and followed his instructions. I had no previous knowledge that the troops were to call at the Ranges.

A package of biscuits was weighed and proved to contain 40 lbs net of biscuits, the case contained 214 biscuits so it was proved that 4 biscuits do not weigh 1 lb, orders given accordingly.

Horses linked in circles. Warrant Officer Kindertons link proves very successful.

Troops marched out at 3 p.m. arrived next camp 5.15 p.m. distance 5½ miles camped on slope of hill in light timber on waters.

En route passed through an enormous cloud of grasshoppers. I rode for quite a mile through this cloud which extended as far as could be seen right and left near the spruit the banks were covered with these pests so that the ground was invisible.

Wagons arrived at about 8.30 p.m.. Bivouac nicely formed. Very little noise. Pickets posted. Night warmer than previously. Wood plentiful.

The roads are very heavy for transport and the gradients at fords unnecessarily steep, 1 in 5 in places involving extra labour on the oxen which are failing every day and the grass is not nourishing and they depend sorely upon it.



Falling moral now leads to a major snafu on their march. The route for the march is not made clear to the oxen carts and drivers, so they take a wrong road. The problems compound. The oxen are in a weakened state due to grazing fodder lacking any nutritional value. After consultations with the drivers, it was decided to follow the track until able to get back onto the main track. This meant a re-organisation of ration requests as they would arrive at the incorrect place. Plans, orders and the like needed to be altered. At the end of the day, it was finally established beyond all doubt that the men were being short weighted on their rations.
Previous: War Diary 29 June 1900
Next: War Diary, 1 July 1900
Further Reading:
New South Wales Imperial Bushmen
New South Wales Imperial Bushmen, Roll of Honour
Battles where Australians fought, 1899-1920
---
Criterion:
New South Wales Imperial Bushmen, War Diary, 30 June 1900
Posted by Project Leader at 12:01 AM EADT
Updated: Sunday, 13 June 2010 7:43 PM EADT