New South Wales Imperial Bushmen, War Diary, 5 July 1900
Topic: BW - NSW - NSWIB
NSWIB
New South Wales Imperial Bushmen
War Diary, 5 July 1900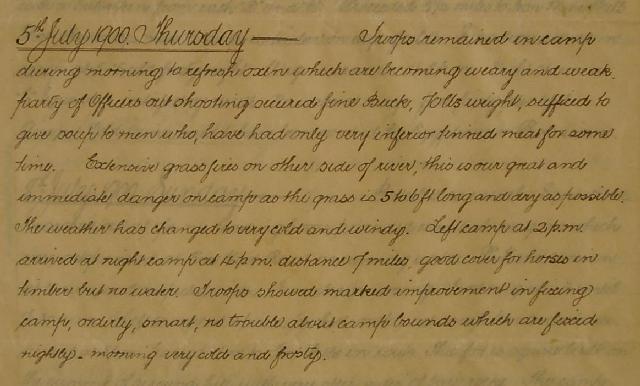 New South Wales Imperial Bushmen War Diary, 5 July 1900.
This is an extract from the War Diary written by Major David Miller, Adjutant of the New South Wales Imperial Bushmen who arrived in the Mozambique port of Biera and then moved to Rhodesia as part of the journey for deployment in South Africa to see action in the Boer War.
5 July 1900 - Thursday

Troops remained in camp during morning to refresh oxen which are becoming weary and weak. Party of Officers out shooting secured fine Buck, 70 lbs weight, sufficed to give soup to men who have had only very inferior tinned meat for some time.

Extensive grassfires on other side of river, this is our great and immediate danger on camp as the grass is 5 to 6 feet long and dry as possible. The weather has changed to very cold and windy. Left camp at 2 p.m., arrived at night camp at 4 p.m. distance 7 miles. Good cover for horses in timber but no water. Troops showed marked improvement in fixing camp, orderly, smart, no trouble about camp bounds which are fixed nightly. Morning very cold and frosty.



The officers hunt for deer to supplement the poor diet the men are suffering. The camp takes until the afternoon to move off on the march as the oxen are weakening through poor feed. Morale is slowly lifting with the addition of venison on that day.
Previous: War Diary, 4 July 1900
Next: War Diary, 6 July 1900
Further Reading:
New South Wales Imperial Bushmen
New South Wales Imperial Bushmen, Roll of Honour
Battles where Australians fought, 1899-1920
---
Citation:
New South Wales Imperial Bushmen, War Diary, 5 July 1900
Posted by Project Leader at 12:01 AM EADT
Updated: Sunday, 13 June 2010 6:52 PM EADT