New South Wales Imperial Bushmen, War Diary, 14 July 1900
Topic: BW - NSW - NSWIB
NSWIB
New South Wales Imperial Bushmen
War Diary, 14 July 1900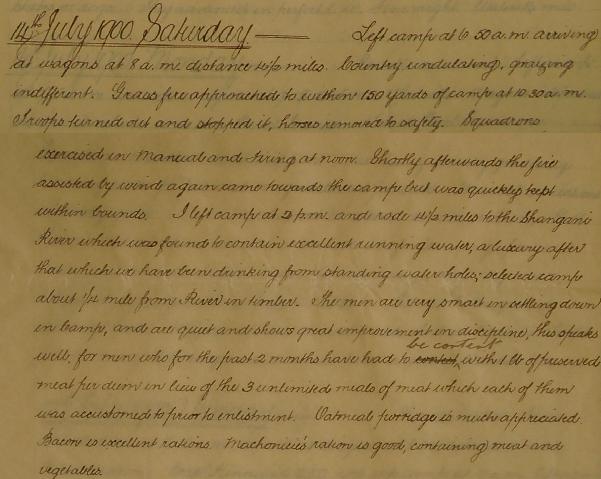 New South Wales Imperial Bushmen War Diary, 14 July 1900.
This is an extract from the War Diary written by Major David Miller, Adjutant of the New South Wales Imperial Bushmen who arrived in the Mozambique port of Biera and then moved to Rhodesia as part of the journey for deployment in South Africa to see action in the Boer War.
14 July 1900 - Saturday

Left camp at 6.50 a.m. arriving at wagons at 8 a.m. distance 4½ miles. Country undulating, grazing indifferent. Grass fire approached to within 150 yards of camp and at 10.30 a.m.. Troops turned out and stopped it, horses removed to safety.

Squadrons exercised in Manual and Firing at noon. Shortly afterwards the fire assisted by wind again came towards the camp but was quickly kept within bounds.

I left camp at 2 p.m. and rode 4½ miles to the Shangani River which was found to contain excellent running water, a luxury after that which we have been drinking from standing water holes; selected camp about ¼ mile from River in timber. The men are very smart in settling down in camp and are quiet and shows great improvement in discipline, this speaks well, for men who for the past 2 months have had to be content with 1 lb preserved meat per diem in lieu of the 3 unlimited meals of meat which each of them was accustomed to prior to enlistment. Oatmeal porridge is much appreciated. Bacon is excellent rations. Marchioness ration is good, containing meat and vegetables.


Grass fires threaten the camp and the men work hard to contain them. A few hours after containment, winds whipped up the fires again. Camp moved to Shangani River which contained flowing water, a relief from the muddy pool water they had been using along the route.
Previous: War Diary, 13 July 1900
Next: War Diary, 15 July 1900
Further Reading:
New South Wales Imperial Bushmen
New South Wales Imperial Bushmen, Roll of Honour
Battles where Australians fought, 1899-1920
---
Citation:
New South Wales Imperial Bushmen, War Diary, 14 July 1900
Posted by Project Leader at 12:01 AM EADT
Updated: Sunday, 13 June 2010 5:38 PM EADT