The Battle of Stinkhoutboom, South Africa, 24 July 1900, Outline
Topic: BatzB - Stinkhoutbm
Battle of Stinkhoutboom
South Africa, 24 July 1900
Outline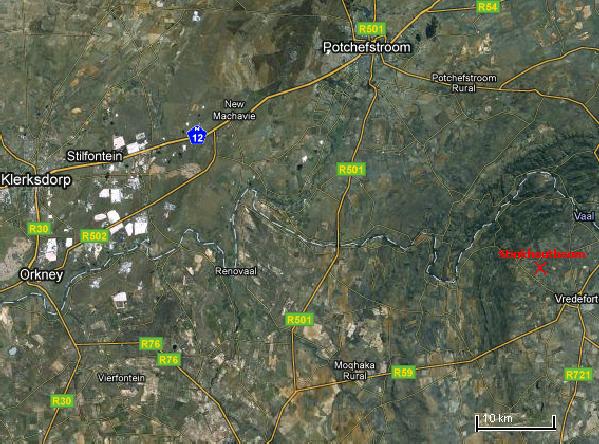 Stinkhoutboom in the Orange Free State located on Google maps.

Stinkhoutboom, located some 70 kilometres north of Kroonstad in the Orange Free State and just ten kilometres south of the Vaal River, was the scene of an action during the Second youth African War fought on 24 July 1900. British forces had pursued the Boer commando led by General Christiaan de Wet north to this point, seeking to prevent his passage into the adjoining Transvaal republic and forcing him to take refuge in the Reitzburg Hills beyond the town of Vredefort. On 24 July elements of Brigadier-General C.P. Ridley's mounted infantry brigade (which included both the New South Wales Mounted Rifles and Army Medical Corps) learnt that de Wet had passed through the town the previous night, commandeering men, food and horses.
Ridley's men sped on in pursuit. At a farm called Stinkhoutboom some of the NSWMR, working with men from other units in the brigade, came upon part of de Wet's rearguard with six grain wagons. In the farmhouse they also captured several exhausted Boers who were asleep in bed still fully clothed. De Wet responded to the sound of firing by sending back Danie Theron's Scouts to make a counter-attack, supported by two guns which opened fire from concealed positions on high ground to the right. The hour-long action which followed saw the small open plain near the farm filled with several hundred men from both sides, who engaged each other at a distance often no more than 200 metres. Initially the mounted infantry were unable to hold their ground, and were forced to make an orderly retreat with the captured wagons. The end came when two guns from Ridley's brigade arrived on the scene and began shelling the Boers, forcing them to withdraw with seventeen casualties, including two men killed. The British suffered 39 casualties, reportedly including three South Australians killed and several wounded.
The engagement was principally notable for the act of a medical officer with the New Booth Wales Army Medical Corps, Captain Neville Howse, who - at the height of the fighting - rescued a young trumpeter who lay wounded without shelter in the field of fire. This act of gallantry earned Howse the Victoria Cross, the first awarded to a member of any Australian unit.
Extracted from the book produced by Chris Coulthard-Clark, Where Australians Fought - The Encyclopaedia of Australia's Battles, Allen and Unwin, Sydney, 1998, pp. 83-84.
Additional References cited by Chris Coulthard-Clark:
L.S. Amery, (ed.)
The Times History of the War in South Africa 1899-1902
, Vol. 4 (1906), London: Sampson Low, Marston & Co.
R.L. Wallace (1976) The Australians at the Boer War, Canberra: Australian War Memorial & Australian Government Publishing Service.
Further Reading:
The Battle of Stinkhoutboom, South Africa, 24 July 1900
The Battle of Stinkhoutboom, South Africa, 24 July 1900, Roll of Honour
Battles where Australians fought, 1899-1920
---
Citation:
Stinkhoutboom, South Africa, July 24, 1900
Posted by Project Leader at 12:01 AM EADT
Updated: Monday, 2 August 2010 2:21 PM EADT