The Battle of Grootvallier, South Africa, 1 August 1901, Outline
Topic: BatzB - Grootvallier
The Battle of Grootvallier
South Africa, 1 August 1901
Outline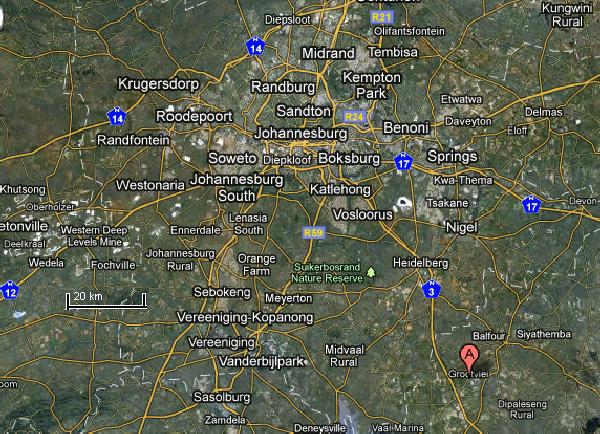 Location of Grootvlei (Red "A") on Google Earth.

Grootvallier (also known as Grootvlei), an action during the Second South African War, fought on 1 August 1901 near the Vaal River in the north-west Orange Free State. A detachment from a British column commanded by Lieut.-Colonel H.B. De Lisle, comprising 200 South Australians led by a British officer, Major J.S.M. Shea, succeeded in locating a night laager (camp) being used by a Boer commando on a farm. Unknown to the British, this camp actually contained the noted enemy general, J.C. Smuts, who was resting while attempting to evade an extensive drive which the British commander-in-chief, General Lord Kitchener, had launched on 29 July.
After a silent approach and stealthy reconnaissance, the Australians prepared to assault the enemy position after dark. When they attempted to gallop in on the laager from three sides, however, they met an unexpected obstacle in the form of wire fences and were forced to dismount and rush forward on foot `with bayonets fixed'. This delay enabled nearly all of the camp's 300 occupants (including Smuts) to escape. Nonetheless six Boers were killed in the hand-to-hand fighting which raged at the farmhouse, and twelve prisoners (including two officers) were captured along with a large number of horses. The Australians' losses were just two men wounded, though Shea's Indian orderly was killed while riding behind him. The incident was significant enough that several participants were mentioned in Kitchener's despatches and one man was awarded the Distinguished Conduct Medal.
Extracted from the book produced by Chris Coulthard-Clark,
Where Australians Fought - The Encyclopaedia of Australia's Battles
, Allen and Unwin, Sydney, 1998, pp. 90-92.
Additional References cited by Chris Coulthard-Clark:
L.S. Amery, (ed.) The Times History of the War in South Africa 1899-1902, Vol. 4 (1906), London: Sampson Low, Marston & Co.
L.M. Field (1979) The Forgotten War, Carlton, Vic.: Melbourne University Press.
R.L. Wallace (1976) The Australians at the Boer War, Canberra: Australian War Memorial & Australian Government Publishing Service.
Further Reading:
The Battle of Grootvallier, South Africa, 1 August 1901
The Battle of Grootvallier, South Africa, 1 August 1901, Australian Casualties
Battles where Australians fought, 1899-1920
---
Citation:
The Battle of Grootvallier, South Africa, 1 August 1901, Outline
Posted by Project Leader at 12:01 AM EADT
Updated: Monday, 2 August 2010 12:20 PM EADT