3rd West Australian Bushmen, Outline
Topic: BW - WA - 3WAB
3rd WAB
3rd West Australian Bushmen
Outline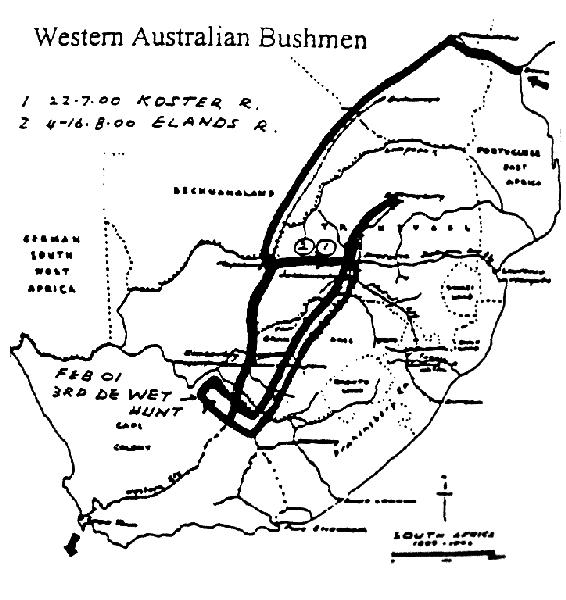 Map illustrating the activities of the 3rd West Australian Bushmen in South Africa, 1900-1901.
[From: Chamberlain, M., The Australians in the South African War 1899-1902, Canberra, 1999.]
In 1911, Lieutenant-Colonel P. L. Murray, produced a marvellous Boer War reference detailing all the contingents sent from Australia to South Africa, giving a brief history of the formation and finally, listing all the soldiers who saw service in South Africa with that unit. The book was called, Official Records of the Australian Military Contingents to the War in South Africa. It is now the standard reference and starting place for any person interested in pursuing information about Australian involvement in the Boer War.
Murray, P. L., Official Records of the Australian Military Contingents to the War in South Africa, pp. 408 - 410.
Third (Bushmen's) Contingent.

Western Australian Government Gazette, of 16th February, 1900, contained

a General Order to the effect that the Government had sanctioned a further increase in the establishment of the Mounted Infantry Corps by 125 of all ranks. Pay, clothing, equipment, &c., as for previous Contingents.

It was notified that members of the Bushmen's Company who might provide their own horses and saddles, if passed fit for service by the military authorities, would be granted a sum of £16 as compensation, and a refund of any rail freight that might have been paid in bringing such horses to Perth. At the termination of hostilities, if the horses were sold, any excess over £15 obtained by such sale, would be given to the owner.

The same announcement was made in regard to pensions, etc., as previously (aide tad contingent).

Each man enlisted was required to be in possession of a certificate from a Committee appointed by the government as expert judges of the qualifications of an Australian bushman.


Departure and Return

The Contingent left on 13th March, 1900, with 7 officers, 109 others, and 397 horses. Four died or ware killed ; 6 officers, 13 others, were struck off in South Africa ; 2 officers, 91 others returned to Australia (1 officer promoted from ranks); 2 man died after return) ; 2 officers appointed to Imperial service.


Promotions, Etc.
Captain H. G. Vialls, to Major, 13th February, 1900; to Lieut.-Colonel (local rank in South Africa).

Lieutenant A. F. Thunder, to Captain, 8th May, 1901; posted to 6th Contingent.

Captain (Medical Staff) F. J. Ingoldby, to Major, 12th December, 1900. Company Sergeant-Major S. J. Chipper, to Lieutenant and Quartermaster, 18th June, 1900.

Private B. H. Andrews became Lieutenant and Quartermaster, 2nd Australian Commonwealth Horse, 11th February, 1902.

Private P. P. Strickland, to Lieutenant, 4th Australian Commonwealth Horse, 27th March, 1902.

Lieutenant R, R. C. Vernon accepted commission in City of London Regiment, 19th May, 1900.

Lieutenant M. R, P. Gledhill was commissioned in Lancashire Fusiliers, 39th May, 1900.

For promotions of N.C.O.'s and men, vide nominal roll.



Service.

The 3rd Company of Western Australian Mounted Infantry for the war, left Fremantle on 13th March, I900, in the transport Maplemore, and arrived at Beira on the 18th April. The Contingents which landed at Beira were divided into regiments as follows:- 1st Regiment, New South Wales; 2nd Regiment, Victorians sad Western Australians; 3rd Regiment, Queenslanders. But the Victorian and Western Australian Regiment was more generally designated the "3rd Bushmen." The different corps were very much mixed up before they had gone far into the Transvaal.

The 3rd Western Australians formed part of the force-of Bushmen which, under General Carrington, crossed Rhodesia and entered the Transvaal from Mafeking. They wowed in the first instance with General Carrington's Column through Rhodesia, until after the relief of Eland's River; afterwards with lord Methuen's Column, and subsequently with General Plumer's Force,

The Contingent, small as it was, was split up; but saw a great deal of fighting throughout July, August, and September, 1900, in the district between Mafeking in the west, and Warmbad, north of Pretoria, in the east. At Kostsr's River (19th, 21st, 22nd July) there was a prolonged engagement in which parties from the different Australian Colonies took a large share. The 3rd Western Australians, with a strength of about 70, had Captain (Medical Staff) F. T. lngoldby, and several others wounded. They were associated with the 3rd Victorians ; and, as before stated, formed the 3rd (sometimes called the 2nd) Regiment of Australian Bushmen.

A few Western Australians, acting under Captain Ham, 3rd Victorians, were in the Australian garrison which made a stiff defence at Eland's River in the Rustenburg district, 4th to 16th August. (Vide Now South Wales Citizen's Bushmen, p. 73, and 3rd Queensland Contingent.) Another small detachment were with General Carrington, when he attempted to effect Hore's relief from the west; while the first troops to march into the place as the advanced scouts of Lord Kitchener's force, which relieved the garrison from the south-east, were men of the 1st Western Australians.

During the last few months of 1900, and up to April, 1901, the 3rd, as part of the 3rd Australian Bushmen with General Plumer's Force, saw much fighting in many parts of the seat of war; and, under the fine leadership of Major Vialls, always did well.
Received from Lord Roberts, 3rd December, 1900:
"Lord Kitchener informs me that General Paget has brought to his notice the great gallantry of Major Vialls, 3rd Western Australians, and of the magnificent behaviour of that regiment in a recent engagement. I offer to their relations and to the colony generally, my most hearty congratulations."


Captain Hurst remained in South Africa after the return of his Contingent to Australia. While attached to "G" Battery Royal Horse Artillery, then converted into Mounted Rifles, he was severely wounded in action at Boochbult, Western Transvaal, Slat March, 1902.

The 3rd left Cape Town on 9th May, 1901, in the transport Morayshire, and arrived in Fremantle on the 28th,

Disbanded, 18th August, 1901.


War Services and Honours.
Vialls, Lieut.-Colonel HG.- Operations in Rhodesia, Transvaal, orange River Colony, and Cape Colony, between April, 1900, and April, 1901. Despatches, London Gazette, 19th April, 1901. C.B. Queen's Medal with four clasps.

Hurst, Captain H. R.-Operations as stated. Served until the end of war. Action at Rhenoster Kop, special mention in Commanding Officer's despatches, 19th November, 1900. Queen's Medal with four clasps, Kings Medal with two clasps.

Vernon, Lieutenant R. R. C.-Operations as stated. Despatches, London Gazette, 19th April, 1901. D.S.O. Queen's Medal with four clasps.

Chipper, Lieut.-Quartermaster S. J. - Was present during operations in Rhodesia, and renewed Queen's Medal with two clasps.

Ingoldby, Major (Medical Staff) F. J. - Operations in Rhodesia and Transvaal. Despatches, London Gazette, 17th June, 1902. Queen's Medal with two clasps.

Lieutenants C. H. Ord, A. F. Thunder, and M. R. P. W: Gledhill were present during all, or portions of, operations stated, and received Queen's Medal with clasps. Lieutenant Ord was mentioned in despatches, London Gazette 10th September,1901.

Further Reading:
3rd West Australian Bushmen, Roll of Honour
Battles where Australians fought, 1899-1920
---
Citation:
3rd West Australian Bushmen, Outline
Posted by Project Leader at 12:01 AM EADT
Updated: Saturday, 1 May 2010 1:41 PM EADT