2nd Tasmanian Imperial Bushmen, Bufton Account, Part 2
Topic: BW - Tas - 2TIB
2nd TIB
2nd Tasmanian Imperial Bushmen
Bufton Account, Part 2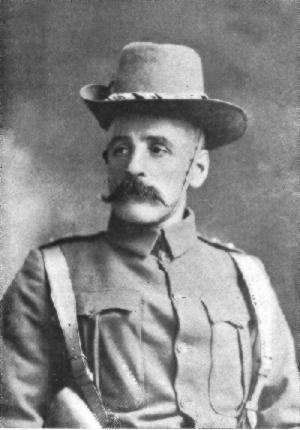 Lieutenant-Colonel E. T. Watchorn, commanding second Tasmanian Imperial Bushmen' s contingent.
The following account is extracted from the book written by John Bufton called, Tasmanians in the Transvaal War, which was printed and published in Launceston in 1905.
John Bufton, Tasmanians in the Transvaal War, Launceston, 1905, pp. 331 – 386.
Chapter XIII, Second Tasmanian Imperial Bushmen.

SYNOPSIS. - A FAMOUS DAIRY-CAPETOWN TO RECEIVE A V.C. - O.C. ON THE GOTHIC-TROOPER JARDINE'S DIARY-"FIRST RABBIT FOR FIVE YEARS"-EXPERIENCES AND CRITICISMS-TROOPER THOMPSON'S LETTER-TROOPER A. C. PEGG'S DIARY-RETURN OF THE "TIBS." Diary of Lieutenant Bisdee, I.C.

Note. - I had extracted eighty MS. pages from this dairy, but as space forbids its inclusion I am most reluctantly compelled to use only twelve pages. It would be impossible to condense the whole, hence I have selected the first twelve pages of my original extract.

Honour and shame from no condition rise; Act well your part, there all the honour lies. - Pope.

THE first entry is dated Newtown Camp, March 22nd, 1901.

Having carefully read this admirably-written diary, I find it difficult to do justice by condensation, and I therefore propose to reproduce nearly the whole of it. Of course, there is necessarily much that is more or less monotonous in any record of the kind, but the days of apparently useless marching out and again returning are part of the game of war, and they are essential to the coherency of any record of the operations of the contingent. In parts that are more or less private names will be replaced by initials. I shall omit, for want of space, most of the notes on the voyage, where life was much the same as on other troopships.

Mr. Bisdee was a returned trooper with a much-coveted distinction, and, I may be permitted to add, a gentleman by birth and breeding, and was therefore in every way fitted for an officer's position. When he applied to Colonel Legge he was told that he was too late, but so good a man was not to be missed, and he modestly tells us:- "Next morning he told me that he had been able to get me a place in the Fifth Contingent."

On Friday I set to work to get equipped, and was soon under way.

Captain Perceval picked me a horse. She soon developed lameness, so I got another, one which Page had strongly recommended. This one is a great success.... I have been put in charge of the 3rd division of No. 1 Company, and they appear to be a very good lot of men. Sergeant Drew has had a lot of experience, both in South Africa and also in the Cuban war.

Corporal Facy I knew well before, as he was picked to go with the First Imperial Bushmen, and Lance-Corporal Orr I met on the Sydney trip, and he seems a very smart young fellow.

S.S. "Chicago," Sunday, March 31. - We embarked on Wednesday, March 27th, just a year, less one month, since our embarkation on the "Manhattan." Referring to his mother he says: I am glad to say she was more cheerful at my departure on this occasion. It was hard to tear oneself away after so brief and pleasant a time at home.... A large crowd assembled at the wharf, but people were not nearly so enthusiastic as on former occasions. We had not much time to say good-bye to all friends and relations, and I fear I must have missed many out. I received a number of presents just at last from [a list of young ladies with pretty names!], which came as a very pleasant surprise.

We made a start at about 12.30 noon, and soon got out of sight of "home."... The following morning the Tasmanian Contingent presented a sorry spectacle, and "stables" were attended by about a dozen men.... There are still a number hors de combat. Dr. Bingham Crowther is on board going to South Africa with us, and is taking great pains to improve their lot. [The brave lieutenant was ill also, but, being orderly officer, he had to set his teeth and] "had to set too whether I could or no, and consequently was much better for it." Referring to the men's food, he proceeds:-The officers' mess compares rather favourably with this: Oysters, fish, soup, all sorts of poultry, cold joint, vegetables, salads, puddings and pastry, and fruits. With a bill of fare like this every day one is tempted to think that some of these delicacies might have been spared for the men. At any rate, they might have got good butter and plenty of jam.

To-day being Sunday a church parade was held in the troop deck.

Colonel Watchorn asked me to read the lessons, and I got Dr. Crowther to read the sermon. The room was rather stuffy, but it went off very well.

The doctor's sermon was rather long, for which I got the anathemas of most of the congregation! [Be shorter next time, doctor.]... Brent and I seem to be the only performers on the piano, but most of us can make a noise, which at times is rather overpowering in this small saloon.

Just now five or six of the officers are singing songs decidedly secular or comic-spoiling Sunday evening.

Thursday, April 5th, 1901. - Passed Cape Leeuwin, W.A., yesterday, and saw the last of Australia for some time. So far have had rough weather and head winds, and have not made more than 10 knots. Last Tuesday evening the men gave a concert on the lower deck, in which some of the officers joined - Brent, Spencer, and Reynolds. Some of the songs were very good. Boxing was the order of the day Wednesday evening....

Was sorry to lose Groom (transferred to No. 4), but got a good man in his place, Corporal Laughton (Paddy's brother).

One horse died a day or two ago, over which a long enquiry was held, which did not appear to elicit much information. Have been reading Wolseley's " Soldier's Pocket Book," which contains much useful information.

He evidently knew what he was writing about.... Read also the Gospels and Epistles set apart for this week (Passion). To-morrow will be Good Friday.... Yesterday (Easter Monday) we had a great day's sports, the chief interest being centred in the tug-of-war between divisions. This was carried off by No. 1 division in the first company, a doughty set of men. Of course the 3rd division was just as good! But somehow or other they got beaten.... In the final heat of the obstacle race an unfortunate accident happened, G. Blythe breaking his leg at the shin through slipping on the ladder.... The only other competition there was time for was pillow fighting on a greasy pole over a sail full of water, which was most amusing.

On Easter Sunday we had a service on deck. It was my turn for orderly officer, and I was unfortunate enough to come across a sentry asleep at his post, and had to report him. This is a most serious offence, punishable with death when on active service. The colonel, however, let him off with two days in cells, after enlarging upon the enormity of the offence. It is one of the duties which I dislike, but, of course, discipline must be preserved.

Thursday, 11th, 1901. - Yesterday went through the ordinary routine.

In the afternoon took charge of our division, and had to put them through various extension motions and physical drill.

War on board! A much more serious offence, however, is the incapacity through drink of -. He was confined to his room, but broke his arrest and collected the non-coms together to ask them to stand by him against the officers. He will probably be suspended for the remainder of the voyage, and tried by court-martial at Capetown.

Saturday, April 10th. - We have now arrived close to Port Elizabeth, where we are going for coal and instructions. The sports committee finished up by a concert. The colonel presented the prizes to the winners of the heavy and light weight boxing contests to Private Isles and Lance- Corporal Edwards respectively, complimenting them on their coolness and pluck. Both Iles and Edwards attempted to respond, and succeeded in saying what they did not mean. The coastline appears familiar, as it is about ten months since I was along here before.

Sunday, April 21st. - Port Elizabeth. Beautiful day. Held a short service on deck as usual. Full dress parade. Seven of us went ashore this afternoon, but were not prepossessed with what we saw. Electric trams were very good, and run smoothly, but with the exception of the middle of the town, where there are some very fine buildings, there is not much to see. The people are a very heterogeneous lot, the native element being very evident, and in some cases apparently very well off. I saw one little black girl going to Sunday school in bright blue plush and red satin, with stockings and shoes to match.

I see by the papers that Plumer has got into Pietersburg, and that Lieutenant Walter has been shot, which I am extremely sorry to hear. I hoped we should have had a hand in clearing that line. Perhaps we shall now. The Boers appear to have been very much harassed everywhere, but are still holding out, although in a very sorry plight.

Wednesday, April 24th. - Railway. Here we are again speeding on the same route to the front as about 10 months ago we travelled to Kroonstad.

Our destination this time, however, is Cradock, north of Cape Colony, where a small commando has been giving some trouble. We are to join Colonel Hague, who is scouring the district with a flying column. We left the "Chicago" this morning, sending away a tremendous load of baggage in two lighters, and leaving ourselves by another. We first marched up to the stores, where the men were supplied with rifles and the officers with carbines, and then we went to the Feather Market, where the good people of Port Elizabeth had prepared a lunch for us, which was very acceptable. They go to a lot of trouble to receive contingents hospitably, as a great many troops have lately passed through here since the plague in Capetown.

I did not meet any of those I had met before, but someone let the cat out of the bag, and I was soon seized upon for signatures. After being fully equipped as to arms and ammunition we marched the 1st Company down to the station, and made a start about 1.30 p.m., the others following about three hours later. As to the journey, the country is greener than on my former trip, and there seems to be a little grass about. The rainy season has just com to an end-or rather I hope so.

Cradock, Saturday, April 27, 1901. - We arrived here at about 8.30 on Thursday morning. The second train caught up to us once on the way, and arrived here about an hour after us. We immediately started to detrain the horses, and were soon in a grand muddle. No breakfast, no arrangement for feeding horses, not enough nosebags, and about a dozen trucks to unload. The Q.M.S. got orders to issue no rations till the trucks were unloaded-goodness knows why! I had No. 1 Company marched up to the "tucker" truck and given a ration of biscuits and bully beef, after which they got to work with a will. Eventually we got all our horses and baggage out to camp, about half a mile out, and then set to putting up our bivouacks.

The amount of equipment drawn is something wonderful, far more than we require. All our saddles were condemned at Port Elizabeth and English cavalry and Australian saddles were sent out in place of them. The former are fairly good, but rather heavy. The others are awful things, and I hope we shall be able to get some of our own back. We have telegraphed for them to come up. There was a parade this afternoon in full marching order, and, barring the saddles, everyone was fairly well equipped. The Q.M.S. has a lot of stuff to return. Suche was given a command to-day in No. 1 company in the place of M'Cormick, who is appointed adjutant. Hewill make a smart officer, and seems a very good chap.

Roodwal Camp, T.I.B.C., Thursday, May 2nd. - We shifted camp to this spot yesterday, arriving here about II-3o a.m. We were some time getting off on account of getting all the spare baggage packed up. We have eight wagons, two Scotch carts, one Cape cart, and four pack mules, which seems a lot for 25o men. On Sunday we had some mounted drill, as usual, and in the evening went to the English Church, 68 men and M'Cormick and myself, and we packed the little church full, although the clergyman, Mr. Lee, had got a lot of chairs specially for us. He is a jolly old chap, a regular Irishman. One of the hymns was "for absent friends," which I suspect he had on purpose. On Monday and Tuesday the ordinary camp routine went on, nothing much to do except issuing equipment, of which we have far too much. I went into Cradock several times to get several things, such as a lantern and light axe, and also a light canvas tent, which Blyth and I, who sleep together, had made on the Egyptian principle, and it is a great success in every way. On Tuesday afternoon the division leaders took charge, and gave some patrolling and skirmishing exercises. Thursday Night, May 2nd. - Out on outpost with my division. The Boers having been seen close round we have to be on the alert. I have only one non -com. to post the men, Corporal Orr, so I am doing non-com.'s work myself. Robinson and Taylor are on other picquets. We have a lovely moonlight night, and I am writing this by moonlight, sitting in a Kaffir kraal, having just been round the outposts.

There are several farmers about here, mostly Dutchmen, and some of these are keeping the Boers going. The farm next our camp belongs to a Mr. Michan, who claims to be of French extraction, and very loyal, but one has to be very careful and not believe all you hear. He is very well off, having made a fortune out of goats and ostriches. He is a great believer in Angora goats.

Sunday, May 5th, 1901. Line Bank. - Received orders last night to shift camp to here, which is down the line i3 miles from Cradock. This is only about five miles from Rood Wal, but we had to go nearly all the way back to Cradock to get on to the road here, as the hills intervening are very steep. A commando of Boers is reported to be only about five miles from here (Scheeper's), so we may possibly have a scrape shortly. We have a very good camping-ground, not shut in like out last, and consequently much easier to look after, not requiring half the number of outposts. We are close to a farm occupied by an ex-Australian "jackeroo," who treats us right royally. He asked us all into lunch when we arrived at about 2.30 p.m., and invites us there whenever we feel inclined to go. He is a young fellow, married, apparently about four years. The only other inmate of the house besides his wife and young children is a lady help or governess, Miss Andrew. (His name is Drake.) It is pleasant to see an Australian again. On Friday the Colonel, Adjutant, and I rode out along the Graaf Reinet-road, and, through a very deep pass, which was fortunately clear of the enemy, otherwise we should probably have been wiped out. Yesterday Blyth and I rode into Cradock to arrange for the parson to come out to-day, but he was ill in bed. It was fortunate that no arrangement was made, as we moved on.

Friday, May 10th, 1901. An Eventful Week. - Monday I spent in camp, being O.O. for the day. I did some reading and writing. In the afternoon reports of all sorts came in re Boers being all over the place, and a party of 4o Boers attacked the C.M.Rs. at Cradock. The Colonel took this as a feint, as no possible good could come of it, and expected an attack on the camp. Consequently all the men were roused out at 10 p.m., and started to dig trenches and fix up bag shelters, and putting out pickets all over the place. We then lay in the trenches all night; and wasn't it cold! The attack never came off, however, and morning arrived without any excitement. The men could not make out what it was all about, and were rather sorry it ended in nothing. On Tuesday reports still flew about, and I was sent out with a strong patrol to patrol Mortimer and down the valley towards Drennan and back. Hallam and Chalmers were sent out to Dreifontein. I visited several farms-Jordaun's, De Klerk's, Biltings, and several others. Mr. and Mrs. Jordaun were at Cradock, but an old man and his elderly daughter were there. I tried to gain some information from them, but could not get much. We noticed two men galloping away from the house before we came, but this they denied. I think they are very suspicious. De Klerk is supposed to be very loyal, but I ha'e ma doots. These Dutch seem to be very clannish.

We arrived home at dark very tired, so I had some tea, and soon turned in. I had not been in bed half an hour, however, when despatches came in for our regiment to mover out at once and guard the line from Mortimer to Dassu Dieu, so as to keep the Boers from crossing the line westwards. Boot and saddle without delay, and by 10 p.m. we were on the march. Lovely moonlight night, just the time for a good march. Every man was well armed, and we had no waggons, all provisions, etc., etc., were to come on the following day. We marched along exactly the same route as I had been that afternoon, and nothing eventful occurred on the way.

We surrounded one suspected house and searched it, finding all right. We halted at Drennan at about 3 a.m., until daylight. We expected to meet Boers at every turn, but found the way clear. After dividing what rations were on the waggons amongst the men, we started on again. We had been leaving various divisions along the line. Hallam and I were the last two between Dassu Dieu and Stone Bridge, about two miles. We passed over some very rough ground to get there, which Suche had to protect, but which did not need it. I placed two picquets out, and Hallam two, and we were prepared and even anxious to receive cavalry that night. We had no provisions, expecting some to come by every train. On Wednesday night our picquet heard several loud explosions, which they supposed to be the Boers blowing up the line, and they proved correct. They broke it up and cut the telegraph wires not far from Suche's outposts, and got through. In the afternoon of Thursday Blyth took a patrol towards Ganna Hoek, and got caught by a party of Boers in a narrow pass and had to run the gauntlet. He got three men wounded-one seriously, being shot through the head-and four horses. Brownell had his horse shot, and, after wounding several Boers, had to surrender, having run out of ammunition. He was stripped of everything, save his trousers, and sent away back. Warburton, the badly -wounded man, was brought in an ambulance, and has been sent to Cradock. He had a piece of his skull shot off, but when the ambulance came to him he was asleep and snoring!! On Tuesday evening we received orders to concentrate at Mortimer. This meant another night march for us, but we are getting used to doing without sleep, or snatching it when we can. We had had no provisions while we were at Dassu Dieu, but we soon replenished our larder by commandeering some flour and baking powder, butter, fowls, mealie, and salt, sowe were well supplied. A large consignment of rations arrived by train just as we were starting back. These we sent back. We arrived here (Mortimer) at about 9 p.m., after a very dark and unpleasant ride. We missed the road several times, till Leigh Hewitt came to the rescue several times and guided us. We got orders last night to reconnoitre about Ganna Hoek, and made a reconnaissance in force. About 150 men went out, and soon came across the Boers. Several men rode up too far ahead, and got fired upon, whereupon they lost no time in retiring. We had three divisions on each side of the road, on the hills, dismounted, and we returned the fire. No damage was done on either side, and we returned at about 2.30 p.m., having located their position. Camp here at Mortimer is not a very good one, being pitched on a series of rubbish heaps. We are quartered in a large room, apparently built as a store. Fifty C.M.Rs. stationed here under Captain Booth and Lieutenant Taylor.

Saturday, May 11th. - All available hands went out again to-day to Ganna Hoek, and found the Boers had decamped. Kopjes very steep and strong; splendid grass; abundance of game. Arrived home very late and very tired.

Sunday, May 12th. Halesowen. - Late up. Sleeping in the big room at Mortimer. Arranged for patrol to go out to get horses seen yesterday, but orders came to shift camp at once to Halesowen. We arrived here at 4 p.m., and pitched camp on an open rise. Marching all day in a duststorm.

Elliot's farm, three miles north of Cradock, Wednesday, May 15th. - Arrived here at about 2.30 yesterday, staying at Heathcote's farm at Halesowen only one day. During that time I stayed in camp and spent most of the time writing letters.


TROOPER THOMPSON'S LETTER.

Sir,-You have kindly asked me to write an account of our doings in South Africa.

We left Tasmania on March 27th, 1901, and after a very pleasant passage arrived at Port Elizabeth about April 24th. We disembarked four days later, and took train for Cradock, about 170 miles inland.

Cradock is rather a nice little town itself, but the surroundings are anything but pleasant, there being only karoo veldt and a few mimosa bushes scattered along the low ridges. We had about four days there, getting our horses in going order; and then we went on trek. Our first business was patrolling the line for some distance below Cradock, and it was whilst doing this that we had our first encounter with the Boers. We cannot take much credit for the fight, as everyone was new at the game, so we did not then do much damage.

Shortly after this we joined Colonel Scobell's column, and had the extreme pleasure of knowing what it was like to be jerked over a big lot of country surrounding an imaginary enemy, and experiencing some very rough weather. I can't help saying it, but I think Colonel Scobell was a fool; he had a lot of niggers for Intelligence, and the way they had in surrounding other columns was something deadly. I will give you an instance of his cleverness. He had us marching from 6 one morning till about 4 the next morning, and then he posted us all along some ridges, to wait till the Boers, as we supposed, came along. The party we were waiting for came all right, but they weren't Boers at all: it turned out to be Colonel Gorringe's column, and Colonel Scobell and his black scouts were heartily wished to be somewhere else outside Africa. - Almost immediately after the above affair we became attached to Colonel Gorringe's column, and found out what hard work was in real earnest; but with Colonel Gorringe it was not so annoying. He worked us very hard, but we had the satisfaction of knowing that it was not all a wild-goose chase. On the third or fourth day after joining him we had our second bout with the Boers, and we did much better work than on the previous occasion, and gave every satisfaction to all concerned.

Colonel Gorringe complimented us on our smart work, and had never credited Tasmania with producing such good fighting blood.

We remained with Colonel Gorringe for seven months, and in that period we were made acquainted with the ins and outs and ups and downs of guerrilla warfare. We trekked harder, lived rougher (and had very little satisfaction for it) than any other column on the field. We also hold the record for both long and short marches. Our short march was after General Smuts, who, I must say, had marvellous luck in escaping us. For four weeks we were on his heels every day, and in that time we covered something between 750 and 800 miles. Our longest day was 64 miles in 24 hours. It was at the close of that long march that Colonel Gorringe left us to take an appointment in Egypt. We were all sorry at his leaving, as he was a thorough gentleman, and there was not a man in Africa more keen on the Boers than he was. We started with him without any reputation, and when he left us we were considered one of the best fighting regiments in Cape Colony. Our next move was with a Colonel Lukin. He was O.C. of the C.M.R.'s, but he did not reign very long. I think too much of the little black bottle was his chief trouble, so they appointed him to something in charge of a district where there were no Boers.

We next joined Colonel Scobell again, and found that he had changed his scouts, but was still as erratic in his movements as ever. He had made a name for himself in the time that we were away. He had, with more luck than good management, got Lotter and commando boxed up, and the consequences were that he carried another star on his shoulder, and a chest like a pouter pigeon! Our second dose with him was of three months' duration, and it was a very hard dose to swallow with all hands.

We had to continually replace our scouts, as more often than not when they went out they were either killed or wounded. I think that there must have been a lot of the sky pilot about him. He never seemed satisfied with the veldt, but always had us climbing mountain after mountain, with no possible benefit. He finally ended by dragging us to the top of the Drakensberg Range, about 85ooft. high, and then back to Dordrecht, our headquarters for Christmas. Here he took suddenly ill, to everyone's relief, and was ordered home. After dodging about for a week or two, we entrained at Stormberg junction, to join Colonel Doran. He was the slowest man we had been with, but somehow we managed to have several bouts with the Boers, and each time improving our reputation.

He liked us very well as fighting men, but I think if it had been possible for him to have got another regiment he would have dispensed with our services. He tried to run the column on as cheap a line as possible and the T.I.B. had altogether different ideas on the subject. It was a sore point with the colonel to have to give a farmer compensation for his garden being destroyed and his fencing poles taken for firewood. He had stacks of guards to see that nothing was touched, and any amount of fresh orders; but he might have saved himself the trouble, as the most honest man in civil life will become the biggest thief on active service, and the Tasmanians generally were no exception toy the rule. They seemed to delight in stealing anything that came in sight.

We did our full 12 months of active service, and although we were the first regiment to be called upon for anything that required pluck and dash, although we had such regiments as the 17th and 9th and 5th Lancers, also Connaught Rangers, on the same columns with us, we were always preferred to any of the others. [Speak up, Tassie!] The Boers I think were good fighters; they seemed to have real good judgment, and were very stubborn when they liked; but I cannot say the same for the Dutchmen, who used to join the colonial corps, and others who were used for Intelligence; they appeared to be the wasters, as they would sooner run than show fight. I think it was chiefly on this account that so many good men lost their lives. They would be mixed up with a lot of different nationalities in an irregular corps, and put too much faith in them, and in consequence were left in the lurch when it came to a tight corner.

I hope my poor effort will meet with your approval, and also that I have not gone beyond your limits; so I will close with wishing you every success with your publication.


A. C. Pegg's Diary.

April 24, 1901. - Landed in South Africa. At Port Elizabeth was entrained for Cradock, after being served with rifles, bandoliers, and bayonets. Our horses are sent on after us. Stay until the 1st May in -Cradock, and get fully equipped. A few articles of what are drawn:-Saddles and bridles, patrol cans, nose bags, emergency rations, and field bandages for the troopers, and a full convoy, including waggons and mules, Scotch carts, Cape carts, with black boys for drivers, made up of kaffirs chiefly.

May 1. - Move out of Cradock to hold the railway line about a day's march south, halting first at a siding called Limebank, where we threw up earthworks in front of trenches. From Limebank we move to Mortimer, still on the railway line.

May 7. - Boers under Scheeper's blow up and cross the railway line -a mile or two Cradock side of Mortimer.

May 8. - First troop of "A" Squadron go out patrolling, and are ambushed at a place called Ganna Hoek by Scheeper's commando. Jack Warburton is fatally wounded, Saunderson and Burton slightly wounded about the head. Warburton and Brownell are taken prisoners and taken into the Boer lines, where three of the enemy lie wounded. Brownell gets the D.C.M. for fighting until the ammunition runs out which he carries, while the body of the unconscious man, Warburton, is lying near him.

These men, when they knew there was no escape, shot their horses. About a half-dozen horses are shot.

May 9. - The squadrons go out and have another skirmish with Boers. They retire after a couple of hours' fighting. Our casualties are nil.

May 11. - Hear that J. Warburton has succumbed to his wound, which is through the top of the head. This is Tasmania's first cable of our arrival.

May 12. - Move towards Cradock again, but halt at a siding, Snowdon. Heavy rain.

May 14. - Move through Cradock and halt at a camp previously called Starvation. Very -cold. Saw a very large tribe of baboons.

May 16. - Join Colonel Scobel at Cradock and move north.

May 17. - March 42 miles. Halt finally at i i p.m. The Tasmanian horses suffer severely from cold, want of food of an acquired taste, and long marches.

May ig. - The scouting intelligence of the column engage about 40 Boers.

May 21. - Split up the column. Tasmanians move Cradock way, while a patrol of Brabant's Horse go out to the east. They capture 40 Boer horses.

May 22. - Get some remounts, mostly Cape ponies. Tasmanian horses dying very fast. The dismounted men are sent on to Conway by rail, not having enough remounts.

May 24. - Move from Conway towards Middelburg, but turn back and go Maraisburg -road. The big guns have some practice in honour of the late Queen Victoria. Saw an immense flock of spring bok.

May 25. - A continuation of saddle up and unsaddle owing to so many despatches coming.

May 26. - Move through Maraisburg late at night. In afternoon through bad intelligence we are galloped on to a position which the Boers are supposed to be holding, about six miles from the town. Return to Flaak Poort. Two Tasmanians break their horses' necks.

May 29. - Start to climb the Stormberg Ranges. Very cold. Snowing fast. Two men nearly die with the cold. Our blankets are not able to be brought up after us. Allowed no camp fires, as the commando of Boers, which are in our front, are camped at the bottom. In the morning our rifles have to be heated over fires owing to the bolts being frozen fast. We are also very ragged, not able to get enough clothing. Colonel Watchorn was our officer.

June 1. - Climb higher up the mountains to a small coaling town, Syphergat. Colonel Scobel leaves us. He gives us a good working name in our presence. Still terribly cold. Our blankets are stiff of a morning with snow, sleet, frost, etc.

June 2. - Go off the mountains to join Colonel Gorringe.

June 4. - Working with Gorringe. We engage a few Boers for about an hour. Mobile columns driving the Boers north. We fire on our own men to stop them from riding into the Boers at a farmhouse.

June 5. - Pass hundreds of dead horses through the day. Some every few yards.

June 7. - After Myburgh's commando. Loot his house in the Ladygrey district. Major Murray shells the Boers on our right flank. A rush to arms, and hold some kopjes on Myburgh's farm. A spy is caught by the C.D.F.

June 8. - Move back on the Ladygrey-road. Locate the enemy at a farm, Driefontein. A column is supposed to be holding a pass in their rear, but through some small incident fail to get there. The big guns first open on the Boers. "A" squadron of Tasmanians are ordered to the left flank, and "B" to the right, while the colonials of Cape Colony are sent round to hold a pass on the rear right flank. The Tasmanians advance very fast on to the Boer position, which is a very flat-topped kopje, and a splendid position to retire from. The R.H.A. are covering the Tasmanians ' advance; but they advance so quickly that we are taken for the Boers, and two pom-poms and two 15-pounders are turned on us, but with no effect, although the shells burst all around. Intelligence says that 16 of the enemy were killed or wounded, while one of our men was missing, and two or three wounded, belonging to the C.D.F. Hear that the Boers are fighting among themselves, some wishing to surrender.

June 10. - Cross Kraal River for the fourth time, going towards Burghersdorp. Tommies stick their arms in a tree for honey up to the shoulder, and the old Dutch lady calls them anything but gentlemen.

June 13. - Camp in an oat paddock near Burghersdorp. The G.F.C. give a social on the eve of their departure.

June 14. - Move through Burghersdorp and halt near. We are issued with a pound of wood or coal per man per day to do cooking. The object of our camp is for rest and warm clothing, which is fulfilled before going on trek again.

June 21. - Issued with bell tents, but have not time to trench them.

About midnight starts to rain in torrents, and continues all next day. We are flooded out of bed, the tents also are flooded. Our camp is like a lagoon, saddles, bridles, blankets, rifles, bandoliers, and, in fact, all accoutrements are washing about in the water. The consequences being that after a lot of Tasmanians and others are sent to the hospitals suffering from different complaints. Our missing men turn up by train. The two we fired on galloped into Major Murray's column. A return social to C.D.F.

June 27. - Move out on Steynsburg-road. Our rest was much enjoyed. The garrison play Tasmanians and Tommies football, mostly Rugby. Tug-of-war, tent pegging, and riding young horses spend a great deal of time. The remount camp near Burghersdorp had 3360 young horses in it, mostly farmers' wild ones driven in. Carry 200 rounds of ammunition per man. From 27th until July 2 we travel Steynsburg direction in zig-zag style. Having mostly 3 a.m. reveille, and find it very cold. Between Stormberg and Steynsburg there was wild game in abundance of nearly every sort.

July 2. - The Tasmanians split in halves, "B" Squadron going tinder Colonels Watchorn and Gorringe, and "A" Squadron under Captain Henderson.

July 3. - Cut railway line at Theibus Siding, near Steynsburg.

Gorringe's scouting intelligence engage a Boer patrol, and have a willing time for a few hours, losing nearly all their horses; and but for the timely assistance of the column with the big guns, would have lost them all, and perhaps been taken prisoners. J. Orr, T.I.B., had his horse shot dead under him; and Scritchley, Tasmania, had his water-bottle blown off.

July 6. - Captain Henderson, with "A" Squadron of Tasmanians, <joins Captain Sandiman, of the 17th Lancers, to hold a pass in the mountains six miles from Steynsburg. Patrols are sent out every day to reconnoitre the surrounding country. From here we go bok shooting.

The hills are abounding with deer of many kinds. Van Reenan's home is near our camp.

July 8. - Break up camp and move to Steynsburg, where we wait for a convoy to go patrolling in the rear of various columns. George Blyth, who broke his leg on "Chicago," going to South Africa, joins us again.

July 11. - Leave for four days' patrol, fully equipped. The Tasmanian advance guard over very mountainous country. Halt at a place where we get orders to hold Doorn Hoek, and a very treacherous-looking place 22 miles from town.

July 12. - Doorn Hoek. - Parties go out deer shooting with much success. The first and second troop Tasmanians go on Cossack post.

Orders given in case of an attack to take and give no quarter. Have to shift camp owing to so much dust; was just blinding. Camp alongside of Van Reenan's father's farm. Allowed 5lb. of oats per day per horse.

July 15. - Move close to Maraisburg, and camp, and leave five men with some spare rations, but the Boers drive them away; but they burn the foodstuffs first. The object of our patrol is mostly to pick up a few rebel farmers, burn anything in the line of grain and grain flour, old arms or ammunition, and, in fact, any contraband of war; also shoot all wild horses, that seem to be very plentiful. Getting very hard work, climbing mountains, doing outposts and fatigues. A patrol goes out, consisting of 20 men, for a rebel farmer. The way his wife and family take it to heart is only a sight for times of war, as he only had a few moments to bid them good-bye, and for how long nobody knew. Every day we seem to be expecting a skirmish with the Boers, but the columns in our front keep the country clear.

July 17. - Move on over very rough country to the Stormberg Ranges, to where we spent the night of the 29th of May, and, similar to that night, it was snowing. After leaving Menzie's Nek we next made for Molteno, having always to get rations from the garrisoned places.

July 20. - Move back towards Steynsburg, through Doorn Hoek, but turn south again. Take a rebel for having in his possession enough provisions to last Too men some few days. We were issued with what was for the enemy, so did not mind a rebel of his sort, on the condition that we could catch him at the right time. We also found two horses at an Englishman's farm in a donga, with two sheets of tin over them. They were useless, as they were more bone than flesh.

July 23. - Pass through Maraisburg, and halt at Vlaak Poort for two days.

July 25. - Have two or three days' climbing the mountains; it is thought to shoot wild horses. At night come down to camp, a very tedious journey, and to us for very little reason. About 7000 feet was scaled each day, and so rough that our horses were continually falling on the incline. After leaving the mountains make towards Tarkastadt.

July 30. - Tarkastadt. - Have a concert at the Soldiers' Home at night.

The Tasmanians take a prominent part. Some Tasmanian sergeants come from Captain Lewis to join us.

August 1. - Move south to Winterberg Ranges. Tarkastadt Town Guard are attached to us for a few days. The columns are forming a cordon round Kritzinger.

August 2. - Halt on the mountains. Our cordon round the enemy is 4o miles long. We throw up sangers and dig trenches at a place called Zuur Plaats, do observation posts, outposts, and patrol the country fpr miles round. Near here the Tasmanians caught a Dutchman moulding bullets; also got a lot of out -of-date firearms. Kritzinger attacks the 17th Lancers to break the cordon, but without success; but afterwards breaks through the Midland Mounted Rifles, a Cape colonial corps.

August 7. - Left for Modderfontein afterwards, the scene of the 17th Lancers' reverse, when the officers of "C" Squadron were all either killed or wounded seriously, and 42 of the men killed and 30 odd wounded, out of 106. We halted at night near the finest orange grove that I ever saw, the size of them being immense, and growing as thick as the trees could hold them.

August 10. - We enter Maraisburg. Saw some immense flocks of spring bok. Do not think I am exaggerating when I say that there were thousands.

August 12. - Maraisburg. - Amuse ourselves by tug-of-war among the troops. This town only for one and one-half English families would be entirely Dutch, although in a long-possessed British colony. The Boers have taken a blockhouse between Maraisburg and Steynsburg, and crossed the line. Very heavy volley firing.

August 14. - Reville at 3 a.m., and gallop about six miles to reinforce Gorringe, who has surprised Kritzinger's commando and been fighting for some days, capturing Commandant Erasmus and a Field Cornet, as well as about go horses, with all equipments, blankets, and provisions. A despatch sends us back to Steynsburg for supplies for Gorringe's flying column.

August 16. - We start after Gorringe with an oxen convoy, consisting of 720 oxen and 70 black boy drovers. It is useless to try and tell what sort of a noise was made by these natives. We pass over the ground that has been fought over. Empty shrapnel were found lying about. Some half-dozen cases were found within a few yards of a farmhouse, while the contents were found strewn for -chains around. Empty cartridge boxes were found, showing that the men had evidently used their own bandolier supply and drawn on the convoy ammunition, while behind each rock were lying hundreds of empty Lee-Metford cartridge cases. An escort meet the waggons from Peuterstadt, and we return to Steynsburg.

August 21. - After getting remounts we again make for Peuterstadt, where w-- remained until G.F.C. comes along for us. They have crossed the river after the enemy into the Orange Free State. Twice while we were waiting we are informed by bad intelligence that the Boers are attacked by some unknown column, which meant saddle up and get away at a moment's notice. The rest of the time was spent patrolling, cricketing, writing, reading.

September 5. - Move out of Peuterstadt a few miles to join G.F.C., and leave the 17th Lancers, who return Tarkastadt way. We move off Burghersdorp direction, and, instead of dog biscuits, we are issued with 1lb. of flour per man.

September 10. - We are going Jamestown direction. The weather is getting very cold. Get another drenching at night. Plenty of snow.

September 13. - Near Sterkstroom the weather was cold beyond a joke. We are following up Smuts's commando with between 700 and 800 men.

September 15. - Swamped out of bed at midnight. Make a fire and lie down by it in my great coat. Roads in very bad state; impassable for convoy.

September 17. - Raining still, but not so heavy. A hasty reveille; about 10 minutes to get up, get scoff, roll bedding, and saddle up and move off, the object being to capture a Boer picket of five men before daylight, and then surround the whole commando, but owing to a donga being flooded we were unable to cross, so that when we found a crossing place it was near daylight. When the first man put his head over the skyline the Dutchmen fired explosive bullets at him. Then we all opened fire, and they put up their hands, but as the firing never ceased they thought they may as well be shot getting away as standing with their hands up; and were therefore able to inform their Commandant that we had made a move from the place where we camped for two days owing to the wet weather. Our prisoners proved to be two Free Staters who had been all through the campaign, from the very first shot, and neither had been even wounded or sick. One, on being asked as a joke where his girl was, replied that she was alright in a concentration camp; and when asked about the proclamation on the 15th September, 1901, he said that he had heard of so many proclamations that he took no heed of them, and treated them, likewise to his comrades, with contempt.

September 21. - Since the 17th have been getting very hard marching, and very little food for three days; scarcely getting anything but what we could pick up ourselves in the line of bread, mealie flour, mealies, poultry, pumpkins, etc., but found these very short. We also do very late marching and very early reveilles, chasing Smuts south into the Cradock district.

September 24. - Travelling slightly north since the 21st. Our convoy is lightened. Every man that has two blankets is ordered to burn one; also, if you have any spare kit of any sort, such as extra clothing, curios, etc., they have to be done away with. Each mule is to carry 20 men's bedding. Nearly every day we have seen some few of the enemy, who seem to have been killing a lot of horses, mostly English, which were taken from the 17th Lancers on the 17th. Sight the Tarkastadt Hills.

"B" Squadron of 17th Lancers take some prisoners wearing their comrades ' clothing, i.e., British; one having on a peculiar striped shirt belonging to the late adjutant. These were immediately shot. They were also wearing the "death or glory" badges (Lancers).

September 27. - Since the 24th been travelling south, getting one or two prisoners every day, and among them were two Europeans. We get into very mountainous country, with an abundant growth of shrubs and grass. Been doing all night marching.

September 28. - I was kicked by a remount from Sheldon Siding, and was rendered unconscious for three and a half days. Was sent to Grahamstown Public Hospital, where I was taken care of splendidly by Doctors Drury and Williams. After the column had been remounted they moved out to surround the commando, on an all-night march, at a farmhouse in the Sunday River Valley, but owing to false intelligence on the part of our scouts surrounded the next farm to where the commando were camped. From now until the 14th of November I heard very little of the column, only that they had been doing some very hard marching over extra rough country, and doing some little fighting, killing a terrible lot of horses, and sending a great number of men to the hospital who were unable to stand the hard work, night marching, little sleep, foot slogging, and, worse than all, the scarcity of food.

November 14. - The Tasmanians are detrained at Stormberg from Biesje's Poort, where we join Scobel. Gorringe is leaving to fill a position in Egypt.

November 15. - We move out Molteno direction, but turn afterwards towards Jamestown. Take an oxen convoy as far as Jamestown.

November 18. - Our scouts are surprised by a Boer patrol on Fuchee's commando. We have three men killed and three wounded. Jack Orr, of the Tasmanians, was killed, Geo. Blyth taken prisoner after being stripped, while T. Lyall had a very narrow escape. The other men who were killed were first wounded, and then afterwards shot with a revolver.

November 19. - Camp all day near Private Orr's grave. Lieutenant Bisdee, V.C., reads a burial service over him, and then his grave is done up splendidly by the men.

November 20. - Moving through very rough country. Take six prisoners belonging to a newly-formed commando of a deserted soldier from the Cape Police and another colonial corps. These men were surprised while bathing in a dam.

November 22. - Move into the Drakensberg- Mountains. Doing a lot of night marching.

November 24. - Besters, the deserted prisoner, is shot by the 17th Lancers. He proves to be a very brave man.

November 26. - Patrolling the Jamestown district. Have a few exciting chases after small parties of the enemy, getting one or two prisoners and a bit of saddlery, horses, rifles, etc.

December 1. - Move towards Basutoland border way. Very heavy rain and very wet blankets.

December 4. - Have crossed Kraal River on the De Wet bridge. A night surprise on Myburgh's house, but the commandant is missing.

December 5. - Re-cross Kraal River going to Dordrecht. Tasmanians on patrol nearly every day and night.

December 18. - Up to the 18th, where we met a convoy of supplies, we have been having a very rough time in the mountains round Barkley East, not being able to get enough to eat, and killing a lot of horses, which means that a lot of men are left walking. We had one man taken prisoner whilst scouting.

December 20. – We camped near Dordrecht, where all the other corps got outfitted with clothing, rifles, saddlery, and remounts but the Tasmanians, and it does not seem to matter about them. Spending a few days of camp life.

December 25. - Have a church parade on the veldt. All ranks attend.

Only the men actually on duty are absent. Get a duff from the field force, also tobacco, cigarettes, pipe, matches, and paper and envelopes. Have a concert in the evening. Go some miles out with a mule waggon and get posts out of a farmer's fence to burn for wood.

December 27. The column moves out Barkley East direction. I stay at Dordrecht, and take some prisoners, under a Seaforth Sergeant and ten men, to Bloemfontein. One was a very shrewd-looking German, who had twice before escaped his captors.

January 23. - I joined the Tasmanians again at Dordrecht.

January 24. - All but a few details go out on patrol Jamestown direction, and return on the 28th for remounts, after a lot of night marching, early reveilles, etc.

January 29. - Move towards Jamestown.

February 1. - Camp at Stormberg, after passing through Jamestown.

February 3. - Awaiting orders to move, putting the time in playing cricket. Hear that two armoured trains have collided, and that the Boers had killed 17 men, and very seriously wounded the Stormberg Commandant.

February 4. - Leave 4 a.m. for Molteno, and leave Molteno, on the Syphergat line. Leave two troops with the convoy.

February 7. - Return to Molteno. Saw nothing of Boers, as they had doubled back and crossed the railway line. Saw a kaffir wearing nothing but a whitewashed skin. This, he informed us, was to keep the sun and cold off.

February 8. - Waiting to entrain for "Three Sisters" Siding.

February 11. - Leave for "Three Sisters" from Stormberg with horses, saddles, and convoy.

February 13. - Join Colonel Doran at "Three Sisters." Get a full outfit of everything.

February 14. - Krom River station passed, and camp.

February 17. - Left the Krom River camp for a drive in the western districts, and find it a very rough part. Two squadrons of the Coldstream Guards hoof-pad after us, and at midday halt. The ambulances are sent back for men that have dropped on the road.

February i8. - Had a skirmish with the Boers under Malan, Fouchee, and Wessels. Trooper Iles of Tasmania shoots a sub-commandant to Malan, ex-judge of the Free State (Hugo). We also shoot one or two others and wound some, including Malan, who is shot in the hand. Two Tasmanians are wounded, W. North is shot through the chest, and R. Stewart is shot in the leg. Some Yeomanry and Fifth Lancers are also, wounded.

February 20. - Send out scouts to locate Malan, who has crossed the line to the south of Victoria West.

February 21. - General Stephens engages enemy all day on our left flank. Moving towards Carnarvon, over the Karoo desert. Very short of rations, and a lot of our horses are dying of poison through eating a wild bulb that grows among the karoo.

February 24. - Camp at Carnarvon. The Tasmanians get in trouble for taking charge of a bar and breaking things up a great deal.

February 25. - Move out Victoria West way. A parade of Tasmanians, and a lecture over the Carnarvon affair by our Colonel.

February 27. - Within a mile of Victoria West. Rained hard until the morning of the 28th.

March i. - Marched to Richmond-road, on railway line.

March 2. - Pass through Deelfontein, and turn back after Conroyd's commando, who has been trying to cross the line. Got a list of the Federal Contingent's names.

March 3. - Move on to the railway, where our advance is fired on by men at blockhouses, and in about eight minutes two armoured trains come on the scene, but our helio just prevents them from shelling us.

March 5. - The Coldstream Guards leave us; we are sorry to lose them. We get some large boxes of cake sent from friends in Tasmania, which we should have got before Christmas.

March 7. - Camp at Richmond all day; then move off on a night march.

March 8. - Surprise Malan's commando, who has to get-away very quickly leaving their dinner for us, which was very acceptable.

March 10. - Have a skirmish with Malan's commando. We kill one man and wound five, including Sub-Commandant to Malan (Rudolph), who was successor to Hugo. Here we galloped the Boers about 10 miles, only once giving them a chance to take a position. We had 18 horses shot, and one man wounded, Corporal Johnston, who was shot through the top of the hat and down the jaw bone.

March 13. - Move into Murraysburg just as the Boers go out. The inhabitants tell us that the Dutch got a very rough chasing on the loth.

March 15. - Get into Richmond short of rations.

March i8. - Leave Richmond for Victoria West-road, but turn again Murraysburg direction.

March 21. - Send a patrol into Murraysburg, thinking to surprise a few Boers who patrol that place. Been having very wet weather.

March 22. - Move into Oudeberg supply camp, near Graaf Reinet. Still bad weather. Offer my services for an extra six months with a lot more Tasmanians.

March 25. - Move out on to the Kandiboo Mountains. Still wet weather.

March 27. - On the Aberdeen-road. We hear that our kits at Burghersdorp had been burned by an accidental fire.

March 29. - Nell Port -road. Locate the Boers, who very soon afterwards are missing. The big guns are used, but without effect. Lieutenant Brent, of the Tasmanians, and an intelligence, are taken prisoners by five Boers.

March 3o. - Arrive at "Three Sisters Siding." Get news of further contingents from Tasmania.

April 2. - Leave "Three Sisters," going Murraysburg direction. Just camp, when it starts to rain in torrents, and in 20 minutes our camp is boot-top deep in water; men and blankets saturated. We have to shift camp to higher ground.

April 3. - Locate Malan with 17 men. The gunners get a little more practice; also have a bit of rifle fire, following them up for three or four miles.

April 4-Camp near Murraysburg.

April 5- Move towards Biesje's Poort, and halt at farm called Skit Kraal.

April 8. - Left for Oudeberg, and halt at Mallay's. Tasmanians get into row for looting the town, which is not garrisoned, and a general Boer hospital.

April 9. - Do a very fast trek to Zuur Poort, through the Kandiboo Mountains.

April 10. - March into Oudeberg again. Wait here for men of our column who have gone away to hold small towns against the Dutch, who are reported to be in strong force. We put in our time until the 22nd rifle shooting. Outposts Geo. Blyth and Scott, of Tasmania, are wounded by a ricochet bullet at temporary butts. At this camp "A" Squadron refuse to take clothing on the grounds that if they could not get enough for all they would not have any. We had not enough within five -sixths.

April 22. - Leave for Murraysburg; column returned.

April 24. - Move out past Murraysburg to Aberdeen signal station.

April 27. - Move on to the Richmond-road.

April 29. - Near Victoria West. Locate the Boers. The intelligence have a black boy murdered by Malan's men.

May 1. - Camp at Skit Kraal and halt.

May 2. - I, with five other Tasmanians, go with two intelligence and two natives to a farm-Boxfontein - to surprise the occupants of the house.

We get Fouchee's brother, who was seriously wounded in the head.

May 3. - Mobilising orders, very acceptable. We give in all our horses to the rest of the column.

May 4. - Move into Victoria West station on the east. Off horses of the other regiments left on the veldt. We are much envied by the "Tommies." Colonel Doran gives us a speech, in which he says that he would like to see men like Tasmanians fighting an honourable foe instead of chasing bands of rebels about a very broken country.

May 5. - Getting plenty of beer, and making fair use of it.

May 9. - Left for Port Elizabeth in coal trucks, and not half enough room to lie down.

May 11. - Landed Port Elizabeth. Run on to the wharf in the train; off the train into a lighter; and then on to the S.S. " Devon." I lease in the "Devon" for the Coronation on 14th, at Algoa Bay.



JARDINE'S NOTES.

I quote one or two entries from Trooper Thomas Jardine's notes.

There are some curious things in this diary, and I am sorry I cannot find space for more.

May 6. - Caught first louse on myself. Captured a suspected Boar (sic). After his papers were taken he was released.

May 8. - My birthday to-day. The funniest I have ever put in.

May 9. - We had to commandeer food this morning for rations. I was put on making scones. I mixed my dough in a blanket; it was a sight worth seeing! May ii. - Our division fired on the Imperial Yeomanry in mistake for Boars when out to-day. The Midland Mounted Rifles caught the Boars we were fighting yesterday [Seems to have been a successful boar hunt.] killing six of them and capturing 20 horses.

June 10. - Brought up before the Colonel for disobeying orders. Got several days' extra picquet. The trial a farce. [Hard luck, old man.] June 12. - A raid was made on a fowlhouse belonging to a Dutchman this evening. The camp is one mass of feathers! June 17. - Was sent out this morning to look after horses whilst grazing. Had a good look in my clothes for live stock. Had a good catch. Was in Court House hearing trial of rebels. Colonel Watchorn put J. S. in gaol for four days for not cleaning a sergeant's horse. It appears the Colonel is trying to make us all convicts.

June 23. - The Colonel is like an old woman. He is always saying, "Remember you are Tasmanians." [Our hero had a bad cold and a sore throat when he made this entry.] June 29. - Whilst waiting (for column) had a sing song at the farm.

I received a cup of coffee from the girl for singing a song.

November 19. - The burial service took place this afternoon over our dear departed friend and mate, Corporal J' Orr. Mr. Bisdee conducted the service, which was very touching.

December 27. - A fight took place between D. Iles, of Gormanston,, and G. Saunderson, of Queenstown, for £20 a side; fight to a finish; bare knuckles; but fight under Marquis of Queensberry's rules. The fight started at 4 p.m., and lasted till 6.30, 52 rounds being fought. It was the best fight that any of the crowd had ever seen. Both men received heavy punishment. The fight will be finished on our next out span. [There is no further reference to this prize fight. It must be remembered that this was Christmas week.] April 13. - Colonel Watchorn said he held an interview with Kritzinger, who said he shall never forget the way we drove him out of the colony. He also spoke very highly of the Australians. Received two barrels of ale as a present from Colonel Henniker.

April 21. - A very amusing incident occurred between a few of our boys and General French up at the Y.H. canteen. French came up to them and asked them where the drinking was. They gave him two pints of beer, which he drank. French offered them 2s to get some more, but they refused.


RETURNING TASMANIANS.

Hobart, Friday. - The Governor is advised by the General of Communications, Cape Colony, that the "Papanui" left, with six Tasmanian Bushmen, for Hobart, on May 18.


TASMANIANS IN ACTION.

A letter from Victoria West-road, dated April 1, gives details of an action in which the Tasmanian troops played a prominent part. On March 10 Colonel B. Doran's column, in pursuit of the Boers east of the line, between Nelspruit and Victoria-road, came up with a commando of about 150 at Taibosch Poort. The Boers, to delay the pursuit, opened fire on the advanced scouts, but the Tasmanians turned their right flank, and they retired, hurried by a few well-placed shells. The column promptly moved through the poort, and closed up on the heels of the retreating enemy, near Middlemount. Three kopjes commanded the road, and were held by the enemy, and the column had to check until the Tasmanians threatened the enemy's right. The guns had again got into play, when the main body cleared helter-skelter clean out of touch. But a party of about 30, moving to the right, were received by the "Tibs" (Tasmanians), who gave chase, and narrowly missed bagging the lot. A convenient kopje, however, interposed, and the enemy, in excellent position. held off the Tasmanians until the guns came up. A hot fire was turned on the kopje, and the route was resumed, but not before "toll" was taken. The Commandant and six other Boers were wounded, one dying during the retreat. The only casualty received by the British column was a Tasmanian slightly grazed on the face by a bullet.


STARTLING STORY OF METHUEN'S DEFEAT.

Lieutenant Jennings, of Grimsby, who was in Lord Methuen's disaster, writing to his father, says:-"The rearguard were overwhelmed by about 20 to one. About half the force was composed of colonials and half -castes, whilst it also included several Dutchmen. All these scoundrels," he writes, "cleared off, some of them without even firing a shot, and they never attempted to make a stand. They galloped off like sheep, although I understand Lord Methuen implored them to make a stand. Our units were overwhelmed in detail. The guns came into action within too short range. Major Paris, with some of the 5th Imperial Yeomanry, who got into a kraal and refused to surrender, were shelled and driven out, and although a few of them escaped, most of them had to surrender. I began to attend to the wounded, and was being marched off a prisoner when De la Rey came up, and I asked him to allow me to stay and do what I could for the wounded. He consented, and I saw our dear general lifted into a waggon and taken away. Poor fellow, his leg was shattered above the knee. He said afterwards: `Thank God it was not my column and they were not my men that ran away.' Boers say that he and French are the only two generals they fear and respect. The Yeomanry did well, but shot badly. Had the colonials only stood their ground half as well they would have saved the situation. The colonials and half-castes may do for scouting, but not for a desperate stand against superior numbers."


RETURNING SOLDIERS. ARRIVAL OF THE "MANILA" AT HOBART. AN ENTHUSIASTIC WELCOME.

Hobart, Sunday. - Hobart has been in a great state of excitement all day. According to arrangement a gun was fired when the troopship entered the river, which took place a little after 9 o'clock, and from that time the pier was filled with an excited crowd. Shortly after 10 o'clock the vessel berthed alongside the Alexandra Pier, when the returning troops were greeted with prolonged cheers and shouts of welcome. Relatives and prominent citizens had been granted special cards, which afforded them the privilege of going alongside, while outside the barrier an immense concourse of thousands of people thronged every point of vantage.

Happiness beamed on every face, with the exception of a few, whose joy was so great that tears took the place of mirth, and the impression was that no greater contrast could ever be experienced than that over witnessing the troops depart for the seat of war, and then to meet them returning home victorious, accompanied with the glad tidings of peace. Among those on the pier to welcome the troops were the Premier (Mr. N. E. Lewis) and Mrs. Lewis, the Treasurer (Mr. B. S. Bird) and the Misses Bird, Colonel Legge, Lieut. - Colonel Wallack, and other officers of the local defence force. The Headquarters and -City Bands were present, and sustained cheerfulness by playing selections of patriotic airs. The men on the whole appeared in excellent health and spirits, although some showed signs of the long campaign. After a short delay the men were allowed to go ashore until 10 o'clock in the evening.

At St. David's Cathedral a thanksgiving service was held at 3 o'clock, at which many of the troops were present, special seats being set apart for them in the nave. Suitable prayers, chants, and hymns were used, and Canon Shoobridge delivered a telling address of welcome to the men. The Cathedral was crowded to excess, many having to stand in the aisle, while hundreds were unable to gain admission.

Yesterday Trooper Inch (No. 691), of the New South Wales Bushmen, while suffering from insanity, the result of a sunstroke, eluded his warder while exercising on deck, and jumped overboard. Life buoys were thrown to him, which 4 refused to take advantage of. A boat with the second mate and a crew was lowered, but failed to pick up the unfortunate man, who was drowned.

On June 2 John M. Laing, one of Brabant's Horse, died from asthma.

The Tasmanians will disband tomorrow. The "Manila" leaves at daylight for New Zealand via Sydney.


LAUNCESTON MEN RETURNING.

Amongst Colonel Watchorn's returning men are many who volunteered from Launceston, and their friends are, of course, overjoyed at the prospect of receiving the bronzed warriors home again. Evening parties and other family foregatherings are being arranged, and in some instances the reception is likely to take a semi-public form. In one case the gateway to a cottage near St. George's Square was yesterday adorned with an arch of evergreens, over which floated in all the glory of snow-white calico and red letters the simple but warm-hearted words, "Welcome to Dan." If the home-coming in the city is not on the same scale as the public welcome at Hobart, it will at least be as hearty and as acceptable in a homely way.


HOME FROM THE WAR.

Hobart, Monday. - The troopship " Manila," with the New South Wales and New Zealand troops aboard, took her departure for Sydney at ii o'clock this morning. It is understood that some of the former missed their passage, but no official report has been made upon the subject. The work of paying off the Tasmanian portion was commenced this morning, and will probably occupy some time, consequent upon a few of the men failing to put in an appearance, and it may be mentioned that the sum of £10,000 was deposited with the authorities to meet the claims of the men, some of whom will draw up to £100 each. It may also be stated that the "Manila," which brought them here, has been under charter to the Imperial Government for nearly two years, at an outlay of some £50,000 per year.


WELCOME SOCIAL AT HOBART.

Hobart, Monday. - A promenade concert took place in the skating rink at the Exhibition Building this evening to welcome Colonel Watchorn, commander of the Second Imperial Bushmen, and the officers and men under his command. According to arrangement, the returned troops, together with members of the local defence forces, fell in at the barracks at 7.30, and, headed by the Headquarters Band, under the command of the acting bandmaster, Sergeant Vincent, marched through some of the principal thoroughfares to the place of meeting. The streets along the line of march were thronged with sightseers, so much so that some difficulty was experienced by those holding the right of private entree to gain admission, despite the vigorous efforts of the police, under the command of Superintendent Pedder. The programme was a choice one, selections being well rendered, chiefly that of "Home, Sweet Home," by Mrs. Benson, which was encored, and responded to by the rendition of " Auld Lang Syne," the chorus of which was taken up by the audience with much enthusiasm. Messrs. N. E. Lewis (Premier), B. S. Bird (Treasurer), and E. Mulcahy (Minister of Lands), were present. An apology was read from his Excellency the Governor, who was absent owing to illness. The Mayor (Alderman Kerr) presided.

Mr. Lewis made a lengthy speech, in the course of which he congratulated Colonel Watchorn and the men under his command on the excellent work done by them in South Africa during their 16 months' absence. Of 25o he had taken away 167 had returned with him, 43 had been left behind on duty, others had been invalided, and six had left their bones on the veldt, never to return. From King Edward downwards the colonial troops had received the highest encomiums for their work. The Boers had proved worthy foes, and his wish with regard to the remaining Boers was that they would soon become participators in the blessings that the British had so long enjoyed. (Applause.) The Mayor also addressed the returned soldiers in a most sympathetic manner, expressing the hope that in days to come they would be able to tell their grandchildren of the deeds they had done. (Laughter.) Colonel Watchorn, who on rising was received with rounds of applause, on behalf of himself and the members of the contingent under his command, returned thanks ' for the cordial welcome accorded them. He detailed at some length the work accomplished by the contingent during their 16 months' absence, and was pleased to say that they had the pleasure of being attached to Colonel Gorringe's command, whose duty was to capture, if possible, judge Smuts, whose object was to descend upon Cape Elizabeth. This man and those under him they had chased over hilly country for Boo miles, and during this period the troops were called upon to endure much hardship, having at times to turn out at an early hour with horses covered in snow. He referred to the fact that Colonel Doran, one of the smartest Imperial Cavalry officers, had seen proper to report in the highest possible terms of the colonials-men who he admitted could shoot and ride straight. (Cheers.) The proceedings concluded with a smoke concert.


CHURCH GRAMMAR SCHOOL MEMORIAL.

A meeting of the past and present boys and friends will be held at the Church Grammar School this evening, at 8 o'clock, to decide upon a fitting tribute to the memory of those boys of the school who have fought for their country in South Africa.


WELCOME TO LILYDALE TROOPS.

On Wednesday evening, in spite of the wet and stormy weather, a large gathering of people was present at the station to greet the two returning troopers. Right in the middle of a furious downpour the two warriors alighted, and were immediately made the centre of an admiring crowd of friends, all anxious for the honour of the first hand-shake.

Trooper George Somerville, in spite of a long bout of the dreaded enteric in South Africa, looked hale and hearty, and had just time to respond shortly to the warm-hearted greetings of his many friends and relations, before taking train for his home at Wyena. Trooper W. C. Carlin looked in splendid condition, and was received like his comrade-in-arms, both being given quite an ovation.
Further Reading:
2nd Tasmanian Imperial Bushmen
2nd Tasmanian Imperial Bushmen, Roll of Honour
Battles where Australians fought, 1899-1920
---
Citation:
2nd Tasmanian Imperial Bushmen, Bufton Account, Part 2
Posted by Project Leader at 12:01 AM EAST
Updated: Monday, 8 August 2011 11:42 AM EADT