2nd LHR, Roll of Honour, Thomas O'Callaghan
Topic: AIF - 1B - 2 LHR
2nd LHR, AIF
2nd Australian Light Horse Regiment
Roll of Honour
Thomas O'Callaghan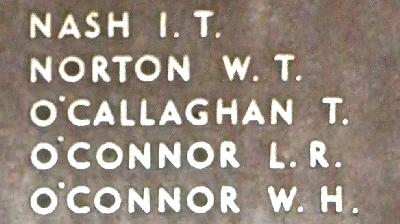 Thomas O'Callaghan's name on the Roll of Honour, Australian War Memorial
Thomas O'Callaghan
Service number: 2477
Rank: Trooper [Tpr]
Unit: 2nd Australian Light Horse
Service: Army
Conflict: 1914-1918
Date of death: 4 August 1916
Cause of death: Killed in action
Cemetery or memorial details: EGYPT 2 Kantara War Memorial Cemetery
War Grave Register notes: O'CALLAGHAN, Tpr. Thomas, 2477. 2nd Australian Light Horse. Killed in action 4th Aug., 1916. Son of Ellen O'Callaghan, of Doctor's Hill, Kingwilliamstown, Co. Cork, Ireland, and the late Cornelius O'Callaghan. B. 41.
Source: AWM145 Roll of Honour cards, 1914-1918 War, Army.
A brief military biography of Thomas O'Callaghan from The AIF Project:
Regimental number
2477
Place of birth
Doctor's Hill, King Williamstown, Cork County, Ireland
School
King Williamstown School, Ireland
Other training
Nil
Age on arrival in Australia
23
Religion
Roman Catholic
Occupation
Labourer
Address
Charleville, Queensland
Marital status
Single
Age at embarkation
29
Next of kin
Father, Thomas O'Callaghan, Charleville, Queensland
Previous military service
Nil
Enlistment date
5 October 1915
Rank on enlistment
Private
Unit name
2nd Light Horse Regiment, 17th Reinforcement
AWM Embarkation Roll number
10/7/4
Embarkation details
Unit embarked from Sydney, New South Wales, on board HMAT A10 Karroo on 5 May 1916
Rank from Nominal Roll
Private
Unit from Nominal Roll
2nd Light Horse Regiment
Other details from Roll of Honour Circular
"Had a hard life, sent out to 'service' to earn more, to help support a very big dad, at the early age of 10 and 11 years." (Information supplied by mother).
Fate
Killed in Action 4 August 1916
Place of death or wounding
France
Age at death
33
Place of burial
Kantara War Memorial Cemetery (Row B, Grave No. 41), Egypt
Panel number, Roll of Honour,
Australian War Memorial
3
Miscellaneous information from
cemetery records
Parents: Ellen Oand the late Cornelius O'CALLAGHAN, Doctor's Hill, KINGWILLIAMSTOWN, Co. Cork, Ireland
Family/military connections
Brother: 474 Pte Michael O'CALLAGHAN, 15th Bn, killed in action, 8 August 1915.
Other details

War service: Egypt

Medals: British War Medal, Victory Medal
Miscellaneous details
Note difference in details re father: Embarkation Roll states father to be Thomas O'CALLAGHAN; OWG File gives father as the late Cornelius O'CALLAGHAN.
Lest We Forget
Additional Reading:
2nd Australian Light Horse Regiment, AIF
2nd Australian Light Horse Regiment, Roll of Honour
Battle of Romani, Sinai, August 4 to 5, 1916
Bir el Abd, Sinai, 9 August 1916
Battles where Australians fought, 1899-1919
---
Citation:
2nd LHR, Roll of Honour, Thomas O'Callaghan
Posted by Project Leader at 12:01 AM EADT
Updated: Sunday, 18 October 2009 12:58 PM EADT