351 Tpr William Henry MASSEY, 2nd LHR
Topic: AIF - 1B - 2 LHR
351 Tpr William Henry MASSEY, 2nd LHR (Light Horse Regiment), a hairdresser from Victoria, returned to Australia a hero with a Military Medal awarded for his fearless work as a stretcher bearer in the Jordan Valley.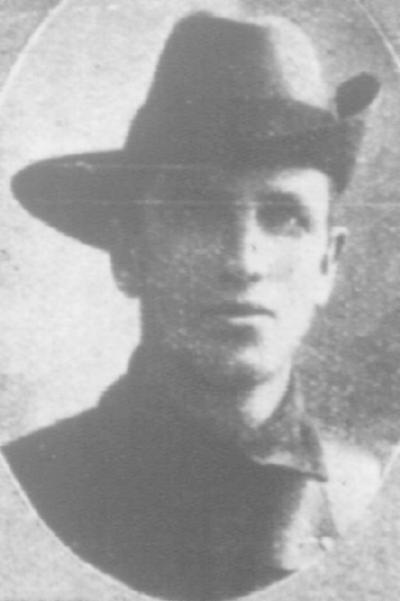 351 Tpr William Henry MASSEY, 2nd LHR

During the Boer War, Massey enlisted with the 5th Victorian Mounted Rifles. He was enrolled as 792 Pte William Massie. After returning from South Africa, he re-enlisted with the 4th Battalion Australian Commonwealth Horse (VIC) as 2216 Pte William Massie. Being a Commonwealth body, his attestations papers are available on line here:
http://naa12.naa.gov.au/scripts/imagine.asp?B=684495&I=1&SE=1
Following service with the military, Massey moved to Queensland at Crescent Road, Gympie. With the outbreak of the Great War, Massey was quick to enlist and readily accepted on 21 August 1914. Massey was enrolled as 351 Tpr William Henry MASSEY, was allotted to "B" Squadron, 2nd Australian Light Horse Regiment, part of the 1st Light Horse Brigade.
Massey served at Gallipoli from 15 May 1915 until he was evacuated sick on 20 August 1915. He was appointed a stretcher bearer and served heroically in this position at Tel el Saba during the attack on Beersheba, 31 October 1917. Following that, Massey again was recognised for his bravery at El Ghoraniyeh Bridge Head where he was awarded the Military Medal.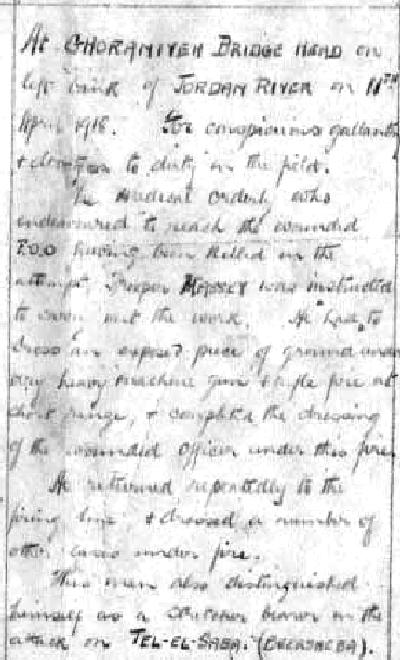 Military Medal Recommendation

Ironically, it was not the external enemy that sent Massey home early but the enemy within - he was invalided back to Australia with varicose veins.
From hairdresser to hero, Massey made the legend of the Australian Story real by his life.
---
Citation: 351 Tpr William Henry MASSEY, 2nd LHR
Posted by Project Leader at 12:01 AM EADT
Updated: Sunday, 13 June 2010 6:15 PM EADT