24th (Flinders) Australian Light Horse
Topic: Militia - LH
Part of the 17th Australian Light Horse, 1903 - 1912, then renamed 24th (Flinders) Light Horse
South Australian Mounted Rifles.
Allied with King Edward's Horse (The King's Overseas Dominions Regiment).
See: Twinning Regiments, MO 209, 1910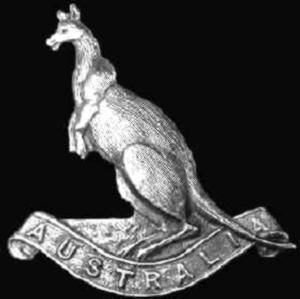 C Squadron (Australasian) Badge for King's Colonials
24th (Flinders) Light Horse.
Head-Quarters (less Signallers): Port Pirie
Lieutenant Colonel Albert Miell, 27 December 1912, Tenure of command from 1 July 1912 to 30 June 1917 (See: Nek Killed in Action)
Adjutant - Lieutenant John Thomas Moran, AIS, 1 July 1917
Quartermaster - Honorary Lieutenant JC Scotcher, 9 December 1912
Medical Officer - Captain AR Clayton
Captain James Edward Barrett, Area Officer, Port Pirie
Captain Thomas George Heming, Area Officer, Glenelg
Captain PJ Walsh, 9 September 1912
Lieutenant Harold Edward Rowell, 16 February 1913
Second Lieutenant FA Forbes, supernumerary to establishment
Signallers: Broken Hill
Machine Gun Section: Crystal Brook
Lieutenant TWR Forgan, 16 February 1913
"A" Squadron -
Port Pirie (A Troop),

Crystal Brook (B Troop),

Laura and Wirrabara (C Troop), and

Wanderah (D Troop)
Lieutenant DB Wilson
Second Lieutenant RH Sampson
Second Lieutenant PS O'Shaughnessy, 9 December 1912
Second Lieutenant SS Searle, 28 February 1913
Second Lieutenant Alexander Joseph Watt, 28 February 1913
"B" Squadron -
Jamestown (A and B Troops),

Petersburg (C Troop), and

Broken Hill (D Troop)
Lieutenant HA Toop
Lieutenant AD Mitchell
Lieutenant George Nugent, 16 February 1913
Lieutenant Joseph Johnson Brooks, 16 May 1913
Second Lieutenant JA Sampson
Second Lieutenant Harold James Copley
Second Lieutenant Philip Ignatius Callary, 31 March 1913 (See Hill 60)
"C" Squadron -
Clare (A Troop),

Balaklava (B Troop),

Kadina and Wallaroo (C Troop), and

Maitland (D Troop)
Second Lieutenant GM Shepherd, 28 October 1912
Second Lieutenant AJ Thompson, 9 December 1912
Second Lieutenant TM Young, 23 December 1912
Second Lieutenant Archibald Harold Bray, 1 September 1913
Second Lieutenant Edwin Cooper Derrington, 24 September 1913
Second Lieutenant Archibald Dick, 16 November 1913
The number of men who went onto serve with the AIF after the declaration of war is highlighted by the links to the individual service files of each man who enlisted or was commissioned. Click on the link and the service file held by the National Archives will open for that particular individual.
Further Reading:
For the South Australian Light Horse Militia establishment, see:
Light Horse structure 1903
1903 Reorganisation, South Australia
Light Horse structure 1914
Militia Distribution in Australia, 1914, 4th Military District
For 22nd Australian Light Horse details, see:
22nd Australian Light Horse, HQ, MGS and "A" Sqn, 1912
22nd Australian Light Horse, "B" Sqn, 1912
22nd Australian Light Horse, "C" Sqn, 1912
For 23rd (Barossa) Australian Light Horse details, see:
For 24th (Flinders) Australian Light Horse details, see:
24th (Flinders) Australian Light Horse
Peacetime and Wartime Regimental Establishments, see:
Peace establishment of Australian Light Horse, 1903-14
4th Military District Staff Roster and Allocations, see:

Militia Distribution in Australia, 1914, 4th Military District, Part 4
Militia Distribution in Australia, 1914, 4th Military District, Part 5
For 1914 Infantry, Artillery and other service arms distribution, see:
Militia Distribution in Australia, 1914, 4th Military District, Part 2
Militia Distribution in Australia, 1914, 4th Military District, Part 3
Militia Distribution in Australia, 1914, 4th Military District, Part 4
---
Citation:
24th (Flinders) Australian Light Horse
Posted by Project Leader at 7:09 PM EADT
Updated: Saturday, 13 September 2008 12:01 PM EADT