Queensland Light Horse Locations, 1910
Topic: Militia - LHQ - Qld
QMI
Queensland Mounted Infantry
Queensland Light Horse Locations, 1910

Queensland Mounted Infantry [1860 - 1866]
Queensland Mounted Infantry [1885 - 1900]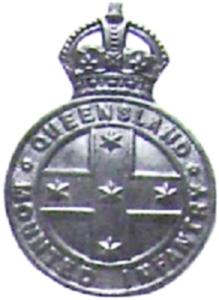 Forward
March: Soldiers of the Queen
Allied with: King Edward's Horse (The King's Oversea Dominions Regiment).
Towns throughout Queensland with a Light Horse Troop, 1910
The 1903 re-organisation of the Light Horse expanded and consolidated the number of units throughout Australia. Below is a list of towns in Queensland where a Light Horse troop was based. The towns are listed alphabetically with the particular Troop or Squadron noted next to it.
Allora - 14th Australian Light Horse Regiment No 2 Squadron (part)

Beaudesert - 13th Australian Light Horse Regiment No 1 Squadron (part)

Bell - 14th Australian Light Horse Regiment No 4 Squadron (part)

Biggenden - 15th Australian Light Horse Regiment No 2 Squadron (part)

Bowen - 15th Australian Light Horse Regiment No 5 Squadron (part)

Brisbane - 13th Australian Light Horse Regiment Headquarters, Machine Gun Section and No 1 Squadron (part)

Brisbane - 5th Australian Light Horse Brigade Headquarters

Clifton - 14th Australian Light Horse Regiment No 2 Squadron (part)

Forest Hill - 13th Australian Light Horse Regiment No 4 Squadron (part)

Gatton - 13th Australian Light Horse Regiment No 4 Squadron (part)

Gayndah - 15th Australian Light Horse Regiment No 2 Squadron (part)

Gympie - 13th Australian Light Horse Regiment No 3 Squadron (part)

Helidon - 13th Australian Light Horse Regiment No 4 Squadron (part)

Ingham - 15th Australian Light Horse Regiment No 5 Squadron (part)

Ipswich - 13th Australian Light Horse Regiment No 2 Squadron (part)

Irvingdale - 14th Australian Light Horse Regiment No 2 Squadron (part)

Killarney - 14th Australian Light Horse Regiment No 3 Squadron (part)

Lowood - 13th Australian Light Horse Regiment No 2 Squadron (part)

Ma Ma Creek - 13th Australian Light Horse Regiment No 4 Squadron (part)

Mackay - 15th Australian Light Horse Regiment No 3 Squadron

Mount Chalmers - 13th Australian Light Horse Regiment No 1 Squadron (part)

Mount Morgan - 15th Australian Light Horse Regiment No 4 Squadron

Pie Creek - 13th Australian Light Horse Regiment No 3 Squadron (part)

Rockhampton - 15th Australian Light Horse Regiment Headquarters, Machine Gun Section, and No 1 Squadron

Roma - 14th Australian Light Horse Regiment No 4 Squadron (part)

Terror's Creek - 13th Australian Light Horse Regiment No 1 Squadron (part)

Tiaro - 13th Australian Light Horse Regiment No 3 Squadron (part)

Toogoolawah - 13th Australian Light Horse Regiment No 2 Squadron (part)

Toowoomba - 14th Australian Light Horse Regiment Headquarters, Machine Gun Section, and No 1 Squadron (part)

Townsville - 15th Australian Light Horse Regiment No 6 Squadron

Warwick - 14th Australian Light Horse Regiment No 3 Squadron (part)

Woodhill - 13th Australian Light Horse Regiment No 1 Squadron (part)

Yangan - 14th Australian Light Horse Regiment No 3 Squadron (part)


Sources:
Further Reading:
Boer War - Queensland Mounted Infantry
Australian Militia Light Horse
---
Citation: Queensland Light Horse Locations, 1910
Posted by Project Leader at 12:01 AM EADT
Updated: Friday, 9 July 2010 5:29 PM EADT