9th LHR AIF War Diary, 12 November
Topic: AIF - 3B - 9 LHR
9th LHR, AIF
9th Light Horse Regiment
War Diary, 12 November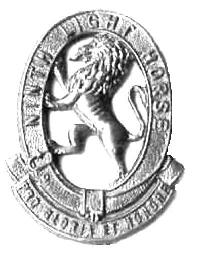 Pro Gloria et Honore - For Glory and Honour
Regimental March - Marching Through Georgia
The following entries are extracted and transcribed from the 9th Light Horse Regiment War Diary, the originals of which are held by the Australian War Memorial. There are 366 entries on this site. Each day has entries as they occurred from 1914 to 1919. In addition to the 9th Light Horse Regiment War Diary, when appropriate, entries from the 3rd Light Horse Brigade War Diary and other regiments with the Brigade will also appear. Entries from the unit history, Darley, TH,
With the Ninth Light Horse in the Great Wa
r, Adelaide, Hassell Press, 1924 will also appear from time to time. The aim is to give the broadest context to the story and allow the reader to follow the day to day activities of the regiment. If a relative happened to have served in the regiment during the Great War, then this provides a general framework in which the individual story may be told.
The Diary
1914
Thursday, November 12, 1914

9th Light Horse Regiment Location - Morphettville Race Course Camp and Broadmeadows Camp, Victoria.

9th Light Horse Regiment War Diary - Formation of Regiment occurring at Morphettville Race Course Camp, Adelaide, while "C" Squadron is formed at Broadmeadows Camp, Victoria. Signalling instruction begins at Signalling School, Broadmeadows Camp.

See: Broadmeadows 1909
1915
Friday, November 12, 1915

9th Light Horse Regiment Location - Canterbury Slopes

9th Light Horse Regiment War Diary - Draft of men arrived from Egypt at 2300. Made up as follows: 9 Reinforcements, 7 Returned from hospital and 3 original drivers of the Regiment from Egypt Base.
1916
Sunday, November 12, 1916

9th Light Horse Regiment Location - Bir Etmaler

9th Light Horse Regiment War Diary - General Officer in Command Anzac Mounted Division [Chaytor, Brigadier General EWC] carried out an inspection of the Brigade. Bleechmore, Captain C; and, 50 Other Ranks left for Anzac Rest Camp, Port Said. McDonald, Lieutenant JM, left for Cairo on leave. Linacre, Lieutenant FJ, left for Alexandria on leave.
1917
Monday, November 12, 1917

9th Light Horse Regiment Location - El Faluje 0530; Ijseir, 1500; Burkusieh, 1530.

9th Light Horse Regiment War Diary - 0530 A Squadron moved out watered Arak el Menshiyeh then moved north and occupied Burkusieh and Tel es Safi [ancient Gath] at 0800 remainder of Regiment proceeded to water at Arak el Menshiyeh concentrating 1/2 mile north east of El Faluje. At 1200 moved just south of Ijseir in wadi Sq V7 central [Wadi Bisia - ed.].

At 1445 urgent message received that enemy were attacking Burkusieh in force and this Regiment ordered to reinforce 5th Mounted Brigade at Burkusieh. At 1500 the Regiment moved at the trot along western side of railway crossing over to the eastern side of Sq O72 N18d and trotting to 5th Mounted Brigade headquarters. At 1530 B Squadron under Ragless, Captain BB, was immediately put into the line in Burkusieh village. A Squadron had been in position on Burkusieh ridge since 0630 with one troop holding Tel es Safi.

Smith, Lieutenant PT; and, his troop A Squadron was holding Tel es Safi and at 1100, he reported a large enemy force had arrived by train at Et Tine, where they detrained and were advancing in attack formation towards his position and Burkusieh. Smith, Lieutenant PT; and, troop rejoined remainder of A Squadron on Burkusieh Ridge. From 1500 onwards a heavy enemy bombardment was concentrated in and around Burkusieh village covering the advance of about 4,000 enemy infantry who were advancing south on either side of railway. At about 1530 enemy on western side of railway were observed to halt and take up positions approximately in SQ O72 N1 - 2 - 3 cd. The force on eastern side of railway moving in towards Ridge came under heavy fire from our machine guns, Hotchkiss and rifles. The strong enemy attack continued with great determination forcing our artillery to withdraw to just north of Summeil. 5th Mounted Brigade now withdrew to a strong position 1500 yards north east of Summeil with the 9th Light Horse Regiment covering their withdrawal. At 1600 the enemy 2000 strong had advanced to within a few hundred yards of Burkusieh village and ridge when 9th Light Horse Regiment withdrew and reinforced 5th Mounted Brigade's line. The enemy now occupied Burkusieh village and ridge where his advance was held up by our heavy rifle and machine gun fire. At 1700 5th Mounted Brigade withdrew to reserve. With C Squadron on left and B Squadron on right an outpost line running 500 yards north and east of Summeil from railway to railway bridge in Sq O72V2 - 5 - 2 Sheet XX. Night passed uneventfully.

Killed in Action


705 Lance Corporal KC Bennett ;


1021 Trooper A Thurlow; and,


1602 Corporal WH Shadforth.


Wounded in Action

528 Private Paul Teesdale Smith;


544 Private Claude Foubister;


552 Private Albert Ernest King; and


1426 Private William George Oliver.

3rd Light Horse Brigade War Diary -

At stand to arms at 0430 the situation along the Divisional front was still quiet and at 0600 one squadron 9th Light Horse Regiment under Parsons, Major HM, moved from El Faluje to reconnoitre Burkusieh from the south west. 8th Light Horse Regiment maintained line of observation posts and watched for any enemy movements on the roads leading from Arak el Menshiyeh - Beit Jibrin road. Dust had been observed rising from direction of Beit Jibrin since daylight.

At 0830 the reconnoitring squadron of 9th Light Horse Regiment occupied Burkusieh without encountering enemy opposition. Information was gained from the inhabitants that enemy estimated at 5,000 in strength, with machine and field gun had withdrawn, to Tel el Safi at 2200 on the previous night.

Watering of as many horses of the Brigade as possible was now aimed at. The supply at Ijseir and Hatte was very limited, and at 1330 when orders were received from Division for the Brigade to be prepared for immediate action, very few horse or men had been given a drink.

About 6,000 enemy infantry were now reported to be advancing from Et Tine. Troop trains were observed unloading infantry and enemy cavalry were moving to the west of Balin. Orders were received from Division for one Regiment to move to a point one mile south west of Summeil, and support 5th Mounted Brigade which was to meet the enemy advance at Balin. The enemy appeared in strength all along the front and threatened a determined attack. The Notts Battery cooperated with all batteries of the Division in maintaining fire against the enemy, whose advance was being covered by his own artillery from many batteries.

The role of our Division was to hold firmly the right flank of the general advance so that the centre and left could push forward without anxiety for their right flank. From enemy documents since captured the advance of the Turks just mentioned was an organised attack on our right flank. They hoped that it would be successful. If it had, it would have seriously affected the advance of the rear of our forces now moving northwards on our left and along the coast.

At about 1400 the enemy attack had developed.

5th Mounted Brigade was being heavily pressed by the enemy. 9th Light Horse Regiment was now holding Burkusieh ridge, and although attacked time after time continued to check the determined advance of the Turks, One squadron, 8th Light Horse Regiment was sent to the assistance of the 5th Mounted Brigade and the remaining two Squadrons to the assistance of the 9th Light Horse Regiment, where, was now heavily engaged and suffering many casualties.

At 1600, 10th Light Horse Regiment, who had been sent to El Faluje to water horses, was now brought up at the gallop on account of the general situation, and C Squadron thereof was put on the right of the 9th Light Horse Regiment. Owing to enemy pressure on the left the 5th Mounted Brigade was forced to retire, and the 8th and 9th Light Horse Regiments, with 10th Light Horse Regiment supporting on the right, were now compelled to conform and to fall back on to the next ridge, i.e. the one between Summeil and Burkusieh Ridges. As soon as the ridge from which the enemy advance had been checked by 8th and 9th Light Horse Regiments was retired from, the enemy with extreme boldness occupied same. It was discovered that some wounded had been left behind when the retirement from Burkusie ridge was made and Bowman, Sergeant J, of the 9th Light Horse Regiment and Rickaby, Lieutenant TN, 3rd Light Horse Brigade Scout Officer, returned and rescued wounded, the latter being subsequently granted the DCM for his action in this affair.

At 1700 the Turkish attack died away. The night outpost line, [9th Light Horse Regiment on the left, and 8th Light Horse Regiment on the right], from Arak el Menshiyeh to Summeil was taken up. The Brigade had taken part in a day's very heavy fighting and all ranks and horses were in much need of rest and sleep, little of which had been gained for the past several days and nights. The question of water for horses was again becoming very acute. The night, 12/13th November passed quietly and at stand to arms at 0430 there was no enemy activity.
1918
Tuesday, November 12, 1918

9th Light Horse Regiment Location - Mejdelaya, Tripoli

9th Light Horse Regiment War Diary - Terms of the armistice with Germany received.

Kither, 1029A Driver JF, died of illness.
1919
Wednesday, November 12, 1919

9th Light Horse Regiment Location - Adelaide

9th Light Horse Regiment War Diary - Regiment disbanded.
Previous: 9th LHR AIF War Diary, 11 November
Next: 9th LHR AIF War Diary, 13 November
Sources:
See: 9th Australian Light Horse Regiment, Contents
Australian Light Horse Studies Centre, AIF War Diaries of the Great War, Site Transcription Policy

Further Reading:
9th Australian Light Horse Regiment, Roll of Honour
Battles where Australians fought, 1899-1920
---
Citation:
9th LHR AIF War Diary, 12 November
Posted by Project Leader at 1:01 AM EAST
Updated: Friday, 17 September 2010 10:02 PM EADT