Australian Imperial Forces, Marching Songs, Finding the Australian National Song
Topic: AIF - Marching Songs
Australian Imperial Forces
Marching Songs
Finding the Australian National Song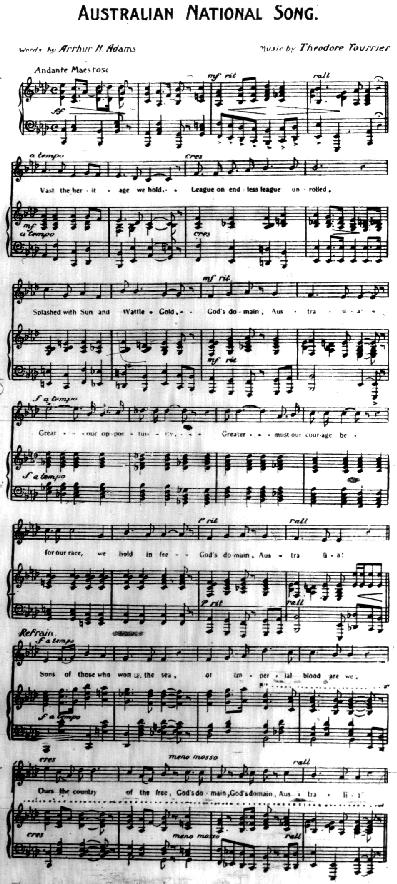 AUSTRALIAN NATIONAL SONG
Words by Arthur H Adams, Music by Theodore Tourrier
[From the Queenslander, 29 August 1914, p. 30.]
During 1914, the Musical Association of New South Wales conducted an international competition to produce the quintessential Australian National Song. To add to the creative pool, a prize of £100 was offered. Over the competition period, some 558 entries were received from within Australia and overseas. The winning lyrics were written by Arthur Henry Adams, the well known editor of the Sydney Sun. These were then set to a musical arrangement and the winner of that segment was Theodore John Tourrier, of Glenferrie, Victoria.
An online version of the published edition by Beale & Co, price 4/- is available here at the Australian National Library Digital collection.
AUSTRALIAN NATIONAL SONG

Vast the heritage we held,
League on endless league unrolled,
Splashed with sun and wattle fold.
God's demesne, Australia.

Great our opportunity,
Greater must our courage be
For our race we hold in fee
God's demesne, Australia.

Sons of those who won the sea,
Of Imperial blood are we;
Ours the Country of the free
God's demesne, Australia

Freedom for our onward Stride
Wide our continent, and wide
Are the faiths and hopes that guide
God's demesne, Australia.

Though begirt with guardian seas,
Not in careless, slothful ease
Shall we shield thy liberties,
God's demesne, Australia

Loyal scions of our race.
Ready chance and change to face
We shall die, but ne'er disgrace
God's demesne, Australia.
Further Reading:
Australian Light Horse
Battles where Australians fought, 1899-1920
---
Citation:
Australian Imperial Forces, Marching Songs, Finding the Australian National Song
Posted by Project Leader at 11:26 AM EAST
Updated: Thursday, 12 May 2011 6:11 PM EADT