The Battle of Montbrehain, France, 5 October 1918, Outline
Topic: BatzWF - Westn Front
The Battle of Montbrehain
France, 5 October 1918
Outline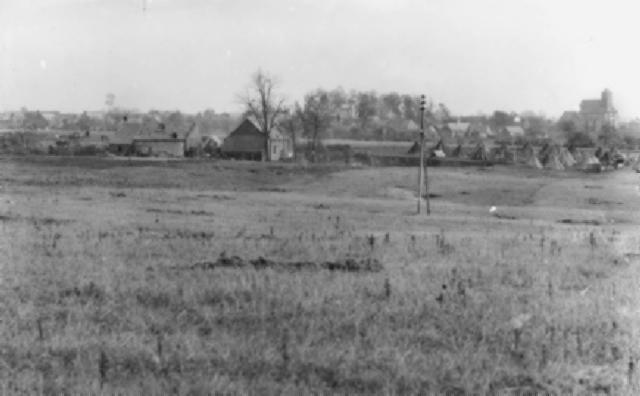 Montbrehain.
Montbrehain, fought on 5 October 1918, was the last action involving Australian infantry on the Western Front during the First World War. Following the successful breaching of the main Hindenburg Line on 29 September - 1 October (see St Quentin Canal), the exhausted and depleted 3rd and 5th Australian divisions which took part in that attack were relieved by the 2nd Australian Division under Major General Charles Rosenthal on the nights of 1 and 2 October. The next day this formation was set to the task of breaching the final network of defences called the Beaurevoir system.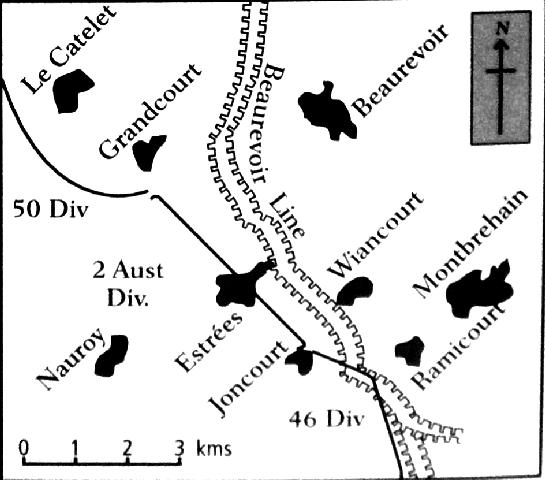 Map detailing the trenches around Montbrehain.
[From: Coulthard-Clark, p. 164.]
The attack begun at 6.05 a.m. by the 5th and 7th Brigades (between them totalling no more than 2,500 men) was launched from around Entrees and directed at Beaurevoir village. Further south, the British 46th Division of the 9th Corps was to attack towards Montbrehain, capitalising on a small breach of the German system won at a salient east of Joncourt a day or so earlier. The Australian attack was a success, though it was stopped just short of its goal; the British, too, broke through and for a time held Montbrehain - village until driven out after midday.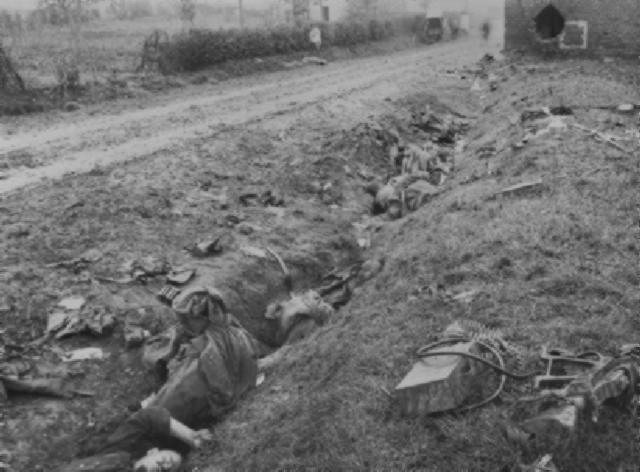 The bodies of German machine gunners in the trench along the roadside at Montbrehain.
After a mishandled attempt to press ahead against Beaurevoir early on 4 October, before noon that day the 2nd Division's 6th Brigade was ordered to make an attack on Montbrehain the following morning. The operation was a brilliant success, the attackers taking 400 Germans captive. The victory was gained, however, at a cost of 430 casualties-a tally which, at that stage of the war, was more commensurate with participation in a general attack rather than a relatively small local attack. That night the 6th Brigade followed the remainder of the AIF out of the front-line and into a rest area west of Abbeville.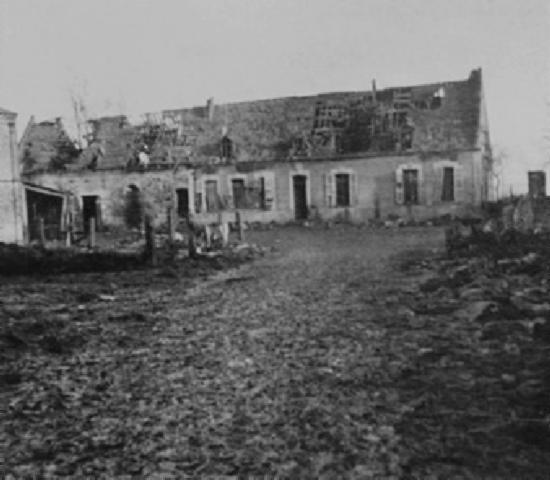 The remains of a bombed farm house in Montbrehain.
Extracted from the book produced by Chris Coulthard-Clark,
Where Australians Fought - The Encyclopaedia of Australia's Battles
, Allen and Unwin, Sydney, 1998, pp. 164-165.
Additional References cited by Chris Coulthard-Clark:

C.E.W. Bean (1937) The Australian Imperial Force in France during the Main German Offensive, 1918, Sydney: Angus & Robertson.
Further Reading:
The Battle of Montbrehain, France, 5 October 1918
The Battle of Montbrehain, France, 5 October 1918, Roll of Honour
Battles where Australians fought, 1899-1920
---
Citation:
The Battle of Montbrehain, France, 5 October 1918, Outline
Posted by Project Leader at 12:01 AM EADT
Updated: Tuesday, 5 October 2010 12:24 PM EADT