Emptsa, North Russia, The Times, 29 September 1919
Topic: BatzO - Emptsa
Emptsa
North Russia, 29 August 1919
The Times, 29 September 1919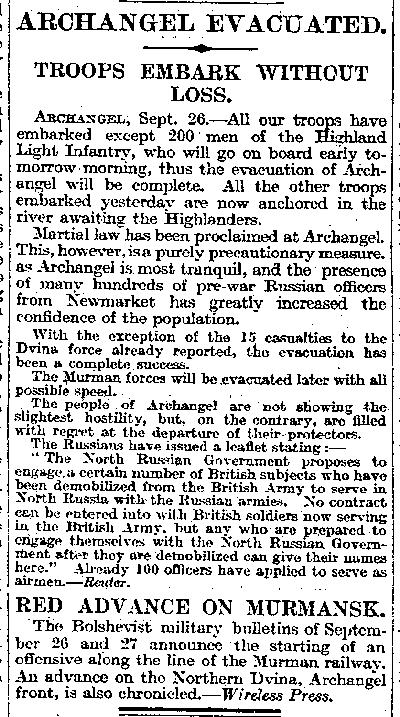 The Times, 29 September 1919, p. 7.

The account is transcribed below.
The Times, 29 September 1919, p. 7.
ARCHANGEL EVACUATED.

TROOPS EMBARK WITHOUT LOSS.
ARCHANGEL; Sept. 26.

All our troops have embarked except 200 men of the Highland Light Infantry, who will go on board early tomorrow morning, thus the evacuation of Archangel will be complete. All the other troops embarked yesterday am now anchored in the river awaiting the Highlanders.

Martial law has been proclaimed at Archangel. This, however, is a purely precautionary measure as Archangel is most tranquil, and the presence of many hundreds of pre-war Russian officers from Newmarket has greatly increased the confidence of the population.

With the exception of the 15 casualties to the Dvina force already reported, the evacuation has been a complete success.

The Murman forces will be evacuated later with all possible speed.

The people of Archangel are not showing the slightest hostility, but, on the contrary, are filled with regret at the departure of their protectors.

The Russians have issued a leaflet stating:
"The North Russian Government proposes to engage a certain number of British subjects who have been demobilized from the British Army to serve in North Russia with, the Russian armies, no contract can be entered into with British soldiers now serving in the British Army, but any who are prepared to engage themselves with the North Russian. Government after they are demobilized can give their names here."


Already 100 officers have applied to serve as airmen. Reuter.

RED ADVANCE ON MURMANSK.

The Bolshevist military bulletins of September 26 and 27 announce the starting of an offensive along the line of the Murman railway. An advance on the Northern Dvina, Archangel front, is also chronicled. - Wireless Press.

Further Reading:
North Russian Campaign, Contents
Battles where Australians fought, 1899-1920
---
Citation:
Emptsa, North Russia, The Times, 29 September 1919
Posted by Project Leader at 12:01 AM EADT
Updated: Sunday, 3 May 2009 10:02 AM EADT