27th (North Queensland) Australian Light Horse, 1913
Topic: Militia - LHQ - 27/14
27th ALH
27th (North Queensland) Australian Light Horse
1913
Queensland Mounted Infantry [1885 - 1900]
4th Battalion, Queensland Mounted Infantry [1900 - 1903]
15th (Queensland Mounted Infantry) Australian Light Horse [1903 - 1912]
27th (North Queensland) Australian Light Horse [1912 - 1918]
14th (North Queensland) Australian Light Horse [1919 - 1927]
14th (Queensland Mounted Infantry) 14th West Moreton Light Horse [1927 - 1930]
2nd/14th Light Horse Regiment [1930 - 1941]
2nd (Queensland Mounted Infantry)Recce Battalion Morten Light Horse [1942 - 1942]
2nd (AIF) Cavalry Regiment [1942 - 1943]
"A" Squadron, 2nd/14th Queensland Mounted Infantry [1948 - 1952]
2nd/14th Queensland Mounted Infantry [1952 - ]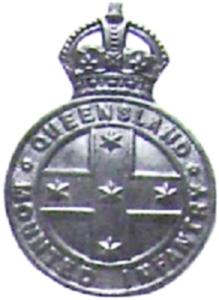 Forward
March: Soldiers of the Queen
Allied with: King Edward's Horse (The King's Oversea Dominions Regiment).
District
North Queensland

Brigade
1st Light Horse Brigade

Headquarters
Ayr

Honorary Colonel
Vacant.

Commanding Officer
Captain DML Graham, South African War Veteran, Tenure of Command from 1 July 1912 to 30 June 1917.

Staff
Lieutenant PM Swanson, Area Officer, 30 September 1912.

Adjutant
Lieutenant R St C Cheesman

Quartermaster
Honorary Lieutenant WM Lyons, 9 December 1912.

Medical Officer
Captain TG Ross

Veterinary Officer
Vacant.
"A" Squadron, Ayr - Bowen
Lieutenant A Pott.

Lieutenant R St C Cheesman.

Lieutenant J. Leahy, 23 December 1912.

Second Lieutenant HH Betzel, 6 November 1911.

Second Lieutenant AR Heron.
"B" Squadron, Mackay - Townsville
Lieutenant G Birbeck, 31 March 1911.

Second Lieutenant CR Cameron.

Second Lieutenant G Milne, 12 June 1911.

Second Lieutenant WFJ Koch, 16 May 1913.

Previous: 27th (North Queensland) Australian Light Horse, December 1912
Next: 27th (North Queensland) Australian Light Horse, 1914
Sources
Further Reading:
Militia Light Horse - Queensland
Australian Militia Light Horse
---
Citation:
27th (North Queensland) Australian Light Horse, 1913
Posted by Project Leader at 12:01 AM EADT
Updated: Friday, 9 July 2010 10:02 AM EADT