Bir el Mazar, Sinai, 17 September 1916, 8th LHR, AIF, War Diary Account
Topic: AIF - 3B - 8 LHR
Bir el Mazar
Sinai, 17 September 1916
8th LHR, AIF, War Diary Account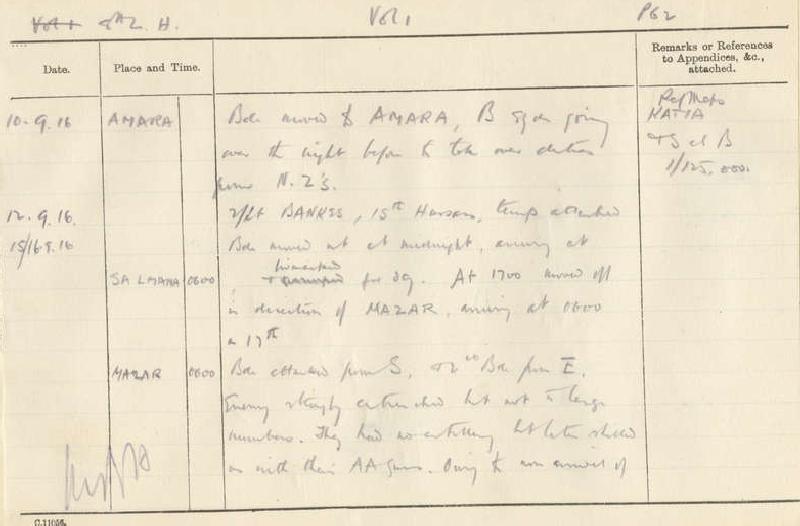 War Diary account of the 8th LHR, AIF.
The transcription:



16 September 1916

Amara - Brigade moved out at midnight arriving at Salmana at 0600 and bivouacked for the day. At 1700 moved off in the direction of Mazar arriving at 0600 on 17th.


17 September 1916

Mazar - 0600 - Brigade attacked from south and 2nd Light Horse Brigade from the east. Enemy strongly entrenched but not too large numbers. They had no artillery but later shelled us with their Anti-Aircraft Guns. Owing to the non arrival of Camel Corps on our right as expected, we withdrew at 0800. Enemy reported to be evacuating Mazar.

Salmana - Bivouacked for the night, left at 0400 on 18th.

18 September 1916

0400 - Returned to Amara.


Roll of Honour
Lest We Forget
Additional Reading:
8th Australian Light Horse Regiment, Roll of Honour
Bir el Mazar, Sinai, 17 September 1916
Battles where Australians fought, 1899-1919
---
Citation:
Bir el Mazar, Sinai, 17 September 1916, 8th LHR, AIF, War Diary Account
Posted by Project Leader at 12:01 AM EADT
Updated: Tuesday, 24 November 2009 6:08 AM EAST