Bir el Mazar, Sinai, 17 September 1916, 10th LHR, AIF, War Diary Account
Topic: AIF - 3B - 10 LHR
Bir el Mazar
Sinai, 17 September 1916
10th LHR, AIF, War Diary Account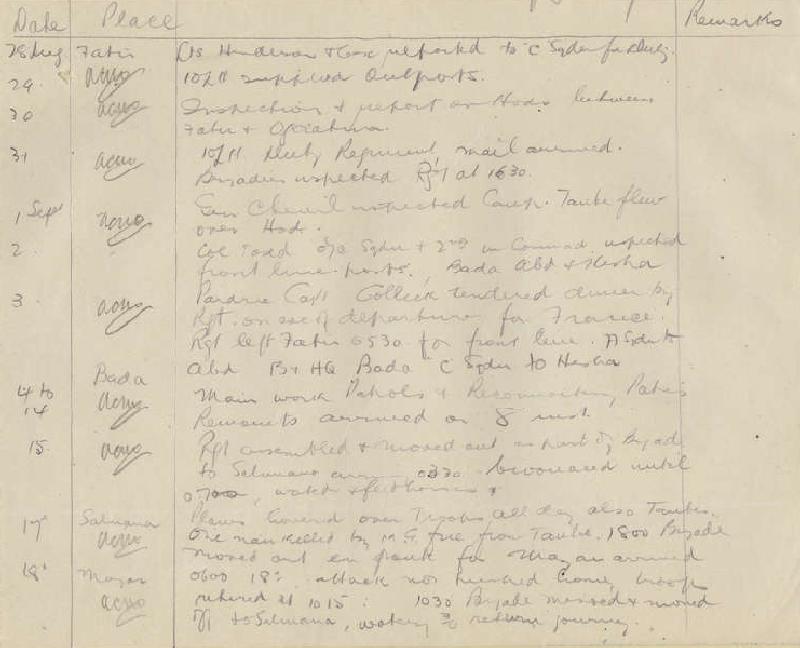 War Diary account of the 10th LHR, AIF.
The transcription:
15 September 1916

Regiment assembled and mounved out as part of Brigade to Salmana arriving 0330.

16 September 1916

Biviouac until 0700, water and feed horses. Planes hovered over troops all day. Also Taubes. One man killed by machine gun fire from Taube. 1800 Brigade moved out in dark for Mazar.

17 September 1916

Arrived 0600 18th [Ed: This should be 17th]. Attack not pushed hom, troops returned at 1015. 1030 Brigade massed and moved off to Salmana, watering on return journey.

Roll of Honour
Ernest PENTZIN
Lest We Forget
Additional Reading:
10th Australian Light Horse Regiment, AIF
10th Australian Light Horse Regiment, Roll of Honour
Bir el Mazar, Sinai, 17 September 1916
Battles where Australians fought, 1899-1919
---
Citation:
Bir el Mazar, Sinai, 17 September 1916, 10th LHR, AIF, War Diary Account
Posted by Project Leader at 12:01 AM EADT
Updated: Tuesday, 24 November 2009 6:10 AM EAST