2nd Australian Commonwealth Horse, West Australia, Outline
Topic: BW - WA - 2ACH
2nd ACH (WA)
2nd Australian Commonwealth Horse, West Australia
Outline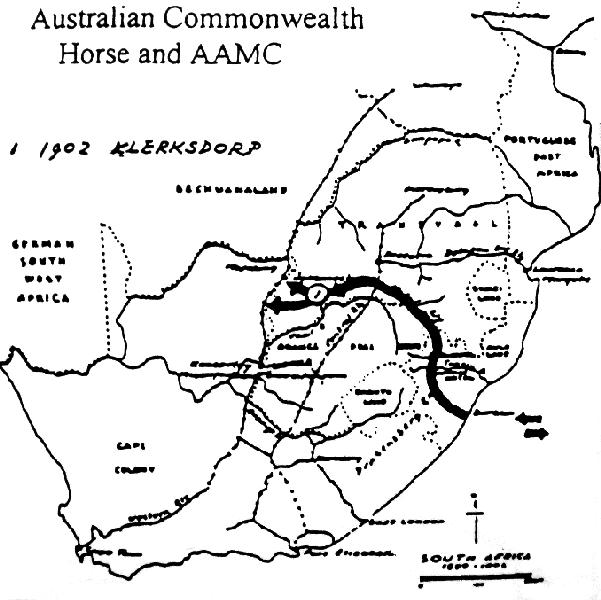 Map illustrating the activities of the Australian Commonwealth Horse in South Africa, 1902.
[From: Chamberlain, M., The Australians in the South African War 1899-1902, Canberra, 1999.]
In 1911, Lieutenant-Colonel P. L. Murray, produced a marvellous Boer War reference detailing all the contingents sent from Australia to South Africa, giving a brief history of the formation and finally, listing all the soldiers who saw service in South Africa with that unit. The book was called, Official Records of the Australian Military Contingents to the War in South Africa. It is now the standard reference and starting place for any person interested in pursuing information about Australian involvement in the Boer War.
Murray, P. L., Official Records of the Australian Military Contingents to the War in South Africa, p. 431.
Second Battalion Australian Commonwealth Horse Western Australian Unit.

This was "E" Company (or half Company) of the 2nd Battalion Australian Commonwealth Horse, composed of Western Australians. For pay, clothing, equipment, organization, service, etc, vide 2nd Battalion Australian Commonwealth Horse, Victoria.

Those who desired to join the Company were required to have had experience of country life in Australia, management of horses, and bush travelling; and to be of good character.

A captain, a corporal, and six privates of the Australian Army Medical Corps, Western. Australian section, furnished that quota of the Commonwealth Army Medical Corps Contingent. Nominal roll subjoined. For service vide Army Medical Corps, New South Wales, (Murray) p. 16.

There were no promotions of officers, nor casualties. Promotions of N.C.O.'s and man will be found in nominal mil. A proportion of them had served in previous Australian Contingents, or in South African Horse.


Departure and Return

The Company left on the 26th February, 1902, consisting of 2 officers, 58 others, having in reality only the strength of about a half-Company. Sixty harass were taken. Fifteen N.C.O.'s and men were struck off in South Africa; 2 officers, 43 others returned to Australia.


Service.

The Company embarked on the transport Manchester Merchant at Fremantle, 28th February, 1902, the South Australian Company being also on board. Arrived at Durban on 14th March, and entrained for Newcastle, where they joined the Victorians on the 18th; Lieut.-Colonel M'Leish, C.M.G., in command. On 8th April, marched to Volksrust and entrained to Klerksdorp, where the battalion became portion of Colonel De Lisle's Australian Brigade, included in Lieutenant General Ian Hamilton's Mobile Force. They too part in ensuing operations, including the "drive" (7th to 11th May), between Noitverwecht and the Kimberley Mafeking railway line (Leeuwspruit, about 4 miles from Devondale Siding), the success of which contributed so much to the conclusion of the war. (Vide 2nd Australian Commonwealth Horse, Victoria).

The Company officers, of course, participated in the operations, and received Queen's Medal with clasps. Lieutenant and Quartermaster B. H. Andrews had men previous service with 3rd Contingent. Lieutenant H. N. Venn, Paymaster, 1st and 2nd Battalions, who had formerly served in 4th Western Australian Contingent, returned to Australia by the Drayton Grange, 11th July; he was subsequently promoted Captain, and returned again to South Africa for final settlement of Australian accounts.

The Company embarked at Durban on 5th July, 1902, in the transport Norfolk, with the South Australians; arrived at Albany on the 25th, and were disbanded shortly afterwards.

Further Reading:
2nd Australian Commonwealth Horse, West Australia
Battles where Australians fought, 1899-1920
---
Citation:
2nd Australian Commonwealth Horse, West Australia, Outline
Posted by Project Leader at 12:01 AM EAST
Updated: Sunday, 2 May 2010 12:01 PM EADT