The Third Battle of Gaza, Palestine, Z - 3, 28 October 1917, Egyptian Expeditionary Force War Diary Account
Topic: BatzP - 3rd Gaza
The Third Battle of Gaza
Palestine, Z - 3, 28 October 1917
Egyptian Expeditionary Force War Diary Account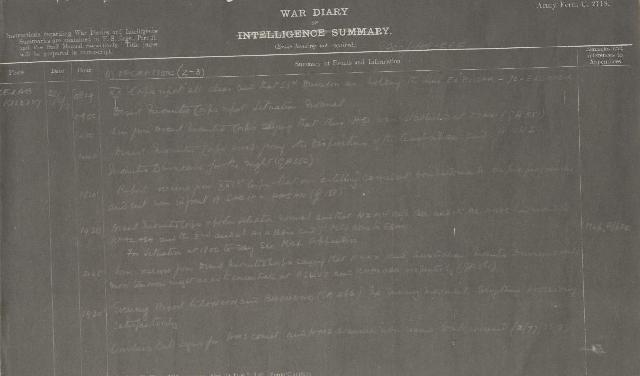 War Diary account of the Egyptian Expeditionary Force, Z - 3, 28 October 1917.
The transcription:
28 October 1917

Kelab Kilo 207

0829 - XX corp report all clear and that 53rd Division are holding the line El Buggar - 720 - El Girhbir.

0900 - Desert Mounted Corps report situation normal.

1400 - Wire from Desert Mounted Corps saying that the Headquarters was established at Esani.

1400 - Desert Mounted Corps wired giving the despatches of the Australian and New Zealand Mounted Division for the night.

1619 - Report received from XXI Corps that our artillery carried out bombardments as per proposals and cut wire in front of Sheikh el Hasan.

1930 - Desert Mounted Corps reported situation normal and that New Zealand Mounted Rifles Brigade and 1st Light Horse Brigade had moved to Khalasa and the 3rd and 4th Light Horse Brigades and 7th Mounted Brigade to Esani.

For Situation at 1800 today, see map.

2148 - Wire received from Desert Mounted Corps saying that Australian and New Zealand Division and Australian Mounted Division would move tomorrow night so as to concentrate at Asluj and Khalasa respectively.

1930 - Evening report to London and Baghdad. No enemy movement. Everything proceeding satisfactorily.

(i) Aviation call signs for HMS Conert and HMS Standish were issued to all concerned.

A letter was written to GOC XXI Corps regarding the targets to be engaged by the Navy.

(ii) Miscellaneous

A revised edition of "Camel Corps Training Provisional 1913" was sent to the War Office.

In connection with the above, a letter was written to Headquarters and Administration Centre Imperial Camel Corps Abbassia saying that the Commander in Chief was pleased with the amended edition which showed much care and thought.


Sources:
See: Egyptian Expeditionary Force War Diary, 26 October 1917, AWM4, 1/6/18 Part 1

Australian Light Horse Studies Centre, AIF War Diaries of the Great War, Site Transcription Policy

Further Reading:
The Third Battle of Gaza, Palestine, Z - 3, 28 October 1917
The Third Battle of Gaza, Palestine, Z - 3, 28 October 1917, Roll of Honour
The Third Battle of Gaza, Palestine, 26 October 1917 - 2 January 1918
Battles where Australians fought, 1899-1920
---
Citation:
The Third Battle of Gaza, Palestine, Z - 3, 28 October 1917, Egyptian Expeditionary Force War Diary Account
Posted by Project Leader at 12:01 AM EADT
Updated: Thursday, 28 October 2010 11:54 AM EADT