The First Battle of Gaza, Palestine, 26 to 27 March 1917, 7th Light Horse Regiment, War Diary Account
Topic: AIF - 2B - 7 LHR
The First Battle of Gaza
Palestine, 26 to 27 March 1917
7th Light Horse Regiment, War Diary Account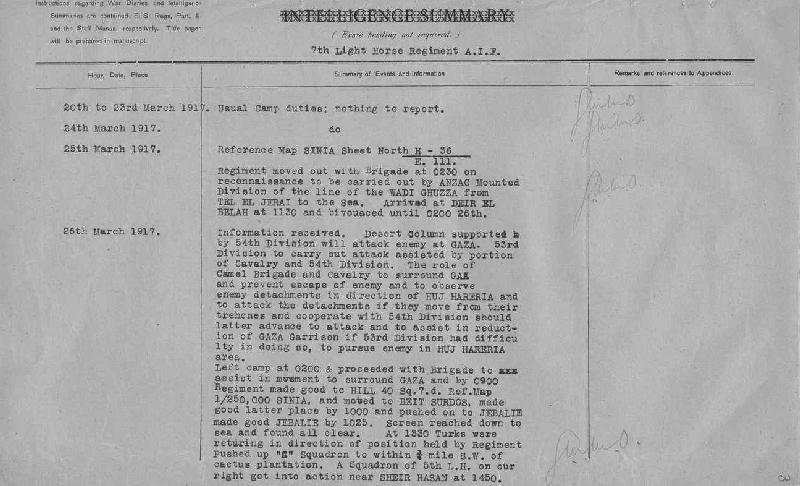 7th Light Horse Regiment, War Diary Account.
The following is a transcription of the Account from the War Diary of the 7th Light Horse Regiment detailing its role at the First Battle of Gaza, Palestine, 26 to 27 March 1917.
Shunnar 25 March 1917

Reference Map Sinai Sheet North H - 36 E. 111.

(See: Map segment of Gaza 1:125,000

Regiment moved out with Brigade at 0230 a reconnaissance to be carried out by Anzac Mounted Division of the Line of the Wadi Ghuzze from Tel El Jerai to the Sea. Arrived at Deir El Belah at 1130 and bivouacked until 0200 26th.


Gaza 26 March 1917

Information received. Desert Column supported by 54th Division will attack enemy at Gaza. 53rd Division to carry out attack assisted by portion of Cavalry and 54th Division. The role of Camel Brigade and Cavalry to surround Gaza and prevent escape of enemy and to observe enemy detachments in direction of Huj Hareira and to attack the detachments if they move from their trenches and cooperate with 54th Division should latter advance to attack and to assist in reduction of Gaza Garrison if 53rd Division had difficulty in doing so, to pursue enemy in Huj Hareira area.

Left camp at 0200 & proceeded with Brigade to assist in movement to surround Gaza and by 0900 Regiment made good to Hill 40 Sq.7.d. Reference. Map 1/250,000 Sinai and moved to Beit Surdos, made good latter place by 1000 and pushed on to Jebalie made good Jebalie by 1025. Screen reached down to sea and found all clear. At 1330 Turks were retiring in direction of position held by Regiment pushed up "C" Squadron to within ¾ mile south west of cactus plantation. "A" Squadron of Light Horse Regiment on our right got into action near Deir Hasan at 1450.

At 1553 received information attack on Gaza started New Zealand Mounted Rifles Brigade and 22nd Brigade from east of Gaza. Moved Regiment forward to cooperate with 5th Light Horse Regiment on left. "C" Squadron penetrated within cactus hedges surrounding town and got into action with enemy.

Orders to retire were received about 1800 and Regiment moved back to Brigade Headquarters. Regiment arrived back in camp at Deir EL Belah about 0600 27th.

Our casualties were 1 man killed, 1 wounded and 1 injured.

Throughout the day approximately 150 prisoners were taken by 7th Light Horse Regiment among them being General Officer Commanding and. Staff of 53rd Turkish Division.


Deir el Belah 27 March 1917

Watered horses and bivouacked for night.
War Diaries
All War Diaries cited on this site should be read in conjunction with the Australian Light Horse Studies Centre, AIF War Diaries of the Great War, Site Transcription Policy which may be accessed at:
Australian Light Horse Studies Centre, AIF War Diaries of the Great War, Site Transcription Policy
Further Reading:
7th Australian Light Horse Regiment, AIF
7th Australian Light Horse Regiment, Roll of Honour
The First Battle of Gaza, Palestine, 26 to 27 March 1917
The First Battle of Gaza, Palestine, 26 to 27 March 1917, Allied Forces, Roll of Honour
The Palestine Campaign, 1917 - 1918
Battles where Australians fought, 1899-1920
---
Citation: The First Battle of Gaza, Palestine, 26 to 27 March 1917, 7th Light Horse Regiment, War Diary Account
Posted by Project Leader at 12:01 AM EADT
Updated: Saturday, 19 February 2011 8:50 AM EAST