The First Battle of Gaza, Palestine, 26 to 27 March 1917, 3rd Light Horse Brigade, Brigade Order No. 16
Topic: AIF - 3B - 3 LHB
The First Battle of Gaza
Palestine, 26 to 27 March 1917
3rd Light Horse Brigade, Brigade Order No. 16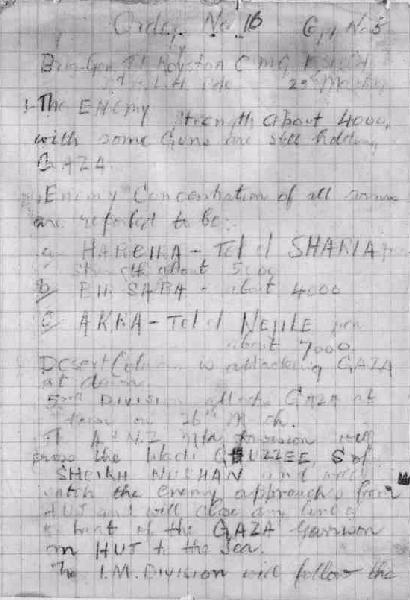 3rd Light Horse Brigade, Brigade Order No. 16.
The following is a transcription of Brigade Order No. 16 from the War Diary of the 3rd Light Horse Brigade detailing its role at the First Battle of Gaza, Palestine, 26 to 27 March 1917.
Note: Parts of the Order are illegible and so transcribed with "?" where no sense is possible.
Order No. 16

Brigadier General JR Royston, CMG
3rd Light Horse Brigade
25 March 1917

1. The enemy strength of about 4,000 with some guns still holding Gaza.

Enemy concentration of all reserves are reported to be:-



a. Hareira - Tel el Sharia total strength about 5,000.

b. Bir Saba - about 4,000.

c. Akra - Tel el Nejile men about 7,000.



2. Desert Column is attacking Gaza at dawn.

53rd Division attacks Gaza at dawn on 26th March.

The Australian and New Zealand Mounted Division will cross the Wadi Ghuzzee south of Sheikh Numrhan and will catch the enemy approaching from Huj and will close on lines of the front of the Gaza Garrison from Huj to the sea.

The Imperial Mounted Division will follow the Australian and New Zealand Mounted Division to Khurbet el Resein and will boserve the enemy from Huj exclusive to the Gaza - Bir Saba Road inclusive refusing the Gaza - Bir Saba and Gaza - Nejile Roads to the enemy's retreat.

The 54th Division is occupying Sheikh Abbas on 26th inst.

The Imperial Camel Corps Brigade will continue the Imperial Mounted Division right flank Gaza- Bir Saba Road exclusive to the Wadi Ghuzzee.

Armoured Cars will be operating on the Gaza - Bir Saba Road.

3. The Imperial Mounted Division will move in the following order of march:-

5th Mounted Brigade less 1 Regiment will form advanced guard and will follow the Australian and New Zealand Mounted Division Royal Horse Artillery at 0315 from the single tree at El Demetta followed by Divisional Headquarters followed by the 6th Mounted Brigade. The 3rd Australian Light Horse Brigade will follow the 6th Mounted Brigade at 0415 to be followed by the Royal Horse Artillery. Mobile Veterinary Sections will follow Royal Horse Artillery at the order of their Brigades at 0500.

The 1st Line Transport of the Australian and New Zealand Mounted Division will follow the Mobile Veterinary Sections of the Imperial Mounted Division.

The 1st Line Transport of the Imperial Mounted Division will follow in the order of their units of the 1st Line Transport of the Australian and New Zealand Mounted Division and will proceed under Officer Commanding "A" Company Camel Transport Corps to Sheikh Abbas and park there.

4. The starting point is the single tree at El Demeita.

5. The Brigade Ammunition Column will follow the Royal Horse Artillery.

6. A Dressing Station will be formed in the vicinity of Divisional Headquarters at Khurbet el Resin.

7. A Veterinary Dressing Station will be established near Divisional Headquarters on the Gaza Saba Road.

8. Report during march to Divisional Headquarters in rear of 6th Mounted Brigade.

9. Acknowledge by initialling the attached.

10. Brigade will move according to DM ? dated 25th.

11. No lights to be used before dawn.

12. Extreme care will be used and since enemy ??? threats will be reported immediately.

13. While the attack develops the Brigade shall be held in Reserve.

CC Dangar Major
Brigade Major, 3rd Australian Light Horse Brigade

War Diaries
All War Diaries cited on this site should be read in conjunction with the Australian Light Horse Studies Centre, AIF War Diaries of the Great War, Site Transcription Policy which may be accessed at:
Australian Light Horse Studies Centre, AIF War Diaries of the Great War, Site Transcription Policy
Further Reading:
3rd Light Horse Brigade, Roll of Honour
The First Battle of Gaza, Palestine, 26 to 27 March 1917
The First Battle of Gaza, Palestine, 26 to 27 March 1917, Allied Forces, Roll of Honour
The Palestine Campaign, 1917 - 1918
Battles where Australians fought, 1899-1920
---
Citation: The First Battle of Gaza, Palestine, 26 to 27 March 1917, 3rd Light Horse Brigade, Brigade Order No. 16
Posted by Project Leader at 12:01 AM EADT
Updated: Saturday, 19 February 2011 8:38 AM EAST