The First Battle of Gaza, Palestine, 26 to 27 March 1917, 22nd Mounted Brigade War Diary Account
Topic: AIF - DMC - British
The First Battle of Gaza
Palestine, 26 to 27 March 1917
22nd Mounted Brigade War Diary Account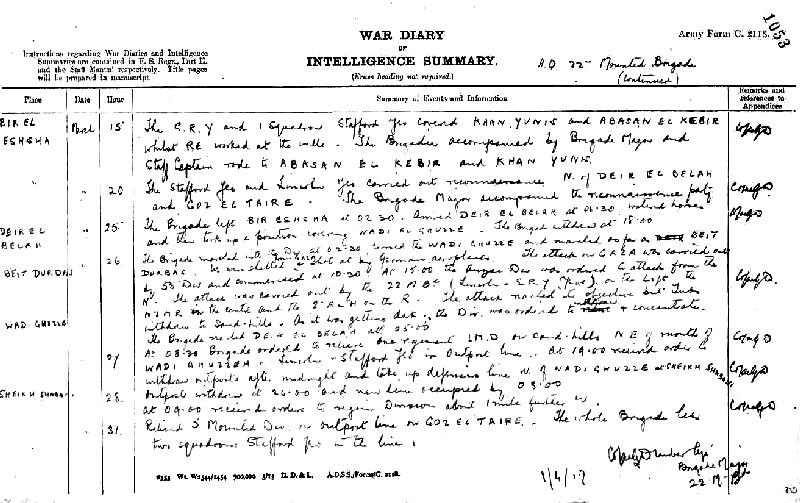 22nd Mounted Brigade War Diary Account.
The following is a transcription of the Account from the War Diary of the 22nd Mounted Brigade detailing their role at the First Battle of Gaza, Palestine, 26 to 27 March 1917.
25 March 1917 Deir el Belah

The Brigade left Bir Eshsha at 0230. Arrived Deir el Belah at 0630. Watered horses and then took up a position covering Wadi el Ghuzze. The Brigade withdrew at 1800.


26 March 1917 Gaza

The Brigade marched with the Division at 0230, crossed the Wadi Ghuzze and marched as far as Beit Durdis. We were shelled from Gaza and shot at by German aeroplanes. The attack on Gaza was carried out by 53rd Division and commenced at 1030. At 1500 The Anzac Division was ordered to attack from the north. The attack was carried out by the 22nd Mounted Brigade (1/1st Lincolnshire Yeomanry and 1/1st East Riding Yeomanry) on the left the New Zealand Mounted Riflles Brigade in the centre and the 2nd Light Horse Regiment on the right. The attack reached its objective but Turks withdrew to dand hills. As it was getting dark, the Division was ordered to withdraw and concentrate. The Brigade reached Deir el Belah at 0500.


27 March 1917 Deir el Belah

At 0830 Brigade ordered to relieve on regiment Imperial Mounted Division on sand hills north east of mouth of Wadi Ghuzze. 1/1st Lincolnshire Yeomanry and 1/1st Staffordshire Yeomanry in outpost line. At 1900 received order to withdraw outposts at 2400 and new line occupied by 0300.
War Diaries
All War Diaries cited on this site should be read in conjunction with the Australian Light Horse Studies Centre, AIF War Diaries of the Great War, Site Transcription Policy which may be accessed at:
Australian Light Horse Studies Centre, AIF War Diaries of the Great War, Site Transcription Policy
Further Reading:
British Forces, EEF, Roll of Honour
The First Battle of Gaza, Palestine, 26 to 27 March 1917
The First Battle of Gaza, Palestine, 26 to 27 March 1917, Allied Forces, Roll of Honour
The Palestine Campaign, 1917 - 1918
Battles where Australians fought, 1899-1920
---
Citation: The First Battle of Gaza, Palestine, 26 to 27 March 1917, 22nd Mounted Brigade War Diary Account
Posted by Project Leader at 12:01 AM EADT
Updated: Sunday, 6 March 2011 11:53 AM EAST