The First Battle of Gaza, Palestine, 26 to 27 March 1917, Egyptian Expeditionary Force Murray Letter 13 March 1917
Topic: AIF - DMC - British
The First Battle of Gaza
Palestine, 26 to 27 March 1917
Egyptian Expeditionary Force Murray Letter 13 March 1917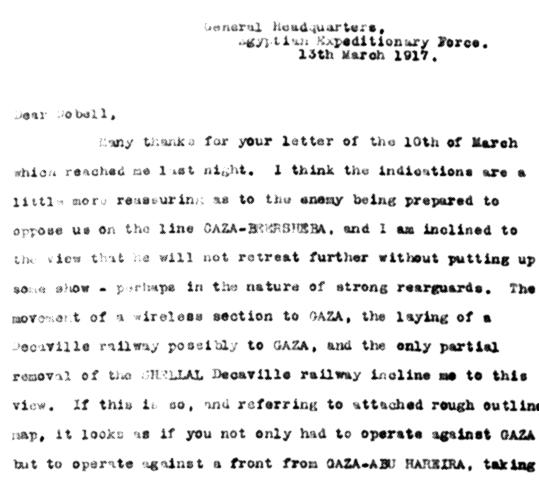 Murray Letter 13 March 1917.
The following is a transcription of the Murray Letter of 13 March 1917 from the War Diary of the Egyptian Expeditionary Force detailing the discussion formulating the battle plan for the First Battle of Gaza, Palestine, 26 to 27 March 1917.
General Headquarters .
Egyptian Expeditionary Force.
13th March 1917.

Dear Dobell,

Many thanks for your letter of the 10th of March which reached as last night. I think the indications are a little more reassuring as to the enemy being prepared to oppose us on the line Gaza - Beersheba, and I am inclined to the view that he will not retreat further without putting up some show - perhaps in the nature of strong rearguards. The movement of a wireless section to Gaza, the laying of a Decauville railway possibly to Gaza, and the only partial removal of the Shellal Decauville railway incline me to this view. if this is so, and referring to attached rough outline map, it looks as if you not only had to operate against Gaza but to operate against a front from Gaza - Abu Hareira, taking into consideration the strong reserves at Huj and the further reserves along the railway.

I should be glad to receive your appreciation of the situation in due course and think it is probable that you will decide to operate in strength from Khan Yunis. Herbert's Brigade of the 74th Division should join you shortly, and as soon as McNeill's Brigade from the Sollum Mersa Matruh district has been concentrated at Alexandria it will be sent on to you.

The effect of Maude's occupation of Baghdad the increasing pressure of the Arabs in the Hedjaz and the no doubt early advance of the Russians from Persia and the Caucasus must considerably influence the action of the Turks On this front. In my opinion they dare not give us the territory up to Jerusalem without a fight unless they are sore demoralised than we have reason to suppose.

Yours sincerely,

Signed AJ Murray.
War Diaries
All War Diaries cited on this site should be read in conjunction with the Australian Light Horse Studies Centre, AIF War Diaries of the Great War, Site Transcription Policy which may be accessed at:
Australian Light Horse Studies Centre, AIF War Diaries of the Great War, Site Transcription Policy
Further Reading:
British Forces, EEF, Roll of Honour
The First Battle of Gaza, Palestine, 26 to 27 March 1917
The First Battle of Gaza, Palestine, 26 to 27 March 1917, Allied Forces, Roll of Honour
The Palestine Campaign, 1917 - 1918
Battles where Australians fought, 1899-1920
---
Citation: The First Battle of Gaza, Palestine, 26 to 27 March 1917, Egyptian Expeditionary Force Murray Letter 13 March 1917
Posted by Project Leader at 12:01 AM EADT
Updated: Friday, 18 March 2011 4:03 PM EADT