The First Battle of Gaza, Palestine, 26 to 27 March 1917, Egyptian Expeditionary Force Dobell Letter 4 March 1917
Topic: AIF - DMC - British
The First Battle of Gaza
Palestine, 26 to 27 March 1917
Egyptian Expeditionary Force Dobell Letter 4 March 1917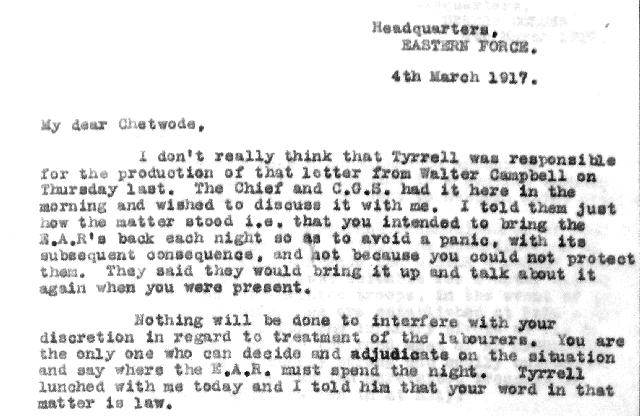 Dobell Letter 4 March 1917.
The following is a transcription of the Dobell Letter of 4 March 1917 from the War Diary of the Egyptian Expeditionary Force detailing the discussion formulating the battle plan for the First Battle of Gaza, Palestine, 26 to 27 March 1917.

Headquarters,
Eastern Force.
4th March 1917.

My dear Chetwode,

I don't really think that Tyrrell was responsible for the production of that letter from Walter Campbell on Thursday last. The Chief and Chief of General Staff had it here in the morning and wished to discuss it with me. I told them just how the matter stood i.e. that you intended to bring the EAR's (Egyptian Army Reserves) back each night so as to avoid a panic, with its subsequent consequences, and not because you could not protect then. They said they would bring it up and talk about it again when you were present.

Nothing will be done to interfere with your discretion in regard to treatment of the labourers. You are the only one who can decide and adjudicate on the situation and say where the EAR's (Egyptian Army Reserves) must spend the night. Tyrrell lunched with me today and I told him that your word in that matter is law.

I am sorry you don't care for Tyrrell or find him helpful. I think he really tries his best, with considerable measure of success, he suffers from desperate shyness and I think that often makes him appear at a disadvantage.

I should like to come up, and in fact intended doing so, to acquaint myself with the country between you and the savage foe. If it suits you we will spend Tuesday with you and would like to go to Rafa and possibly Khan Yunis, Dawnay and I can come at any hour you say and we will return here for the night, otherwise things seem to got so behind hand. We can go up again a day or so later.

Your official letter on the subject of your proposed advance has come in so I will not answer it fully now. Your plan seems to be all that can be desired. Sorry to hear the ground is so bare, but we must take it as we find it. I hope they will not run but there is a good chance of their doing so.

He has gone to Railhead today and will be hereabouts till Wednesday so we shall have lots of opportunities of squaring yards with him.

The 229th Brigade is on its way up and Hare's lot will be ready to move out when required,

I will see that all useless ones here are driven forward where they will be of use.

Hodgson is here and in 10 days will have his Division less one brigade ready.

The Royal Visit was a great success, not a cloud, the size of a man's hand ever in the sky. All your excellent work had much to say to this happy result.

Hare's people shall continue the development of water at Sheikh Zowaiid.

If one came at the position from Khan Yunis should we find more cover do you think?

Yours sincerely,
Signed CM Dobell.

Just received Kress' message, it looks like withdrawal.

War Diaries
All War Diaries cited on this site should be read in conjunction with the Australian Light Horse Studies Centre, AIF War Diaries of the Great War, Site Transcription Policy which may be accessed at:
Australian Light Horse Studies Centre, AIF War Diaries of the Great War, Site Transcription Policy
Further Reading:
British Forces, EEF, Roll of Honour
The First Battle of Gaza, Palestine, 26 to 27 March 1917
The First Battle of Gaza, Palestine, 26 to 27 March 1917, Allied Forces, Roll of Honour
The Palestine Campaign, 1917 - 1918
Battles where Australians fought, 1899-1920
---
Citation: The First Battle of Gaza, Palestine, 26 to 27 March 1917, Egyptian Expeditionary Force Dobell Letter 4 March 1917
Posted by Project Leader at 12:01 AM EADT
Updated: Saturday, 19 March 2011 11:24 PM EADT