The First Battle of Gaza, Palestine, 26 to 27 March 1917, Egyptian Expeditionary Force Murray Letter 16 March 1917
Topic: AIF - DMC - British
The First Battle of Gaza
Palestine, 26 to 27 March 1917
Egyptian Expeditionary Force Murray Letter 16 March 1917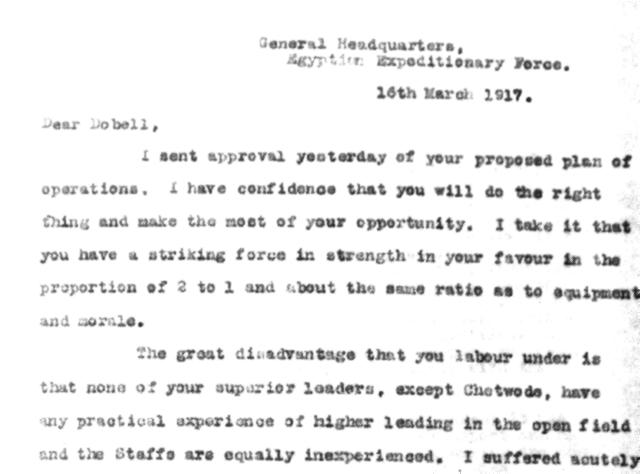 Murray Letter 16 March 1917.
The following is a transcription of the Murray Letter of 16 March 1917 from the War Diary of the Egyptian Expeditionary Force detailing the discussion formulating the battle plan for the First Battle of Gaza, Palestine, 26 to 27 March 1917.
General Headquarters,
Egyptian Expeditionary Force
16th March 1917

Dear Dobell,

I sent approval yesterday of your proposed plan of operations. I have confidence that you will do the right thing and make the most of your opportunity. I take it that you have a striking force in strength in your favour in the proportion of 2 to 1 and about the some ratio as to equipment and morale.

The great disadvantage that you labour under is that none of your superior leaders, except Chetwode, have any practical expience of higher leading in the open field and the Staffs are equally inexperienced. I suffered acutely from this at Romani. This disability will cause you anxiety. I don't think any of your Divional Commanders have seen a Division either on the march or deployed to attack. This may tend to make your movements appear slow but I shall understand. If you can get Gaza and pass your Mounted Troops, at least 15,000 strong, through to the north, say El Faluja, whilst you contain, or attack, the enemy on the line Huj - Abu Hareira nothing should escape but the 6,000 troops at Beersheba and odd detachments. On the other hand you may find it difficult to pass your Mounted Troops north if the enemy advance from Huj on Gaza. In this case the Cavalry would have the same role but not such an extended or ambitious wide encircling movement; or, indeed, part might be used on the right flank with effect.

I earnestly trust the enemy will give you your chance and I have complete confidence in your leadership.

Believe me,
Yours sincerely,
Signed A.J. Murray.
War Diaries
All War Diaries cited on this site should be read in conjunction with the Australian Light Horse Studies Centre, AIF War Diaries of the Great War, Site Transcription Policy which may be accessed at:
Australian Light Horse Studies Centre, AIF War Diaries of the Great War, Site Transcription Policy
Further Reading:
British Forces, EEF, Roll of Honour
The First Battle of Gaza, Palestine, 26 to 27 March 1917
The First Battle of Gaza, Palestine, 26 to 27 March 1917, Allied Forces, Roll of Honour
The Palestine Campaign, 1917 - 1918
Battles where Australians fought, 1899-1920
---
Citation: The First Battle of Gaza, Palestine, 26 to 27 March 1917, Egyptian Expeditionary Force Murray Letter 16 March 1917
Posted by Project Leader at 12:01 AM EADT
Updated: Sunday, 20 March 2011 9:43 PM EADT