The First Battle of Gaza, Palestine, 26 to 27 March 1917, Egyptian Expeditionary Force Camel Transport Corps Poem, An Enemy Moon
Topic: AIF - DMC - British
The First Battle of Gaza
Palestine, 26 to 27 March 1917
Egyptian Expeditionary Force Camel Transport Corps Poem, An Enemy Moon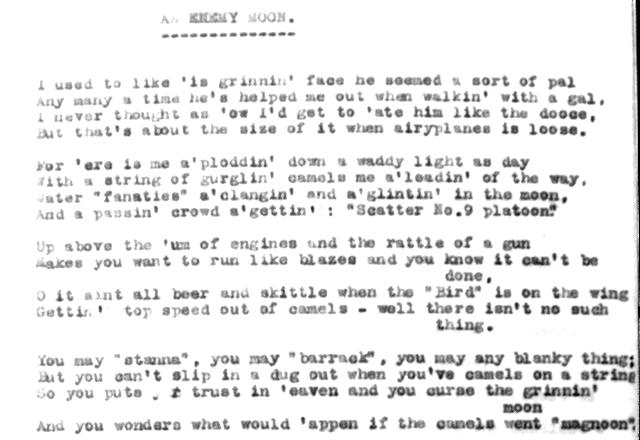 Camel Transport Corps Poem, An Enemy Moon.
The following is a transcription of the poem, An Enemy Moon written by a member of the Camel Transport Corps detailing their work during the First Battle of Gaza, Palestine, 26 to 27 March 1917.
An Enemy Moon

I used to like 'is grinnin' face he seemed a sort of pal
Any many a time he's helped me out when walkin' with a gal,
I never thought as 'ow I'd get to 'ate him like the dooce,
But that's about the size of it when airyplanes is loose.

For 'ere is me a' ploddin' down a waddy light as day
With a string of gurglin' camels me a' leadin' of the way,
Water "fanaties" a' clangin' and a' glintin' in the moon,
And a passin' crowd a' gettin': "Scatter No. 9 platoon."

Up above the 'um of engines and the rattle of a gun
Makes you want to run like blazes and you know it can't be done,
O it ain't all beer and skittle when the "Bird" is on the wing
Gettin' top speed out of camels - well there isn't no such thing.

You may "stanna", you may "barrack", you may any blanky thing;
But you can't slip in a dug out when you've camels on a string
So you puts your trust in 'eaven and you curse the grinnin' moon
And you wonders what would 'appen if the camels went "magnoon"

Still it 'aint no good a' grumblin' darker nights will soon be 'ere
So I'll trudge along the waddy hinkin' thoughts of home and beer
And the camels they may gurgle and the engines they may 'um
For I'll be a water escort till I click for Kingdom come.





Initialled - LS?

War Diaries
All War Diaries cited on this site should be read in conjunction with the Australian Light Horse Studies Centre, AIF War Diaries of the Great War, Site Transcription Policy which may be accessed at:
Australian Light Horse Studies Centre, AIF War Diaries of the Great War, Site Transcription Policy
Further Reading:
British Forces, EEF, Roll of Honour
The First Battle of Gaza, Palestine, 26 to 27 March 1917
The First Battle of Gaza, Palestine, 26 to 27 March 1917, Allied Forces, Roll of Honour
The Palestine Campaign, 1917 - 1918
Battles where Australians fought, 1899-1920
---
Citation: The First Battle of Gaza, Palestine, 26 to 27 March 1917, Egyptian Expeditionary Force Camel Transport Corps Poem, An Enemy Moon
Posted by Project Leader at 12:01 AM EADT
Updated: Monday, 21 March 2011 9:57 AM EADT