The First Battle of Gaza, Palestine, 26 to 27 March 1917, Egyptian Expeditionary Force Dobell Letter 19 March 1917
Topic: AIF - DMC - British
The First Battle of Gaza
Palestine, 26 to 27 March 1917
Egyptian Expeditionary Force Dobell Letter 19 March 1917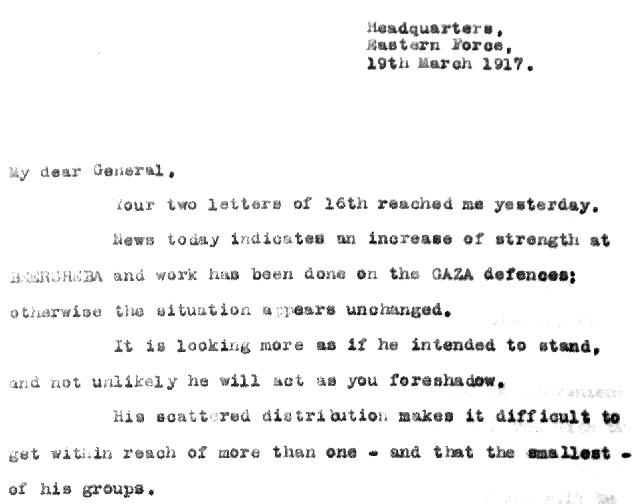 Dobell Letter 19 March 1917.
The following is a transcription of the Dobell Letter of 19 March 1917 from the War Diary of the Egyptian Expeditionary Force detailing the discussion formulating the battle plan for the First Battle of Gaza, Palestine, 26 to 27 March 1917.
Headquarters,
Eastern Force,
19th March 1917.

My dear General,

Your two letters of 16th reached me yesterday.

News today indicated an increase of strength at Beersheba and work has been done on the Gaza defences; otherwise the situation appears unchanged.

It is looking more as if he intended to stand, and not unlikely he will act as you foreshadow.

His scattered distribution makes it difficult to get within reach of more than one - and that the smallest of his groups.

Our transport is strained to the utmost in order to give us a radius of action sufficient to reach Gaza and one cannot, with any certainty, try to tackle his more remote detachments.

I hope we may be able to pass the mounted troops round his right and out the railway about El Falujeh but that will be consequent on the turn of affairs.

We move our Headquarters from here tomorrow and spend two days reconnoitring the country, and if all goes without a hitch we hope to be ready to cross the frontier on 24th and be in front of Gaza on 26th.

Given fine weather our difficulties will be greatly reduced by the amount of stores we shall be able to land.

The troops are all in splendid spirits.
War Diaries
All War Diaries cited on this site should be read in conjunction with the Australian Light Horse Studies Centre, AIF War Diaries of the Great War, Site Transcription Policy which may be accessed at:
Australian Light Horse Studies Centre, AIF War Diaries of the Great War, Site Transcription Policy
Further Reading:
British Forces, EEF, Roll of Honour
The First Battle of Gaza, Palestine, 26 to 27 March 1917
The First Battle of Gaza, Palestine, 26 to 27 March 1917, Allied Forces, Roll of Honour
The Palestine Campaign, 1917 - 1918
Battles where Australians fought, 1899-1920
---
Citation: The First Battle of Gaza, Palestine, 26 to 27 March 1917, Egyptian Expeditionary Force Dobell Letter 19 March 1917
Posted by Project Leader at 12:01 AM EADT
Updated: Monday, 21 March 2011 11:13 AM EADT