The First Battle of Gaza, Palestine, 26 to 27 March 1917, 1/1st Dorset Yeomanry War Diary Account
Topic: AIF - DMC - British
The First Battle of Gaza
Palestine, 26 to 27 March 1917
1/1st Dorset Yeomanry War Diary Account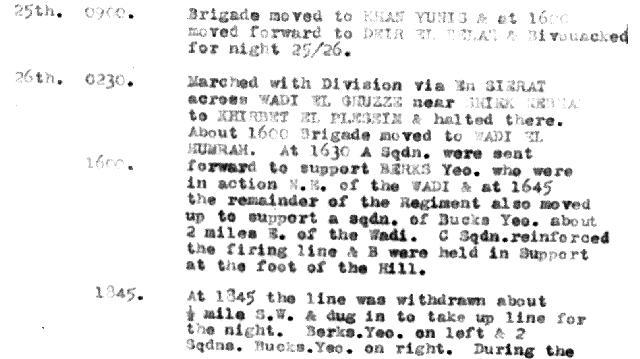 1/1st Dorset Yeomanry War Diary Account.
The following is a transcription of the Account from the War Diary of the 1/1st Dorset Yeomanry detailing their role at the First Battle of Gaza, Palestine, 26 to 27 March 1917.
25 March 1917


0900 Brigade moved to Khan Yunis and at 1600 moved forward to Deir el Belah and bivouacked for night 25/26.


26 March 1917

0230 Marched with Division via In Seirat across Wadi el Ghuzze near Sheikh Nebhan to Khirbit el Plesein and halted there.

1600 About 1600 Brigade moved to Wadi el Humrah.

1630 At 1630 "A" Squadron were sent forward to support 1/1st Berkshire Yeomanry who were in action north east of the wadi

1645 and at 1645 the remainder of the Regiment also moved up to support a Squadron of 1/1st Royal Buckinghamshire Hussars about 2 miles east of the wadi. "C" Squadron reinforced the firing line and "B" Squadron were held in Support at the foot of the Hill.

1845 At 1845 the line was withdrawn about ½ mile south west and dug in to take up line for the night. 1/1st Berkshire Yeomanry on left and 2 Squadrons 1/1st Royal Buckinghamshire Hussars on right. During the action Captain HCA Hoare and 2 men were wounded.


27 March 1917

0200 At 2022 the line was withdrawn and the Regiment proceeded to the Rendezvous of the Brigade on Wadi el Humrah.

0330 At 0330 the Brigade retired to the Wadi el Ghuzze and "B" Squadron was thrown out as rear guard to the Brigade.

0800 The Brigade crossed Wadi el Ghuzze about 0800 and proceeded to Deir el Belah to water. During the rearguard action, 2 men were wounded.

1000 After watering the Brigade assembled at In Seirat.

1600 Brigade moved out to Support on outpost line from Division along Goz el Taire from In Seirat to Abasan el Kebir.
War Diaries
All War Diaries cited on this site should be read in conjunction with the Australian Light Horse Studies Centre, AIF War Diaries of the Great War, Site Transcription Policy which may be accessed at:
Australian Light Horse Studies Centre, AIF War Diaries of the Great War, Site Transcription Policy
Further Reading:
British Forces, EEF, Roll of Honour
The First Battle of Gaza, Palestine, 26 to 27 March 1917
The First Battle of Gaza, Palestine, 26 to 27 March 1917, Allied Forces, Roll of Honour
The Palestine Campaign, 1917 - 1918
Battles where Australians fought, 1899-1920
---
Citation: The First Battle of Gaza, Palestine, 26 to 27 March 1917, 1/1st Dorset Yeomanry War Diary Account
Posted by Project Leader at 12:01 AM EADT
Updated: Monday, 21 March 2011 7:43 PM EADT