Australian Service Personnel, Photograph Albums, Menangle Military Camp Employees, Album Contents
Topic: AAC-Photo Albums
Australian Service Personnel
Photograph Albums
Menangle Military Camp Employees, Album Contents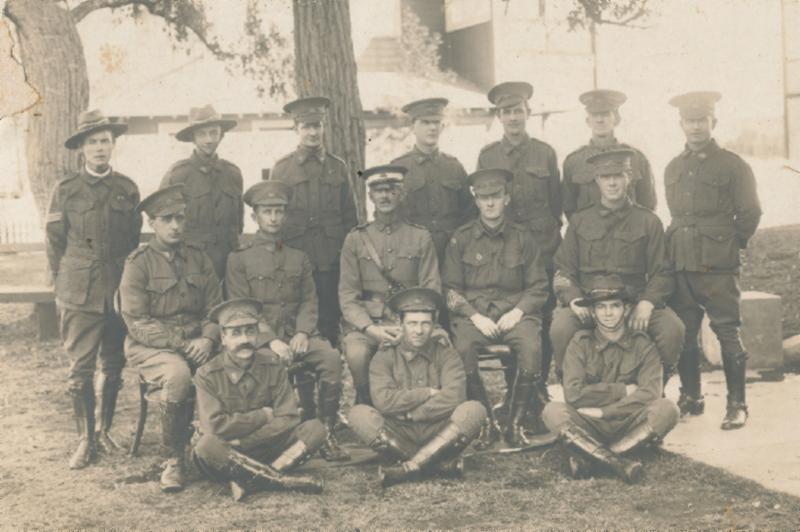 Lieut JB Baxter, Camp Quartermaster and Staff, Aus. Light Horse, Menangle Military Camp, European War, 1914-15-16.
The following album contains individual personnel photographs extracted from the above photograph. Each person has been identified coupled with a brief military biography.
From the Desert Column Forum
The individual items listed below were considerably expanded on the Desert Column Forum to accept additional information regarding the various topics. These entries have been added as a distinct "desert-column" link beneath the Album entry.
Listings per Album
Group Photograph

Lieut JB Baxter, Camp Quartermaster and Staff, Aus. Light Horse, Menangle Military Camp, European War, 1914-15-16.

http://desert-column.phpbb3now.com/viewtopic.php?p=11221#p11221

Back Row

http://desert-column.phpbb3now.com/viewtopic.php?p=11222#p11222

http://desert-column.phpbb3now.com/viewtopic.php?p=11223#p11223

http://desert-column.phpbb3now.com/viewtopic.php?p=11224#p11224

http://desert-column.phpbb3now.com/viewtopic.php?p=11225#p11225

http://desert-column.phpbb3now.com/viewtopic.php?p=11226#p11226

http://desert-column.phpbb3now.com/viewtopic.php?p=11227#p11227

Corporal William Henry DELLER, Saddler

http://desert-column.phpbb3now.com/viewtopic.php?p=11228#p11228

Middle Row

http://desert-column.phpbb3now.com/viewtopic.php?p=11229#p11229

http://desert-column.phpbb3now.com/viewtopic.php?p=11230#p11230

http://desert-column.phpbb3now.com/viewtopic.php?p=11231#p11231

http://desert-column.phpbb3now.com/viewtopic.php?p=11232#p11232

http://desert-column.phpbb3now.com/viewtopic.php?p=11233#p11233

Front Row

Trooper Henry John LEA, Storeman

http://desert-column.phpbb3now.com/viewtopic.php?p=11234#p11234

Trooper Albert Thomas IBLE, Storeman

http://desert-column.phpbb3now.com/viewtopic.php?p=11235#p11235

Trooper John David Walker Marshall Robert WHEATLEY, Storeman

http://desert-column.phpbb3now.com/viewtopic.php?p=11236#p11236
Further Reading:
Australian Service Personnel, Photograph Albums
Battles where Australians fought, 1899-1920
---
Citation:
Australian Service Personnel, Photograph Albums, Menangle Military Camp Employees, Album Contents
Posted by Project Leader at 9:10 AM EADT
Updated: Saturday, 7 July 2012 10:21 AM EADT