The Battle of Anzac Cove, Turkish OC of 1/33 IR diary up until his death, 30 April 1915, Part 1
Topic: Tk - Bks - 1/33IR
The Battle of Anzac Cove
Turkish OC of 1/33 IR diary up until his death, 30 April 1915
Part 1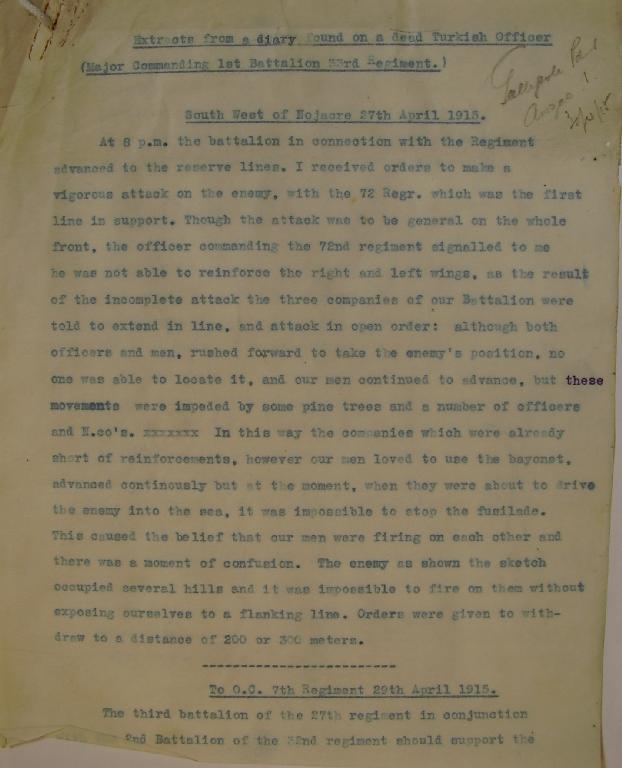 Diary, page 1.

Extract from a diary found on a dead Turkish Officer, the major commanding 1st Battalion, 33rd Infantry Regiment, Gallipoli, 30 April 1915.
Extracts from a diary found on a dead Turkish Officer

(Major Commanding 1st Battalion 33rd Regiment)

South West of Nojacre 27 April 1915

At 8pm the battalion in connection with the Regiment advanced to the reserve lines. I received orders to make a vigorous attack on the enemy with the 72nd Regiment which was the first line in support. Though the attack was to be general on the whole front, the officer commanding the 72nd Regiment signalled to me he was not able to reinforce the right and left wings, as a result of the incomplete attack the three companies of our Battalion were told to extend in line, and attack in open order: although both officers and men rushed forward to take the enemy's position, no one was able to locate it, and our men continued to advance but these movements were impeded by some pine trees and a number of officers and NCO's. In this way the companies, which were already short of reinforcements, however our men loved to use the bayonet, advanced continuously but at the moment, when they were about to drive the enemy into the sea, it was impossible to stop the fusillade. This caused the belief that our men were firing on each other and there was a moment of confusion. The enemy as shown the sketch occupied several hills and it was impossible to fire on them without exposing ourselves to a flanking line. Orders were given to withdraw to a distance of 250 to 300 metres.

This diary came into the hands of the defending Australian soldiers at Gallipoli. It gives an extraordinary insight into the actions of the Turkish forces in their efforts to repel the Anzac invasion.
Previous: Turkish OC of 1/33 IR diary up until his death, 30 April 1915
Next: Turkish OC of 1/33 IR diary up until his death, 30 April 1915, Part 2
Further Reading:
Turkish OC of 1/33 IR diary up until his death, 30 April 1915
The Battle of Anzac Cove, Gallipoli, 25 April 1915
1/33rd IR Roll of Honour, April 1915
The Battle of Anzac Cove, Gallipoli, 25 April 1915, Turkish Roll of Honour
Battles where Australians fought, 1899-1920
---
Citation: The Battle of Anzac Cove, Turkish OC of 1/33 IR diary up until his death, 30 April 1915
Posted by Project Leader at 12:01 AM EADT
Updated: Tuesday, 6 April 2010 1:43 PM EADT