Turkish OC of 1/33 IR diary up until his death, 30 April 1915, Part 2
Topic: Tk - Bks - 1/33IR
The Battle of Anzac Cove
Turkish OC of 1/33 IR diary up until his death, 30 April 1915
Part 2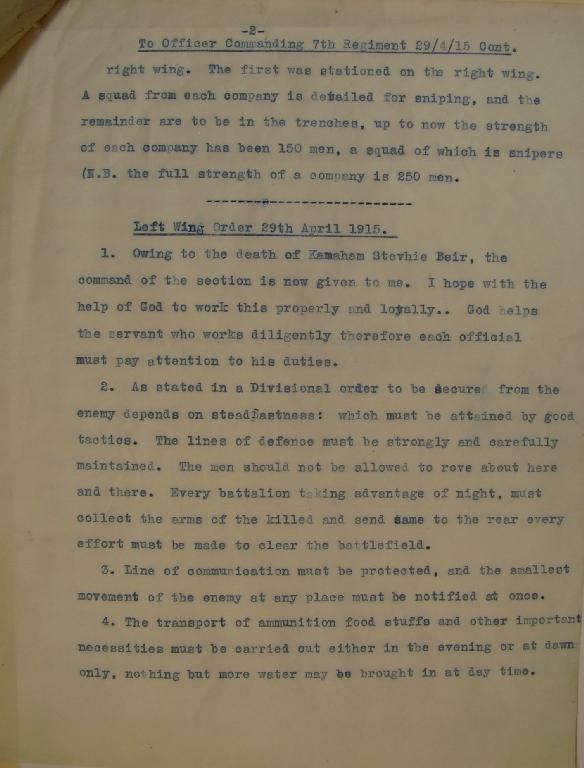 Diary, page 2.
Extract from a diary found on a dead Turkish Officer, the major commanding 1st Battalion, 33rd Infantry Regiment, Gallipoli, 30 April 1915.
To OC 7th Regiment 29 April 1915

The third battalion of the 27th Regiment in conjunction with 2nd Battalion of the 32nd Regiment should support the right wing. The first was estimated on the right wing. A squad from each company is detailed for sniping, and the remainder are to be in the trenches, up to now the strength of each company has been 150 men, a squad of which is snipers. (NB. The full strength of a company is 250 men.)



Left Wing Order 29 April 1915

1. Owing to the death of Kamahan Stevhie Beir, the command of the section is now given to me. I hope with the help of God to work this properly and loyally. God helps the servant who works diligently therefore each official must pay attention to his duties.

2. As stated i a Divisional Order to be secure from the enemy depends on steadfastness: which must be attained by good tactics. The lines of defence must be strongly and carefully maintained. The men should not be allowed to rove about here and there. Every battalion taking advantage of night, must collect the arms of the killed and send same to the rear every effort must be made to clear the battlefield.

3. Line of communication must be protected, and the smallest movement of the enemy at any place must be notified at once.

4. The transport of ammunition, food stuffs and other important necessities must be carried out either in the evening or at dawn only, nothing but more water may be brought in at day time.

As an Australian, it is difficult to place myself in the position of the "enemy" and yet that is the intent of this diary entry. These entries are important in understanding how the person on the other side of the trench viewed the Allied forces. By showing the other side, these men are no longer shadows described by the term "Turk" but living and breathing humans who felt the same anguish, fears and problems that focus the commonality of a shared humanity in an unfortunate fratricidal conflict. It is refreshing to know that any animus that might have existed has long been consigned to the waste bins of history. As Turkish archives become readily available and more accessible to Turks and international scholars, so this understanding will increase and jingoistic books that demonise for patronise "Jacko" can also diminish in their power.
Previous: Turkish OC of 1/33 IR diary up until his death, 30 April 1915
Next: Map detailing the placement of 1/33 IR, 25 April 1915
Further Reading:
Turkish OC of 1/33 IR diary up until his death, 30 April 1915
The Battle of Anzac Cove, Gallipoli, 25 April 1915
1/33rd IR Roll of Honour, April 1915
The Battle of Anzac Cove, Gallipoli, 25 April 1915, Turkish Roll of Honour
Battles where Australians fought, 1899-1920
---
Citation:
Turkish OC of 1/33 IR diary up until his death, 30 April 1915, Part 2
Posted by Project Leader at 12:01 AM EADT
Updated: Tuesday, 6 April 2010 1:42 PM EADT