8th (Victorian Mounted Rifles) Australian Light Horse, December 1903
Topic: Militia - LHV - 8/16/8
8th ALH
8th (Victorian Mounted Rifles) Australian Light Horse
December 1903
Victorian Mounted Rifles [1885 - 1903]
8th (Victorian Mounted Rifles) Australian Light Horse [1903 - 1912]
16th (Indi) Australian Light Horse [1912 - 1918]
8th (Indi) Australian Light Horse [1919 - 1941
8th Indi Light Horse Recce Battalion [1942 - 1943]
8th Australian Cavalry Regiment [1943 - 1944]
8th/13th (Victorian Mounted Rifles) Armoured Regiment [1948 - 1960]
8th/13th Victorian Mounted Rifles [1960 - ]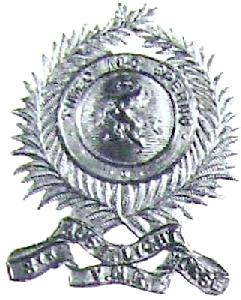 Timeo nec sperno - Neither Fearing nor Despising
1903 Reorganisation, Victoria
The Euroa, Longwood, Violet Town, Benalla, Thoona, Wangaratta, Rutherglen, and Beechworth Detachments of Victorian Mounted Rifles to be formed into the 8th Australian Light Horse Regiment (Victorian Mounted Rifles).
District
North Eastern Victoria

Brigade
3rd Northern Victoria Brigade

Headquarters
Euroa

Honorary Colonel
Vacant.

Commanding Officer
Lieutenant Colonel WB Pleasents.

Adjutant
Lieutenant LC Maygar, VC.

Quartermaster
Vacant.

Medical Officer
Lieutenant CW Günst

Veterinary Officer
Vacant.
1st Euroa Squadron
Lieutenant RD Crocker


2nd Benalla - Thoona Squadron
Captain JL Martin

Lieutenant D Martin

Lieutenant J Standish
3rd Wangaratta Squadron
Captain CJ Ahern

Lieutenant E Slee
4th Rutherglen - Beechworth Squadron
Lieutenant RB Barnes

Lieutenant A Prentice

Lieutenant HED Kelly
Previous: 8th/16th/8th Australian Light Horse
Next: 8th (Victorian Mounted Rifles) Australian Light Horse, 1904
Further Reading:
8th/16th/8th Australian Light Horse
Victoria Militia - Light Horse
Australian Militia Light Horse
---
Citation:
8th (Victorian Mounted Rifles) Australian Light Horse, December 1903
Posted by Project Leader at 12:01 AM EADT
Updated: Tuesday, 29 June 2010 2:06 PM EADT