Australian and New Zealand Mounted Division Outline
Topic: AIF - DMC - Anzac MD
Anzac MD
Australian and New Zealand Mounted Division
Outline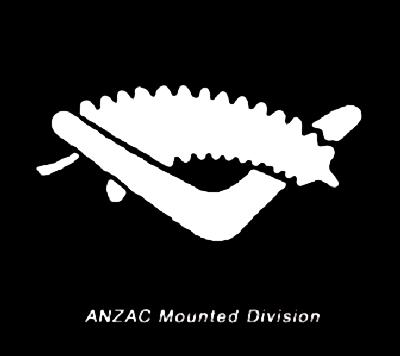 The formation of the Anzac MD (Australian and New Zealand Mounted Division) began during February 1916. During this time of formation the 1st Light Horse Brigade was despatched to the Western Desert to fight the Senussi while the balance of the Division moved to the Suez Canal defensive zone to relieve the 1st Infantry Division, which was preparing to transfer to the Western Front.

The division soon became involved in raiding the Turkish positions.

An attempt by the Turks to attack the Suez Canal in August 1916 resulted in their force being intercepted and defeated by the Australian and New Zealand Mounted Division in the Battle of Romani. The division followed up its victory, pursuing the Turks to the Palestine frontier, capturing major Turkish positions at Magdhaba in December 1916 and Rafah in January 1917.

In March 1917 the division surrounded Gaza during the First Battle of Gaza but was ordered to withdraw.

It played a minor role in the Second Battle of Gaza before participating in the Third, successful Battle of Gaza in October 1917. Afterward it pursued the enemy as far as Jaffa.

In March and again in April 1918, the division made major raids across the Jordan River.

In August 1918, the Anzac Mounted Division participated in the final breakthrough and captured Amman in September 1918, capturing 10,300 prisoners in just nine days.

Units of this division reoccupied Gallipoli in December 1918.
Commanders
Major General Harry G. Chauvel, from 16 March 1916 to 20 April 1917; and,
Major General E.W.C. Chaytor, from 21 April 1917 to past November 1918.

Casualties
During the period of campaigning, the Anzac MD and Australian Mounted Division suffered the following casualties.

Killed in action - 1,168


Died of wounds - 566


Other causes of death - 598


Prisoners of War - 83


Wounded - 7,590


Total Casualties, 1916-19 - 10,005

Battles
1916

The Jifjafa Raid, Sinai, April 10 to 14, 1916

Romani, Sinai, August 4 to 5, 1916.

Bir el Abd, Sinai, August 9, 1916.

El Mazar, Sinai, September 17, 1916.

El Arish, Sinai, December 20, 1916.

Magdhaba, Sinai, December 23, 1916.

1917

Rafa, Sinai, January 9, 1917.

First Gaza, Palestine, March 26 to 27, 1917.

Second Gaza, Palestine, April 19, 1917.


El Auja, Palestine, May 23, 1917.


Beersheba, Palestine, October 31, 1917.

Khuweilfe, Palestine, November 1 to 8, 1917.

Tel es Sheria, Palestine, November 7, 1917.

Huj, Palestine, November 8, 1917.


1918

First Amman, Palestine, March 27 to 30, 1918.

Es Salt, Palestine, April 30 to May 3, 1918.

Abu Tellul, Palestine, July 14, 1918.

Megiddo, Palestine, September 19 to 21, 1918.

Second Amman, Palestine, September 25, 1918.


1919

The Egyptian Rebellion, Egypt, 13 March to 10 April 1919
Order of Battle

Australian and New Zealand Mounted Division (Egypt, April 1916)

* Australian and New Zealand Mounted Division Artillery
o British 3rd (Territorial Force) Horse Artillery Brigade [8 x 18 pounders]
+ British Leicester, Somerset Batteries
+ British 3rd Horse Artillery Brigade Ammunition Column
o British 4th (Territorial Force) Horse Artillery Brigade [8 x 18 pounders]
+ British Inverness, Ayr Batteries
+ British 4th Horse Artillery Brigade Ammunition Column
* Anzac Mounted Division Engineers
o Anzac Field Squadron
o Anzac Signal Squadron
* Anzac Mounted Division Medical Services
o 1st, 2nd, 3rd Light Horse Field Ambulances
o New Zealand Mounted Field Ambulance
1st Australian Light Horse Brigade
1st Australian Light Horse Regiment
2nd Australian Light Horse Regiment
3rd Australian Light Horse Regiment

(New South Wales; Queensland and Northern Territory; South Australia and Tasmania)

o 1st Signal Troop
2nd Australian Light Horse Brigade

5th Australian Light Horse Regiment
6th Australian Light Horse Regiment
7th Australian Light Horse Regiment, AIF, History


(Queensland; New South Wales; New South Wales)

o 2nd Signal Troop
3rd Australian Light Horse Brigade


8th Australian Light Horse Regiment
9th Australian Light Horse Regiment
10th Australian Light Horse Regiment

(Victoria; Victoria and South Australia; Western Australia)
o 3rd Signal Troop
New Zealand Mounted Rifles Brigade

Auckland Mounted Rifles
Wellington Mounted Rifles
Canterbury Mounted Rifles

o New Zealand Mounted Rifles Signal Troop
* Anzac Mounted Division Train
o 1st, 2nd, 3rd Supply Sections
o New Zealand Mounted Rifles Supply Section
* Anzac Mounted Division Veterinary Services
o 6th, 7th, 8th Mobile Veterinary Sections
o New Zealand 2nd Mobile Veterinary Section

Australian and New Zealand Mounted Division (Egypt, February 1917)

* Australian and New Zealand Mounted Division Horse Artillery
o British 3rd (Territorial Force) Horse Artillery Brigade [8 x 18 pounders]
+ British Leicester, Somerset Batteries
+ British 3rd Horse Artillery Brigade Ammunition Column
o British 4th (Territorial Force) Horse Artillery Brigade [8 x 18 pounders]
+ British Inverness, Ayr Batteries
+ British 4th Horse Artillery Brigade Ammunition Column
* Anzac Mounted Division Engineers
o Anzac Field Squadron
o Anzac Signal Squadron
* Anzac Mounted Division Medical Services
o 1st, 2nd Light Horse Field Ambulances
o New Zealand Mounted Field Ambulance
o British 22nd Mounted Field Ambulance
o 7th Sanitary Section
1st Australian Light Horse Brigade
1st Australian Light Horse Regiment
2nd Australian Light Horse Regiment
3rd Australian Light Horse Regiment

(New South Wales; Queensland and Northern Territory; South Australia and Tasmania)

o 1st Machinegun Squadron [12 x Vickers machine guns]
o 1st Signal Troop
2nd Australian Light Horse Brigade

5th Australian Light Horse Regiment
6th Australian Light Horse Regiment
7th Australian Light Horse Regiment, AIF, History


(Queensland; New South Wales; New South Wales)
o 2nd Machinegun Squadron [12 x Vickers machine guns]
o 2nd Signal Troop
New Zealand Mounted Rifles Brigade

Auckland Mounted Rifles
Wellington Mounted Rifles
Canterbury Mounted Rifles
o New Zealand 1st Machinegun Squadron [12 x Vickers machine guns]
o New Zealand Mounted Rifles Signal Troop
* British 22nd Mounted Brigade
o British 1/1 Staffordshire Yeomanry, 1/1 Lincoln Yeomanry, 1/1 East Riding Yeomanry
o British 18th Machinegun Squadron [12 x Vickers machine guns]
o British 22nd Mounted Brigade Signal Troop
* Anzac Mounted Division Train
o 1st, 2nd Supply Sections
o New Zealand Mounted Rifles Supply Section
o 26th Depot Unit of Supply
* Anzac Mounted Division Veterinary Services
o 6th, 7th Mobile Veterinary Sections
o New Zealand 2nd Mobile Veterinary Section

Anzac Mounted Division (Palestine, February 1918)

* Anzac Mounted Division Artillery
o British 18th Horse Artillery Brigade [18 x 13 pounders]
+ British Somerset , Inverness, Ayr Batteries
+ British 18th Horse Artillery Brigade Ammunition Column
* Anzac Mounted Division Engineers
o 1st Field Squadron
o 1st Signal Squadron
* Anzac Mounted Division Medical Services
o 1st, 2nd Light Horse Field Ambulances
o New Zealand Mounted Field Ambulance
o 7th Sanitary Section
1st Australian Light Horse Brigade

1st Australian Light Horse Regiment
2nd Australian Light Horse Regiment
3rd Australian Light Horse Regiment

(New South Wales; Queensland and Northern Territory; South Australia and Tasmania)

o 1st Machinegun Squadron [12 x Vickers machine guns]
o 1st Signal Troop
2nd Australian Light Horse Brigade

5th Australian Light Horse Regiment
6th Australian Light Horse Regiment
7th Australian Light Horse Regiment, AIF, History


(Queensland; New South Wales; New South Wales)
o 2nd Machinegun Squadron [12 x Vickers machine guns]
o 2nd Signal Troop
New Zealand Mounted Rifles Brigade

Auckland Mounted Rifles
Wellington Mounted Rifles
Canterbury Mounted Rifles
o New Zealand 1st Machinegun Squadron [12 x Vickers machine guns]
o New Zealand Mounted Brigade Signal Troop
* Anzac Mounted Division Train
o 32nd, 33rd, 34th Australian Army Service Corps Companies
o 5th New Zealand Army Service Corps Company
o 26th Depot Unit of Supply
* Anzac Mounted Division Veterinary Services
o 6th, 7th Mobile Veterinary Sections
o New Zealand 2nd Mobile Veterinary Section
Further Reading:
Australian and New Zealand Mounted Division
Australian and New Zealand Mounted Division, Anzac MD, Roll of Honour
Battles where Australians fought, 1899-1920
---
Citation:
Australian and New Zealand Mounted Division Outline
Posted by Project Leader at 12:01 AM EAST
Updated: Sunday, 13 March 2011 7:23 AM EADT