The Battle of Anzac Cove, Gallipoli, 25 April 1915, Ali Demirel Account
Topic: Tk - Turkish Items
The Battle of Anzac Cove
Gallipoli, 25 April 1915
Ali Demirel Account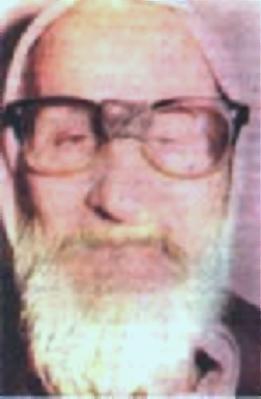 Ali Demirel from Biga-Gundogdu Village
Ali Demirel from Biga-Gundogdu Village was interviewed in 1981 as part of a Turkish Oral History project. He was a veteran of the 27th Infantry Regiment and on the beach at Anzac when the Australians arrived on 25 April 1915. The original item was first published on the Turkish Website called The Gallipoli Campaign. This is Ali Demirel's story.
Ali Demirel from Biga-Gundogdu Village
I was born in 1885. I am ninety-six years old. I left my village for the war and returned after eight years. I was from the 27th Regiment of Anzac Cove (Ariburnu). Later, I went to Arabian Front. The British took me captive and I have stayed in prison for two years. I was the one who made the famous rifles of the 27th Regiment. I was a carpenter.

I was recruited as a machine-gunner. We were six machine-gunners from the same village.

After I have arrived at Canakkale, they enrolled me as an infantryman. They allotted me to 27th Regiment. Our dispositions were above Anzac Cove. I was in 27th Regiment's 2nd Battalion, 1st Company. The Regimental commander was Sefik Bey, the Battalion commander was Halil Bey, and Company Commander was Hasan Efendi. I spent nine months on frontline duty.

Our Company's position was in Kaba Tepe. On the day when the enemy landed, 1st and 3rd Squads were at Maidos. Only we were in the Anzac Cove. Later the 1st and 3rd Squads came. The enemy charged at us. We counter-attacked. All the officers in our regiment were shot. Eyup Sabri of Lapseki took command of the Company. He was a sergeant.

The enemy's positions were very close. They were bombing our trenches. Later, we protected our trenches with wire. From then on, their bombs failed to reach our trenches.

Before the enemy retreated, they dug a tunnel and filled it with much dynamite. When the mine exploded, we lost a squad. Nobody could have survived. The land has erupted and looked like a minaret. It was horrible.

I have made the rifles of 27th Regiment. As I have told you, I was a carpenter... In fact, I was an infantryman but, because I was a carpenter, I was repairing the rifles. One day, after a raid that we have made against the enemy, we captured a rifle with periscope. There was a tunnel just beside our position. In that tunnel, by looking to the rifle I fixed mirrors to our rifles. They gave each squad one of my rifles. I have fixed two mirrors on the both ends of barrel. Thus, you could see the enemy, without looking out of your trench.

On 18 March, the enemy tried to force the straits, with his battleships. After he failed, he landed his soldiers on the Anzac Cove and then to Kum Kale.

The Hungarian howitzers were very useful. They were heavy and short. They were firing up strait and hitting the battleships. We saw them from the forts. The enemy threw themselves to sea.

When they attacked us, we answered them. I was wounded in my back. Look, I still can not walk. Shrapnel pieces hit me, one side of me was shattered.

When I was wounded, I was sent to Demetoka Hospital. I stayed there for three months. After I have recovered, I returned to my Company. The commander did not allow me to fight. He assigned me to the periscope rifles.

I saw Ataturk in the Anzac Cove. He was with the other commanders. He was a huge man. All the regiments paraded in front of him...

Enver Pasha, the Minister of War came one day. I saw him as well.

As I told you, I was wounded. Then I became ill. They sent me home. I remained home for three months and returned to Canakkale. This time I was allotted to 24th Regiment. We went to Istanbul. They gave us new uniforms and sent us to Arabia, by train. After we passed the mountains, we dis-entrained and walked for seventy days. I could not walk. My legs were already injured in Canakkale. They took me to hospital. During my first month in the hospital, the British attacks began. The shells were hitting the hospital. The tents began to burn. We left five-hundred people in the hospital and ran away.

My regiment was in Jerusalem. I went there as well. Somewhere around Jerusalem, there was Sultan Abdul Hamid's palace. We converted the palace into a hospital, but the British attacked again. The Germans built a bridge on the river and we withdrew by using that bridge. We retreated through Sam. However, Sam was under siege. They took fifty of us captives. There was such a famine in Sam. No bread, no food. I was clever, there was bread in the pantry of the hospital, and I filled sacks with bread and gave it to people. Later, the British brought bread. The people mobbed the bread.

The British has divided us into convoys of thousands. We have walked for eight days and arrived at Egypt. There were twelve sections enclosed by wire. I was in the fourth section, where I have stayed for two years.

It was in our first days; a lame British officer came. He was walking with a stick. We were standing. He had a translator. The translator shouted:

"Is there anybody from the 27th Regiment?"

I thought to myself that they cannot kill me and stepped forward.

"I am," I said.

The lame officer came nearby; he kissed my hands and eyes. I think he was the commander of the captives. God knows; he made me comfortable. He gave a private tent to me. Moreover, he said, "take two friends of yours."

Later I have learnt that he was wounded in the Anzac Cove. He was so scared. The translator told that the British were very frightened because they thought the Turks would kill all of them. Anyway, he paid me twenty pounds salary every month. He also gave me eighty boxes of cigarettes every week. He told me "sell them and make money."

He came to my tent very often. I made him a chest out of German screens and coated it with velvet, like a Turkish dowry chest. Also, I have made him two pairs of half boots by tearing the British boots. All of them were hand made. I even fixed the nails using my hands. He gave me two Ottoman golden coins. He has written, "Made by the prisoners" on the chest and taken to Britain. He talked rarely.

Until one thousand prisoners remained, he did not release me. Later, we came to Istanbul. Then I have returned to my village.

In the prison, we were eating horsemeat. The British gave us lamb only once.

I was married before I joined the army. When I came back, I found my wife had died. I have remarried. My second wife has passed away thirteen years ago. I have three children. All are alive. My son is taking care of me. I have neither a medal nor a pension. One of my grandsons is an officer in Izmir.
Further Reading:
Lt-Col. Sefik Aker Account of the 27th Infantry Regiment at Anzac
The Battle of Anzac Cove, Gallipoli, 25 April 1915
The Battle of Anzac Cove, Gallipoli, 25 April 1915, AIF, Roll of Honour
Battles where Australians fought, 1899-1920
---
Citation:
The Battle of Anzac Cove, Gallipoli, 25 April 1915, Ali Demirel Account
Posted by Project Leader at 12:01 AM EADT
Updated: Sunday, 18 April 2010 7:36 PM EADT