1st Battalion Australian Commonwealth Horse, New South Wales, Outline
Topic: BW - NSW - 1ACH
1st ACH (NSW)
1st Battalion Australian Commonwealth Horse, New South Wales
Outline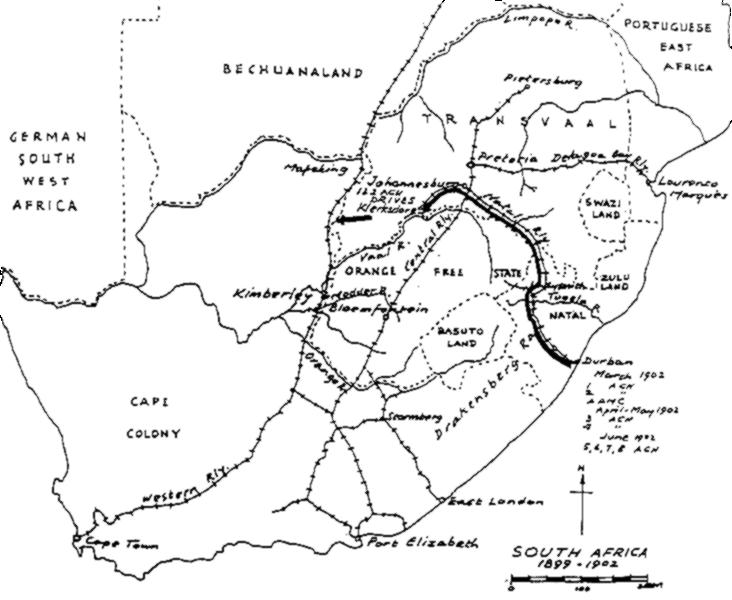 Map illustrating the activities of the Australian Commonwealth Horse in South Africa, 1902.

[From: Chamberlain, M., The Australians in the South African War 1899-1902, Canberra, 1999.]

In 1911, Lieutenant-Colonel P. L. Murray, produced a marvellous Boer War reference detailing all the contingents sent from Australia to South Africa, giving a brief history of the formation and finally, listing all the soldiers who saw service in South Africa with that unit. The book was called, Official Records of the Australian Military Contingents to the War in South Africa. It is now the standard reference and starting place for any person interested in pursuing information about Australian involvement in the Boer War.
Murray, P. L., Official Records of the Australian Military Contingents to the War in South Africa, pp. 166 - 167.
1st Battalion Australian Commonwealth Horse, New South Wales.

After the Commonwealth had been established and the Australian Defences handed over to the Federal Government, it was decided to send further Contingents of Mounted Rifles to the war; and that battalions of a representative character should be formed, with squadrons from the different States. Then the first of these was made up of three units from New South Wales, one from Queensland, and one from Tasmania.

The establishment of each unit authorized was 121 of all ranks. Pay at cavalry rates for all ranks, viz., basis of 1s. 2d. for privates till date of embarkation, and from date of embarkation 5s. per diem for privates; other ranks at the rate allowed to Imperial (Australian) Contingents. Officers were granted an allowance of £30 to provide uniform, equipment, and saddlery. Vide also 2nd A.C.H., Victoria.

The men selected were required to be good shots and good horsemen; men of previous service having preference, if medically fit. Only single men were taken, and unmarried officers had preference, other conditions being equal.

The system of selection and purchase of horses was left to State Commandants, as with previous Contingents. Officers were allowed two horses; and 10 percent spare horses were to be sent with each unit.

The battalions were in the first instance known as "__ Battalion Commonwealth Contingent," but this was altered to "Australian Commonwealth Horse."


Details of Establishment.

Staff:-


1 Lieutenant Colonel,


1 Major,


1 Adjutant,


1 Quartermaster,


1 Medical Officer,


1 Veterinary Officer,


1 Regimental Sergeant-Major,


1 Regimental Quartermaster-Sergeant,


1 Orderly Room Sergeant.

Each company (or squadron):-


1 Major or Captain,


4 Subalterns,


1 Company Sergeant-Major,


1 Company Quartermaster-Sergeant,


1 Farrier-Sergeant,


4 Sergeants,


3 Shoeing-Smiths,


1 Saddler,


2 Buglers,


6 Corporals (including paid Lance-Sergeants) at the rate of two per battalion),

97 Privates, including 4 paid Lance-Corporals.



Reference to Orders.
Formation - G.O. 1/02

Establishment - G.O. 1 and 2/02

Pay and allowances - G.O. 1, 3, and 4/02

Conditions of service - G.O. 1/02

Allotment of pay - G.O. 1 and 10/02

Clothing - G.O. 1 and 2/02

Equipment officers - G.O. 4/02

Officers - G.O. 10/02

Paymaster - G.O. 24/02

Nomenclature - D.O. 239 of 22nd April, 1902

Personnel (N.S.W. units) - G.O. 39/02

Adjutant - G.O. 34/02

Embarkation - G.O. 31 and 32/02



Clothing etc.
Uniform consisted of F.S. jacket, pants, puttees, and hats.

Equipped with M.L.E. rifles, bayonets, bandoliers, and saddlery, and fully horsed.



Departure and Return
The 1st Australian Commonwealth Horse (New South Wales units) embarked at Sydney on the transport "Custodian" on 18th February, 1902, and disembarked at Durban on 19th March, 1902. It comprised 21 officers and 354 of other ranks, with 372 horses. Of these, 4 died, and 20 were struck off in South Africa. Twenty-one officers and 330 others returned by transport "Drayton Grange" which left Durban on 11th July, and arrived at Sydney on 11th August, 1902, having called at Albany and Melbourne on the way.



OPERATIONS.
This battalion proceeded on 19th March, 1902, by train from Durban to Newcastle, and thence to Klerksdorp on 10th April, arriving at the latter place on the 13th. Joined Column under the command of Colonel De Lisle, which formed part of Thorneycroft's brigade.

This Column was inspected by Lord Kitchener on 22nd April, who expressed himself as pleased with the appearance of men and horses.

The Column was employed clearing the district north of Klerksdorp, and took part in a drive which commenced on 7th May, moving westward to the Kimberley - Mafeking railway blockhouse line. In this, 251 prisoners, including General De la Rey's brother, were captured, also 300 horses, 144 rides and bandoliers, 6,000 rounds ammunition, and a large quantity of stock.

Colonel De Lisle, who was leaving for England, handed over his command to Colonel Williams. The Column then returned to Klerksdorp, reaching that place on the 21st May, where the regiment remained until the declaration of place, when they were ordered to Elandsfontein to prepare for return to Australia.

The regiment proceeded by rail to Newcastle on 29th June, and to Durban on 9th July, for embarkation.



Promotions.
Major J. H. Lee to Lieutenant Colonel, 5th June, 1902.



War Service.
The service which officers were untitled to reckon was:


Operations in Western Transvaal and British Bechuanaland, April to May, 1902, Queen's Medal with three clasps was awarded in most cases to officers who had not served before, but many of thorn had done so.



The majority of the N.C.O.'s and man had also served in previous details.

Further Reading:
1st Battalion Australian Commonwealth Horse, New South Wales
1st Battalion Australian Commonwealth Horse, New South Wales, Roll of Honour
Battles where Australians fought, 1899-1920
---
Citation:
1st Battalion Australian Commonwealth Horse, New South Wales, Outline
Posted by Project Leader at 12:01 AM EAST
Updated: Monday, 10 May 2010 9:27 AM EADT