The Jifjafa Raid, Sinai, April 10 to 14, 1916, 3rd LH Bde, AIF, War Diary Account
Topic: AIF - 3B - 3 LHB
The Jifjafa Raid
Sinai, 10 - 14 April 1916
3rd LH Bde, AIF, War Diary Account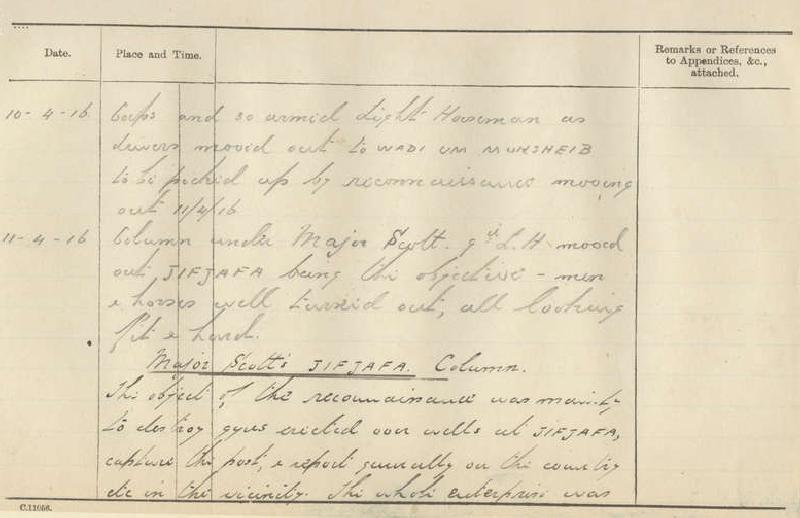 War Diary account of the 3rd LH Bde, AIF.
The Transcription:
11 April 1916

Column under Major Scott, 9th Light Horse moved out - Jifjafa being the objective - men and horses well turned out, all looking fit and hard.


Major Scott's Jifjafa Column

The object of the reconnaissance was mainly to destroy gyns erected over wells at Jifjafa, capture the post and report generally on the country, etc, in the vicinity. The whole enterprise was a complete success in every way.

April 11th - Column moved out at 1400 making bivouac in Wadi um Muksheib at 2230, travelling good, some 6 miles ahead of front line. April 12th - Having picked up Camel Transport at above the column moved on at 0730 to water arriving 1120 - at dusk moved to point 1340 arriving at 0230. April 13th - under cover of a khamp seen Hill 1052 was reached and from this point the attack was made - the attack was a complete surprise, the enemy bolting to the hills and after a sharp engagement surrendered. Result - 6 Enemy killed, 4 wounded, 29 captured which included an Austrian Engineer Officer, our only casualty being Corporal SF Monaghan, (976), 8th Light Horse killed. During the attack our Engineers destroyed gyns and a very up to date boring plant and all gear etc of any value - the return journey was made without opposition - During the whole operations communication with Railhead was maintained by wireless which worked most satisfactorily with the exception of 13th inst when khamp seen was at its height.

Congratulatory telegram received from:



Commander in Chief, Egyptian Expeditionary Force

General Godley

General Cox

General Chauvel.



Major Scott decorated with DSO (Distinguished Service Order).

Further Reading:
The Jifjafa Raid, Sinai, April 10 to 14
Battles where Australians fought, 1899-1920
---
Citation:
The Jifjafa Raid, Sinai, April 10 to 14, 1916, 3rd LH Bde, AIF, War Diary Account
Posted by Project Leader at 12:01 AM EADT
Updated: Sunday, 29 November 2009 3:34 PM EAST