3rd Battalion Australian Commonwealth Horse New South Wales, Outline
Topic: BW - NSW - 3ACH
3rd ACH (NSW)
3rd Battalion Australian Commonwealth Horse New South Wales
Outline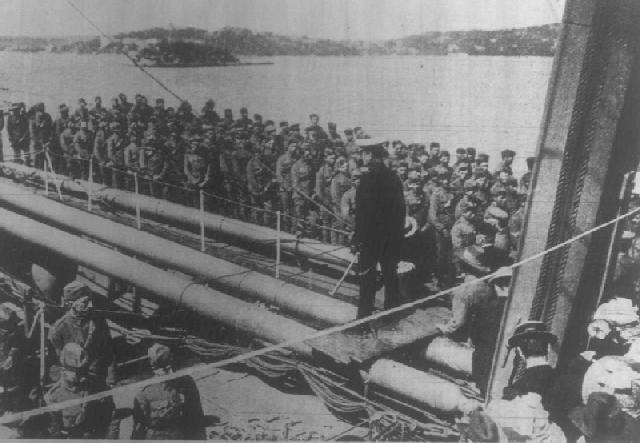 General Hutton addressing the men of 3rd ACH prior to departure.

[Sydney Mail, 12 April 1902, p. 929.]
In 1911, Lieutenant-Colonel P. L. Murray, produced a marvellous Boer War reference detailing all the contingents sent from Australia to South Africa, giving a brief history of the formation and finally, listing all the soldiers who saw service in South Africa with that unit. The book was called, Official Records of the Australian Military Contingents to the War in South Africa. It is now the standard reference and starting place for any person interested in pursuing information about Australian involvement in the Boer War.
Murray, P. L., Official Records of the Australian Military Contingents to the War in South Africa, p. 176.


Third Battalion Australian Commonwealth Horse.

This was formed upon the same basis as the first, viz., three units from New South Wales, one from Queensland, and one from Tasmania.

Establishment, rates of pay, &c., were as for the other regiment.

Applicants to enrol were required to be able to ride and shoot and to pass military medical examination. Only single men were accepted; the period of service being one year, or the duration of the war. Applicants for commissions were required to state age, physique, previous military service (especially in South Africa), occupation, if accustomed to country life and travelling in the bush, whether any knowledge of map reading, and general experience of country life in Australia.
Clothing, etc.

Uniform consisted of F.S. jacket, pants, puttees, and hat. Equipped with rifles, bayonets, bandoliers, saddlery, and fully horsed.
Summary.

The staff and head-quarter companies left Sydney on 2nd April, 1902, comprising 19 officers and 352 non-commissioned officers and rank and file, with 372 horses. Six died, 4 officers and 62 others were struck off in South Africa, 15 officers, 284 others returned to New South Wales, arriving on 11th August, 1902.
See: 3rd ACH (NSW), Embarkation Orders
Service.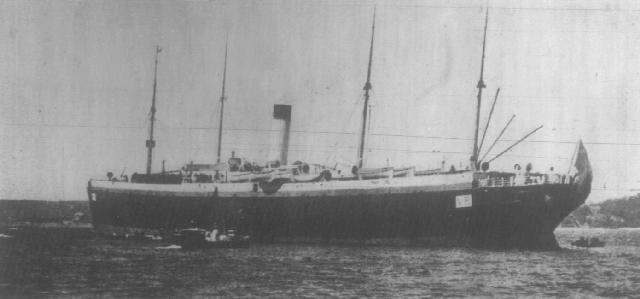 SS Manhattan departing Sydney with the 3rd ACH

[Sydney Mail, 12 April 1902, p. 929.]
The New South Wales division of the 3rd Battalion, Australian Commonwealth Horse, embarked at Sydney on transport SS "Manhattan" on 1st April, and arrived at Durban on 30th April, 1902.
See: 3rd ACH (NSW), The Manhattan Military Incident Embarkation Desertions


At Durban it entrained a few days afterwards for Newcastle, where it proceeded into camp at Kitchener's Kop, in the vicinity of that town, awaiting orders to proceed to the Transvaal. Here the Queensland and Tasmanian squadrons joined. Vide those Contingents.

Upon peace being concluded, the battalion returned to Durban on 11th July, and embarked on transport Drayton Grange on the following day. Called at Albany and Melbourne en route, and arrived at Sydney on 11th August.

As in previous Contingents, most of the officers, N.C.O.'s, and men had served before. Those who had not were awarded Queen's Modal, with one clasp.

Further Reading:
3rd Battalion Australian Commonwealth Horse New South Wales
3rd Battalion Australian Commonwealth Horse New South Wales, Roll of Honour
Battles where Australians fought, 1899-1920
---
Citation:
3rd Battalion Australian Commonwealth Horse New South Wales, Outline
Posted by Project Leader at 12:01 AM EAST
Updated: Monday, 10 May 2010 12:34 PM EADT