The Battle of Rafa, Sinai, 9 January 1917, Desert Column War Diary Account
Topic: BatzP - Rafa
The Battle of Rafa
Sinai, 9 January 1917
Desert Column War Diary Account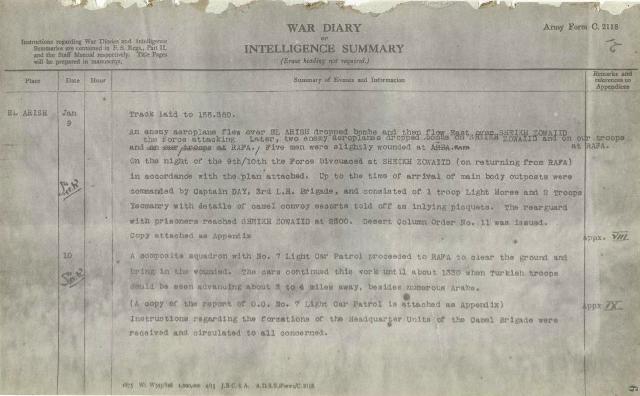 Desert Column War Diary, 9 - 10 January 1917.

The following is a transcription of the War Diary of the Desert Column, of their role at the Battle of Rafa, Sinai, 9 January 1917.
9 January 1917

El Arish

Track laid to 155.350.

An enemy aeroplane flew over EL ARISH dropped bombs and then flew West over Sheikh Zowaiid and the force attacking Rafa. Later two enemy aeroplanes dropped bombs on Sheikh Zowaiid and on our troops at Rafa.

On the night of 9th/10th the Force bivouacked at Sheikh Zowaiid (on returning from Rafa) in accordance with the plan attached. Up to the time of arrival of main body outposts were commanded by Captain DAY, 3rd L.H. Brigade, and consisted of 1 troop Light Horse and 2 Troops Yeomanry with details of camel convoy escorts told off as inlying piquets. The rearguard with prisoners reached Sheikh Zowaiid at 2300. Desert Column order No. 11 was issued. Copy attached as Appendix.

10 January 1917

El Arish

A composite squadron with No. 7 Light Car Patrol proceeded to Rafa to clear the ground and bring in the wounded. The cars continued their work until about 1330 when Turkish troops could be seen advancing about 3 to 4 miles away, besides numerous Arabs.

(A copy of that report of OC No. 7 Light Car Patrol is attached as Appendix.)

Instructions regarding the formations of the Headquarter Units of the Camel Brigade were received and circulated to all concerned.

War Diaries
All War Diaries cited on this site should be read in conjunction with the Australian Light Horse Studies Centre, AIF War Diaries of the Great War, Site Transcription Policy which may be accessed at:
Australian Light Horse Studies Centre, AIF War Diaries of the Great War, Site Transcription Policy
Further Reading:
The Battle of Rafa, Sinai, 9 January 1917
The Battle of Rafa, Sinai, 9 January 1917, Roll of Honour
The Palestine Campaign, 1917 - 1918
Battles where Australians fought, 1899-1920
---
Citation: The Battle of Rafa, Sinai, 9 January 1917, Desert Column War Diary Account
Posted by Project Leader at 12:01 AM EAST
Updated: Sunday, 9 January 2011 4:28 PM EAST